Plan an easy meal prep or a fun dinner for the whole family with creative pinwheel sandwiches. Completely customizable, pinwheel sandwiches feel like an elegant meal and require very little prep. Making these swirly sandwiches is easy, and there are endless ways to roll up a delicious recipe. Try our yummy pinwheel sandwich recipe ideas for your next lunch or party.
Buffalo Chicken Pinwheels Spice Up Your Life
Add some spice to your average lunch with a warm buffalo chicken pinwheel that hits all your protein points while bringing tons of flavor to your plate.
Ingredients
2 ounces shredded chicken
2 tablespoons Frank's Red Hot buffalo sauce
2 tablespoons buttermilk ranch dressing
¼ cup shredded colby cheese
1 tablespoon spreadable cream cheese
1 large flour tortilla
Directions
Preheat the oven to 350°F and line a baking sheet with parchment.
Combine shredded chicken, sauces, and cheeses in a small bowl and mix well.
Place your tortilla flat on the prepared baking sheet.
Spread the mixture on your tortilla, making sure to leave some space around the outer edge for overflow.
Roll and slice into equal sections, flipping each pinwheel face up as you go.
Bake for 7-8 minutes or until the cheeses are melted and the tortilla is starting to turn golden brown.
Serve with a side of fresh celery and carrots.
Mushroom Puff Pastry Pinwheels Feel Fancy
If you're making pinwheels for a party, this recipe is perfect for making ahead and impressing your guests. Puff pastry makes this pinwheel treat extra comforting, and you can serve the dish warm or room temperature. Dina at Simply Homecooked makes these mushroom puff pastry pinwheels easy and elegant for any gathering you might be attending.
Savor Club Sandwich Pinwheels
Here's a fun twist on a classic lunch choice that's easy to make and fun to eat. Your average club sandwich just got the pinwheel upgrade. You can serve them chilled for a refreshing party food or toasted for a traditional and cozy meal option.
Ingredients
2 flour or spinach tortillas
1 tablespoon mayonnaise
2-3 slices deli turkey
2-3 slices deli ham
3 slices cooked bacon - roughly chopped
½ tomato - diced
Handful of iceberg lettuce - shredded
Directions
Spread the mayonnaise in a thin layer across one of your tortillas.
Add the turkey slices and diced tomatoes.
Now place your second tortilla on top, adding more mayonnaise if you like.
Layer on the ham, bacon, and lettuce.
Roll up and serve chilled or toasted with a side of chips or fries.
Mediterranean Pinwheels Are Refreshing & Light
These refreshing pinwheels are vegetarian- and vegan-friendly with all of the signature flavors of your favorite Mediterranean dishes. Savor the Best has a versatile and flavorful Mediterranean pinwheel recipe to impress everyone at your next dinner party.
Start Your Day With Cheesy Sausage Breakfast Pinwheels
Pinwheels are a fun meal any time of the day, but they're great for a quick breakfast your family can enjoy on the go. Try these cheesy sausage breakfast pinwheels from The Slow Roasted Italian for a breakfast full of flavor and convenience.
Jalapeño Popper Pinwheels Are a Classic App
Here's a party pinwheel you'll be asked to bring time and time again. Jalapeño popper pinwheels are a crowd pleaser, and you can make them with your preference of tortillas or puff pastry.
Ingredients
Frozen puff pastry dough sheets - thawed (or a flour tortilla)
¼ cup spreadable cream cheese
3 jalapeños - finely chopped with seeds removed
2-3 slices bacon - cooked and roughly chopped
½ cup mild cheddar cheese - shredded
Directions
Lay your puff pastry sheet down on a parchment-lined baking sheet and preheat the oven according to the package instructions.
Spread the cream cheese on in a thick layer.
Sprinkle the jalapeños and bacon over the cream cheese layer.
Add the mild cheddar cheese next and reserve a tablespoon or two for sprinkling on the top of the pinwheels.
Roll the pastry up tightly without squeezing out the filling and slice into pinwheels.
Sprinkle cheese on each pinwheel.
Bake according to the package directions or until the pastry is golden brown.
Craft Spinach, Goat Cheese, & Sun Dried Tomato Pinwheels Are Elegant for Brunch
These easy pinwheels are an elegant appetizer or tasty addition to your brunch menu. Cathy at Lemon Tree Dwelling makes this recipe easy and packed with flavor so you can fool your guests into thinking you've spent hours on the dish.
Crack Chicken Pinwheels Are Hard to Resist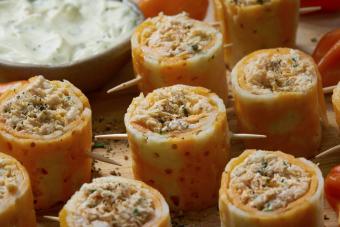 Whether you're preparing snacks for game day or looking for an easy lunch recipe, crack chicken pinwheels are simple and satisfying. This recipe from Sugar Apron couldn't be easier and might just be your new go-to appetizer for potlucks and parties.
Put a Twist on a Classic With Ham & Cheese Pinwheels
Everything bagel seasoning is the key to this delectable pinwheel recipe. Ham and cheese pinwheels from Platings & Pairings are a classic flavor combo with a new twist and a fancy presentation. Your next dinner party or potluck is going to buzz with compliments to the chef.
Baked Monte Cristo Pinwheels Are a Treat
This is the decadent pinwheel recipe you'll be making for every holiday breakfast or brunch invite you attend. The classic Monte Cristo sandwich meets its perfect baked and rolled match with this simple recipe.
Ingredients
Frozen puff pastry dough - thawed
6-8 slices of deli ham - thinly sliced
6-8 slices of Swiss cheese
2-3 tablespoons raspberry jam or preserves
1 large egg - whisked
1 teaspoon vanilla extract
Powdered sugar - for dusting
Directions
Preheat the oven according to your puff pastry package and place your thawed dough on a parchment-lined baking sheet.
Layer your ingredients, starting with the ham and ending with the jam. Keeping the jam in the innermost section will prevent your pastry from getting soggy before it's baked.
Roll up your pastry and slice into equal pinwheels.
Add a little water to your egg mixture as well as the vanilla to create a wash for your pinwheels. Brush generously on each pinwheel.
Bake according to the package directions from the puff pastry or until your pinwheels are golden brown and the cheese melts.
Sprinkle your pinwheels with powdered sugar before serving.
Treat Your Family to French Toast Pinwheels
Pinwheels for breakfast and make it French! These flatbread French toast roll ups from Carlsbad Cravings are fun for a family breakfast or a sweet morning treat for houseguests. Served with powdered sugar and a side of fruit, you can start your day on the sweeter side of life.
Pesto Turkey Pinwheels Are Easy & Elegant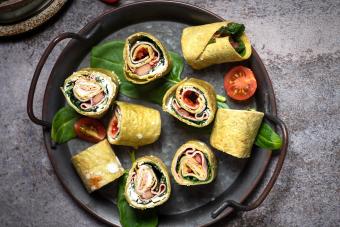 Pesto makes any appetizer or traditional dish feel like a culinary experience. Add it to traditional turkey pinwheels for a simple recipe that feels like a gourmet meal.
Ingredients
1 large flour tortilla
4-6 slices deli turkey
4-6 slices provolone cheese
¼ cup pesto - jarred or homemade
A handful roasted red peppers
Directions
Lay your tortilla flat on a plate or cutting board and start your layers with the turkey and cheese slices.
Next, add the pesto and red peppers to your preference.
Roll up the tortilla and divide into pinwheels.
If you want to serve your pinwheels warm, toast them in a 350°F oven for 7-8 minutes. You can also swap the tortillas for puff pastry here.
Please the Crowd With Pizza Pinwheels
Here's a pinwheel recipe your kids will beg for every week and your friends will ask you to bring to every gathering. Pizza pinwheels are an easy fan favorite, and with this recipe from Carlsbad Cravings, you can customize the flavors and toppings to fit your ideal pizza flavor profile.
Tips for Making Pinwheel Sandwiches
Pinwheels look like complicated dishes to make because of their signature swirls. But they aren't complicated at all! When you're ready to try your hand at making these fun bites, just keep a few tips in mind for a successful pinwheel-making experience.
For chilled and tortilla-wrapped pinwheels, use toothpicks to hold everything together. Just be sure to remove them before handing the food off to your child - safety first!
For spreads like cream cheese, use them as your base layer. But for saucier additions like dressings and jams, add them later on to avoid a soggy mess.
Always slice the two edges of the pinwheel roll off and discard - or snack on them - before serving your pinwheels at a party or potluck.
If you're making pinwheels with tortillas and want a toasted or melted cheese feature, roll and slice your pinwheels first. If you toast the tortilla before rolling, it will be stiff and crack as you start to bend it.
If you want to freeze your pinwheels, skip the baking process. They will taste much better if they are baked after they've thawed.
Always leave the edge of your tortilla or dough with ¼ - ½ inch of space as you're layering ingredients so your pinwheels don't overflow when you start rolling or slicing.
Use a serrated knife to slice into your pinwheels, seam side down, so you don't crush them and compromise that signature round shape.
Plan to eat your pinwheels within 24-48 hours of making them. If they're in your refrigerator much longer than that they might get stale.
Perfect Your Pinwheels
Once you've got the basics of making pinwheels down and you've tried out a few recipes, you can start making your own pinwheel creations. Layer on your favorite spreads, meats, vegetables, and greens for unique appetizers at your dinner parties. Be sure to try some dessert-inspired pinwheels for an extra special treat your family will devour.