Celebrate Independence Day with a sweet and snappy cookie, sporting patriotic colors and all the star-spangled toppings. Whether you're using sprinkles, candy, fruit, or frosting, these 4th of July cookies will bring freedom and flavor to your Independence Day gathering.
4th of July Monster Cookies
Monster cookies are usually full of oats, peanut butter, chocolate chips, and colorful candy-covered chocolates. Update the classic loaded cookie with a patriotic twist. Swap the typical M&M's used in the recipe for a red, white, and blue variation for your Independence Day celebration. These patriotic monster cookies are red, white, blue, and delicious.
Firecracker Sprinkle Cookies
Level up your usual sugar cookies with red, white, and blue sprinkles. 4th of July sprinkle cookies are an easy, crowd-pleasing dessert that comes together quickly with just a few simple ingredients.
Ingredients
1½ sticks unsalted butter, softened
¾ cup granulated sugar
1 large egg
1 teaspoon vanilla extract
½ teaspoon baking soda
½ teaspoon salt
2 cups all purpose flour
1½ cups of red, white, and blue sprinkles
Instructions
Preheat the oven to 350°F and line a baking sheet with parchment paper.
Beat butter and sugar together until creamed.
Add the egg and vanilla extract until combined.
In a separate bowl, whisk together the dry ingredients.
Add the dry ingredients to your creamed mixture in two batches, mixing well in between.
Fold in the sprinkles with a spatula.
Use a cookie scoop or two spoons to scoop out 1½ inch balls of dough onto your lined baking sheet. Place cookies at least two inches apart. Use the palm of your hand to gently press down on the dough for a chewy cookie. You may need to bake the cookies in batches or use two pans.
Bake for 10 minutes or until the tops of the cookies no longer look wet.
Red, White, and Blue Macarons
If you're a seasoned baker and you want a show-stopping dessert for your 4th of July gathering, macarons are an elegant choice. Red, white, and blue macarons bring the holiday decorations to a delicious dessert. See just how easy it is to make these beautiful 4th of July cookies that are just as pleasing to look at as they are to eat.
Mini Sugar Cookie Fruit Pizzas
For a healthier option or just a way to bring color to your cookies without using food dyes, mini fruit pizzas are an easy way to create a red, white, and blue cookie dessert. Grabe your favorite sugar cookie recipe and bake them according to the recipe. Once they're cool, top with a white buttercream or a cream cheese spread. Add blueberries and strawberries or raspberries to complete the patriotic look.
Patriotic Jello Cookies
4th of July Cookie Truffles
This 4th of July cookie recipe will free up tons of your time because it's so simple. The best part is that party guests will think you spent a ton of time making it or even paid a professional to make them for you. These cookie truffles only call for three ingredients, and you can customize the flavors in any way you like.
Ingredients
1 package of red velvet Oreo cookies
8 ounces of cream cheese, softened
Red, white, and blue candy or chocolate melts
Patriotic sprinkles
Directions
Use a food processor to crush your Oreos and set them aside. If you don't have a food processor, use a soup can or rolling pin to crush the cookies inside a plastic zipper bag.
In a large bowl, beat the cream cheese until it's smooth and fluffy.
Add in the crushed Oreos and mix until combined.
Use a cookie scoop or a tablespoon to shape the truffles and place them on a baking sheet or plate lined with parchment paper.
Freeze for one hour.
Melt your candy or chocolate melts.
Remove the truffles from the freezer and use a fork to coat them in the chocolate and place them back on the parchment paper.
Add sprinkles while the chocolate is still wet to make sure they stick.
You can choose any flavor Oreo you like, but the red velvet Oreos add an extra layer of patriotic detail to this recipe. You can also skip the candy coating step here and roll your truffles in sprinkles before you freeze them for an easy decorating process.
Red, White, & Blue M&M Cookie Bars
If you can't decide between blondies and cookies for your 4th of July celebration, these cookie bars are the perfect dessert compromise. Whip up a batch or two of red, white, and blue M&M cookie bars for a fun twist on the classic chocolate chip cookie. You'll love the ease of this recipe, and partygoers will love the decadent treat.
Easy 4th of July Oreos
Why make your own cookies when Oreos are such a fan favorite already? Give them a 4th of July upgrade with colorful candy melts and all the star-spangled sprinkles. Dunk only half of the Oreo into your patriotic candy melts and coat with sprinkle before it sets for an elegant look. If you want the full sweet flavor profile, give each cookie a full coating and as many sprinkles as you can manage. This patriotic twist on beloved cookies also works on wafer cookies, shortbread cookies, and your favorite bakery sugar cookies.
Red, White & Blue Pinwheel Cookies
No need to add 4th of July flair to the decorations on these cookies because the dough itself is plenty patriotic on its own. These red, white, and blue pinwheel cookies are easier to create than you might think and offer a simpler dessert option during an Independence Day celebration. There's no need for sweet toppings when the cookie is this good on its own.
Triple Berry Oatmeal Cookies
Incorporating blue and red berries into cookies before they're baked is another way to add patriotic colors to your dessert without using artificial food dye. Berries are often in season during this time of the year, so it's also a great opportunity to use strawberries, blueberries, or raspberries in your 4th of July cookies.
Ingredients
1 stick salted butter, softened
1 cup packed brown sugar
2 egg whites
1 teaspoon vanilla
2 cups quick cook oats
⅓ cup blueberries, halved
⅓ cup raspberries
⅓ cup strawberries, chopped
Instructions
Preheat your oven to 375°F and line a baking sheet with parchment paper.
Beat the butter and sugar until fluffy.
Add the eggs and vanilla, mixing well between each egg.
Fold in the oats until combined.
Add your berries and gently mix them in.
Scoop cookies onto your baking sheet. These won't be perfectly round and that's okay - you're going for a bit of a rustic look here. Feel free to add extra berries to the top at this stage.
Bake for 8-10 minutes. Check at 8 minutes for browned edges and only bake for one additional minute at a time.
4th of July Meringue Cookies
Easier to make than they look and effortlessly elegant, these 4th of July meringue cookies will have everyone believing you spent hours in the kitchen. Celebrate freedom with a delightful little cookie that's crunchy on the outside and chewy on the inside.
Red, White, and Blue Cherry Almond Cookies
Cherries and almond flavor go together like fireworks and the 4th. Showcase this classic cookie with a drizzle of star-spangled chocolate in red, white, and blue. Cherry almond cookies sporting the American flag colors will be an absolute hit among your fellow freedom celebrators.
Star Cookies With Patriotic Swirled Icing
These fun star-shaped cookies feature all the patriotic flag colors of the holiday and are super easy to make. A simple sugar cookie cutout recipe and a quick royal icing hack gives you star spangled sugar cookies with a striking decoration.
For the Cookies
Ingedients
2 sticks unsalted butter, softened
1 cup white sugar
1 large egg
1 teaspoon vanilla extract
¼ teaspoon almond extract
3 cups all-purpose flour
2 teaspoons baking powder
½ teaspoon salt
Instructions
Preheat oven to 350°F.
Cream butter and sugar until smooth.
Add egg and extracts, beating until combined.
Mix dry ingredients in a separate bowl, then add to the wet ingredients slowly.
Refrigerate for at least 30 minutes before rolling out the dough and cutting with a medium star cookie cutter.
Bake cut-out cookies on a nonstick baking sheet for 6-8 minutes.
For the Patriotic Royal Icing
Ingredients
¼ cup meringue powder
⅓ cup water
1 teaspoon vanilla extract
4 cups powdered sugar.
Red and blue food dye
Instructions
In a stand mixer or using an electric mixer, mix meringue powder and water on low for 2-3 minutes.
Add the vanilla and mix until combined.
Add sugar and mix on medium speed for 4-7 minutes or until doubled in size, bright white in color, and soft peaks form on the beater.
Divide the icing in half. Leave one half white and divide the other half in half again to make deep blue and bright red royal icing.
When your cookies are fully cooled, prepare a bowl of the white icing. Add in swirls of red and blue and dip your cookie face-first into the mixture. Use a toothpick to work out air bubbles and a spatula to flatten any peaks. You should be left with a red, white, and blue tie-dye look on top of your cookies.
Allow cookies to fully set until the royal icing hardens.
4th of July Crinkle Cookies
Crinkle cookies are delightful during any holiday celebration, but for the 4th of July only red, white, and blue crinkle cookies will do. These 4th of July crinkle cookies are as fun to look at as they are to eat, and they're the perfect cookie recipe to make with your kids as you celebrate Independence Day together.
Star-Shaped Shortbread Cookies
Shortbread cookies are a fan favorite and so easy to make. Use this simple recipe to get your cookie dough prepped. Add red and blue food coloring to the dough and cut each of your cookies into a small star shape. By the time they come out of the oven, you'll have starry shortbread cookies as bright as fireworks.
American Pie Cookies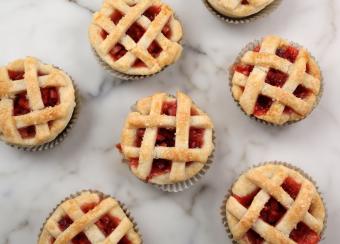 Cookies might be on the menu for a 4th of July celebration, but the true American dessert is pie. Give a nod to the classic sweet treat with a creative cookie twist featuring your favorite pie flavors. Grab your go-to sugar cookie cut-out recipe and a can of your favorite pie filling. For a 4th of July gathering, you might try mixing apple, blueberry, and cherry pie flavors - the most beloved pies for Americans. Cut your cookies out in large circles and then cut small strips of the dough to be your "pie lattice" on top. Use the larger circle cookies as your base, top with a tablespoon of your pie filling, and layer the lattice pieces on top. Sprinkle the top with coarse sugar for an extra pie-inspired detail. Bake according to your recipe and watch as these simple cookie ingredients transform into mini American pies.
Make Any Cookie a 4th of July Cookie
If you're short on time and need to transform a refrigerated cookie dough or store-bought cookie into a patriotic treat, you just need a little creativity to make any cookie a 4th of July cookie. Try these baking and decorating hacks to whip up a holiday dessert in no time.
Make star-spangled cookie sandwiches with chocolate chip cookies and red, white, and blue frosting. You could also roll the edges of your frosting in sprinkles for easy patriotic flair.
Use blue and red sanding sugar on refrigerated dough to give it a colorful look when it comes out of the oven.
Use blueberries and raspberries in place of chocolate chips to make a quick red, white, and blue cookie.
Store-bought sugar cookies topped with white frosting, Twizzlers, and blue nonpareils make quick American flag cookies.
Chocolate chip or peanut butter cookies from the store effortlessly turn into patriotic snacks when you dip once side in white chocolate and top with red and blue sprinkles.
Use red and blue food dye to paint American flags onto refrigerated sugar cookie dough before it goes in to oven.
Top any cookie with a swirl of whipped cream, a strawberry, and a couple of blueberries for an instantly elegant treat.
Celebrate Freedom & Serve the Sweetest Treats on the 4th
Cookies make a great July 4 dessert. You're free to make any sort of cookie you want on the 4th of July. These ideas should give you a solid list of star-spangled cookies that are as pretty as a fireworks show and packed with patriotic flavor.