When it comes to making it through a hectic day, snacks are often a must. Try these vegan snack ideas the next time an afternoon craving strikes.
From the Kitchen
Food often tastes best when it is made at home. Consider these quick and easy vegan snack ideas, which can be made in a matter of minutes, for the vegan in your life.
Ants on a Log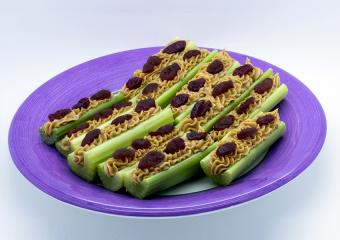 The perfect combination of salty and sweet, Ants on a Log are a great snack for kids or adults. For best results, store Ants on a Log in an airtight bag or plastic container in the refrigerator for no more than two days. Serves 2.
Ingredients:
4 stalks celery, cleaned and cut into 3-inch pieces
1/4 cup peanut butter
1/4 cup raisins
Directions:
Carefully spread 1 teaspoon of peanut butter onto each piece of celery.
Place raisins on peanut butter, spacing about a 1/4-inch apart.
Hummus
Hummus is a traditional middle-eastern dip often served alongside baby carrots, cauliflower, broccoli spears, and other fresh vegetables. Whole grain crackers, tortilla chips, and pita bread or pita chips are also especially tasty when dipped in hummus. Homemade hummus will keep well in an airtight plastic container in the refrigerator for up to three days.
Kale Chips
Kale chips are not only nutritionally dense, but also taste great. While homemade kale chips are delicious enough on their own, they can also be dipped in light salad dressings for an added flavor punch. Store kale chips in a large plastic airtight bag for up to four days in a cool, dry area - such as a pantry. Storing kale chips in a plastic airtight bag in the refrigerator may extend life expectancy by a day or two, though chips may also become soggy when stored in this method.
Apple Slices With Caramel Dipping Sauce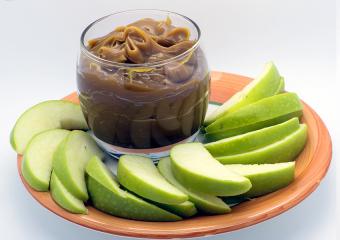 An apple a day keeps the doctor away! Caramel dipping sauce will stay fresh in an airtight plastic container in the refrigerator for up to four days. Leftover apple slices can be kept in an airtight plastic bag in the refrigerator for up to two days, though they will begin to brown almost immediately. For optimal results, do not cut apple slices until ready to eat. Serves 2.
Ingredients:
1/2 cup full-fat coconut milk
1 cup granulated sugar
1/4 teaspoon salt
Apple slices
Directions:
Place sugar and salt in a heavy-duty saucepan over medium heat.
Stir sugar and salt mixture constantly, until all lumps have dissolved and liquid is clear, about 10 minutes.
Carefully add coconut milk to sugar mixture. Liquid will bubble vigorously during this step.
Turn up heat to high, and allow caramel to come to a boil.
Cook caramel until thick and golden brown, about 10 more minutes.
Remove from stovetop, allow to cool completely, and place in an air-proof container until ready to use.
Serve with sliced Granny Smith apples, or other tart apples of your choice.
Off the Shelf
Sometimes you simply don't have time to make your own vegan snacks. Fortunately, there are a number of options available when it comes to finding high-quality, nutritious, ready-to-eat vegan snacks in the grocery store.
Oreos and Soymilk
A perennial favorite among kids and adults alike, People for the Ethical Treatment of Animals reports that Nabisco Oreo cookies are, in fact, vegan. While Oreo's are tasty enough on their own, those who can't eat cookies without a glass of milk may want to pair these sweets with a tall glass of Silk soymilk.
Nature Valley Crunchy Granola Bars
Granola bars have long been a go-to choice when it comes to choosing snacks on the run. People for the Ethical Treatment of Animals reports that a variety of Nature Valley brand granola bars - including apple crisp, cinnamon, maple brown sugar, roasted almond, and pecan crunch - are all vegan. While Nature valley granola bars make a great afternoon snack, they are nutritionally sound enough to also serve as a quick breakfast substitute.
Wheat Thins
For some individuals, crackers are a must when it comes to snack time. Fortunately, original, multi-grain, and reduced-fat Wheat Thins are all vegan, notes People for the Ethical Treatment of Animals, and therefore are the perfect choice when the craving for something salty kicks in. Consider adding a slice of vegan cheddar cheese, such as that produced by GO Veggie, for a tasty snack that can't be beat.
Lay's Potato Chips
As the old saying goes, you can't eat just one, and fortunately, you don't have to when it comes to vegan Lay's potato chips. In addition to the original potato chips, People for the Ethical Treatment of Animals notes that natural country barbeque and thick-cut sea salt Lay's are also vegan.
Snack Away
No matter if you are a pro in the kitchen or a cooking novice, vegan snacks are a cinch to make. When you simply don't have time to whip up a homemade treat, turn to your local grocery store for healthy and tasty vegan snacks on the run.