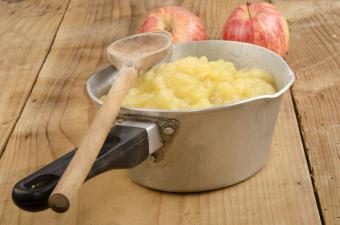 Applesauce makes a delicious treat or side dish anytime you crave something sweet and want to keep it healthy. The basic recipe below yields about five one-cup servings, and you can easily double it if you want to make more.
Basic Applesauce Recipe
This recipe is about as simple as it gets. Keep in mind that the type of apples you use can affect the flavor and consistency of your sauce. You can always add a touch more lemon juice if you like your sauce a little more tart, and you can add a touch more cider if your sauce seems a little thicker than you like after sieving it.
Equipment
Large, heavy saucepan
Wooden spoon
Apple corer
Pairing knife
Large sieve
Large bowl
Ingredients
3 pounds of your favorite apples (A blend of Macintosh and golden delicious works well.)
1/2 cup apple cider
1 tablespoon lemon juice
5 tablespoons honey; more if you prefer sweeter sauce
Directions
Core and peel the apples, and then slice them into approximately 1/2-inch slices.
In a large saucepan, combine the apples, cider, and lemon juice.
Bring the pan to a simmer on medium heat, stirring occasionally. Reduce the heat to low, and continue simmering and stirring until the apples become tender. This should take about 20 to 25 minutes.
Stir in the honey until it's mixed in well and the apples begin to break up.
Remove the pan from the heat, and let the mixture cool for about 15 minutes.
Set the sieve over the bowl, and begin spooning the applesauce into the sieve in several batches. Use the spoon to push each batch of sauce through the sieve to finish breaking up the apples. Give the sauce a stir once it has all gone through the sieve.
Serve the applesauce warm, or chill it for about two hours before serving.
Tasty Variations
Plain applesauce is good on its own, but there are some variations you might enjoy. Add the following ingredients to the basic recipe above to give your sauce a flavor boost.
Cinnamon spice applesauce: Add 1 cinnamon stick into the pot before simmering, and remove it once the apples are tender. Add 3/4 teaspoon ground ginger and 1/4 teaspoon nutmeg when you add the honey.
Strawberry applesauce: Add 1 quart of rinsed, sliced strawberries to the saucepan with the apples before simmering.
Raspberry applesauce: Add 1 quart of rinsed raspberries to the saucepan with the apples before simmering
Peach applesauce: Peel, pit, and slice 4 medium-sized, ripe peaches into 1/2-inch slices, and add them to the saucepan with the apples before simmering.
Delicious and Fun
Once you've made a batch of delicious homemade applesauce, you'll probably never look at a store bought jar the same way again. There's just something so satisfying about making your own from scratch, and you can experiment with adding other fruit and berry combinations to put your own spin on the recipe. You might even come up with a blend that gets passed on to your family through generations to come.