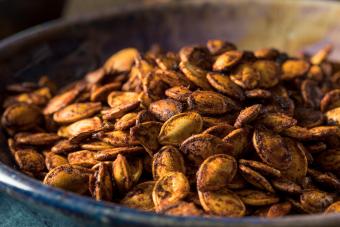 So many fall staples are points of contention between friends and family: candy corn, whether mini candy bars are actually tasty, and if The Nightmare Before Christmas is a Halloween or Christmas movie. What's not a source of good versus evil, Freddie versus Jason, is the undeniable magnetism that roasted pumpkin seeds hold over us. So, when it comes to figuring out how to roast pumpkin seeds, it shouldn't be scary.
How to Roast Pumpkin Seeds
Roasting pumpkin seeds is easier than you might think, especially when following these few simple steps.
This roasted pumpkin seed recipe is for approximately two cups of pumpkin seeds, but you can adjust it depending on how much you retrieve from your pumpkin. Start with seeds you've separated from the pumpkin guts. 
Ingredients
2 cups raw pumpkin seeds
1 tablespoon melted butter
¼ teaspoon salt
Directions
Preheat oven to 300°F.
While the oven is preheating, thoroughly rinse and clean pumpkin seeds to clean off excess pumpkin pulp.
In a large bowl, add seeds, melted butter, and salt.
Stir well to coat the seeds.
Evenly spread pumpkin seeds in a single layer onto an aluminum foil-lined or greased baking sheet.
Bake for 45 minutes or until pumpkin seeds are golden brown.
Quick Tip
It may sound a little corny, but you should allow your spirit to guide you when it comes to flavoring your pumpkin seeds. Don't be afraid to add more or hold back on the ingredients so you can achieve the roasted pumpkin seeds of your dreams. Or nightmares.
Savory, Spicy, or Sweet - Roast Pumpkin Seeds for an Irresistible Treat
So you're looking for a sweet cinnamon pumpkin seed? Wish granted. Do you prefer a roasted pumpkin seed with a little more kick? There's a recipe for spicy! However you take your roast pumpkin seeds is personal, and there's a flavor for you and all your ghosts and ghouls.
Pumpkin Spice
Pumpkin spice is more than just a flavor for your coffee. Make roasted pumpkin spice seeds by replacing salt in your recipe with 1 to 2 teaspoons of pumpkin spice. This festive twist is perfect for fall parties and holiday snacking.
Cinnamon Sugar Pumpkin Seeds
Your sweet tooth will be happy with this sugary shake-up. Skip the salt and use a half to full teaspoon of cinnamon and a teaspoon to a teaspoon and a half of sugar. Add more or less depending on how you'd like them to taste.
Smoky BBQ Pumpkin Seeds
When you're in the mood for a savory, smoky, spiced treat, try mixing in 1 to 2 teaspoons of barbecue spice rub and a few dashes of Worcestershire sauce. Mix with the pumpkin seeds and butter as usual, then bake away. Some might say this is the perfect snack for tailgating and football parties. And they would be right.
Italian Herb Pumpkin Seeds
Give roasted pumpkin seeds a touch of Italian zest and Tuscan herb flavor--and you can go ahead and leave the pasta sauce in the cabinet. In addition to the salt, add a teaspoon or so of Italian seasoning. For a cheesier version, use a half teaspoon of dried oregano with a teaspoon of grated Parmesan. Yeah, Parmesan cheese.
Hot and Spicy Pumpkin Seeds
We see you, Buffalo sauce, jalapeño pepper, red pepper flakes, heat-loving snacker. And now it's your turn to chomp away on some spicy pumpkin seeds. Like any spicy experience, there's more than one way to bring the heat.
For the ultimate spicy experience, mix 4 teaspoons hot sauce, 2 teaspoons chili powder, 1 teaspoon ground cumin, 1 teaspoon salt, ½ teaspoon black pepper, and a pinch or two of cayenne pepper. Toss with the seeds before adding to the baking sheet.
If you want to start off small, use just hot sauce, chili powder, or cayenne pepper on their own.
Smoked Paprika
For a mouth-watering smoked flavor, simply add 1 teaspoon of smoked paprika to the mix with salt before baking. To create a Spanish-style appetizer, add slivered almonds to the smoked seeds after baking.
Honey Roasted
Honey-roasted pumpkin seeds are the perfect touch of sweet, sticky, and caramelized. All you need to do is roast 2 cups of pumpkin seeds with 1 tablespoon of melted butter, 1 tablespoon of honey, and 2 teaspoons of brown sugar. Bake as usual and wonder where they all went so quickly! If you want sweet and spicy, go ahead and use hot honey.
Bacon Flavor
If you're a bacon lover, you're about to enter a dream world of bacon-flavored roasted pumpkin seeds. Instead of regular salt, opt for a quarter teaspoon of bacon salt mixed with a quarter teaspoon of garlic powder. Oh. And don't forget to add bacon bits, if desired, until you reach peak flavor.
Store-Bought Seasoning Suggestions
Add some flavor to your pumpkin seeds with a one-and-done spoonful of seasoning. Here are a few favorites you can find at most stores.
Ranch seasoning blend
Everything bagel seasoning
Cajun seasoning
Old Bay seasoning
Lemon pepper seasoning
Chile lime seasoning
Green goddess seasoning
Everything but the Leftovers seasoning blend
Cheesy seasoning blend
Nutritional yeast (for a cheesy vegan pumpkin seed - use vegan butter in place of butter, too)
Storage Instructions
To maximize the shelf life of roasted pumpkin seeds or to hold you over through the season, store your pumpkin seeds in an airtight container at room temperature for up to two months, or in your refrigerator for up to six months.
You can even freeze roasted pumpkin seeds in airtight containers for up to a year. If you notice the seeds are changing color, have an unusual odor, or taste funny, it's time to throw them out.
Pumpkin Seeds: It's What's for a Snack
Add extra salt, hold the salt, season with a heavy hand, or layer on the honey. They're your roasted pumpkin seeds; make 'em how you want 'em. After breakfast, before dinner, or as a quick little dessert, roasted pumpkin seeds are an irresistible part of fall. Spicy, sweet, sticky, or plain, they'll fly off out of the bowl and into mouths faster than you can say, "Happy Halloween!"