The perfect lunch or dinner dish is crunchy, packed with flavor, and versatile. Spice up your traditional spring roll recipe with these creative fillings and twists on the original. What goes in a spring roll varies from meaty, spicy, savory, and even sweet, and these spring roll ideas give you all the options for a perfect meal.
Shrimp Spring Rolls
Perfect for a summer spring roll recipe or for incorporating extra protein, shrimp works with many flavor profiles. Try filling your spring rolls with grilled shrimp, shredded carrots, and your favorite greens for a light and summery meal with tons of protein points.
Ingredients
Rice paper
Shredded carrots
20-25 grilled shrimp
Spring mix greens
Cucumber - julienne
Instructions
Place your greens and veggies in the center of your rice paper and layer 3-4 shrimp just above them.
Start rolling your wet rice paper from the bottom, tucking in the side of the spring roll half way through.
Finish rolling, slice in half, and enjoy!
Rainbow Vegetable Spring Rolls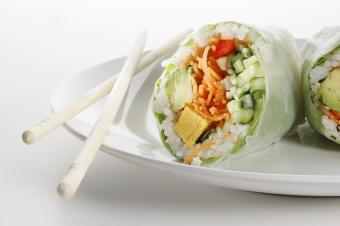 Hit your vegetable goal for the day with these refreshing rainbow veggie spring rolls. Add rice noodles or a protein of your choice to make these light rolls heartier.
Ingredients
Rice paper
Red cabbage, shredded
Yellow bell pepper, cut into matchsticks
Carrots, cut into matchsticks
Red bell pepper, cut into matchsticks
Cucumber, cut into matchsticks
Instructions
Layer all of your veggies in the spring roll, packing them as tightly as you can.
Roll up your rice paper and slice the roll in half to reveal a gorgeous rainbow treat.
You can switch up the vegetables based on your preferences and use a dipping sauce to add flavor.
Vietnamese Chicken Spring Rolls
These spring rolls are packed with tender chicken, fresh veggies, and mouthwatering flavor. Vietnamese spring rolls, also known as summer rolls, come together in less than 20 minutes and are the perfect vessel for a savory peanut sauce.
Tofu Spring Rolls
Vegan-friendly recipes are abundant in spring roll cuisine, and tofu is a great way to add protein to the dish. Vegan tofu spring rolls with seasonal vegetables, rice noodles, and fresh herbs work well as a refreshing lunch, a light dinner, or even an appetizer at a dinner party.
Smoked Salmon Spring Rolls
If you need a protein-packed meal that takes hardly any time to prepare, these smoked salmon spring rolls are perfect for your busy weeknight dinner.
Ingredients
Rice paper
Smoked salmon, flaked
Rice noodles
Cucumber - sliced in thin medallions
Avocado - sliced in thin wedges
Lemon wedges
Instructions
Starting with the rice noodles, layer your filling in the center of the rice paper, making sure you leave space on the edges for rolling.
Follow with avocado, smoked salmon, and cucumber.
Squeeze a bit of fresh lemon juice on your layer before wrapping for extra-fresh flavor.
Mango Avocado Spring Rolls
Creamy, sweet, and refreshing, these mango avocado spring rolls will brighten your dinner plate. Layer them with your choice of chicken, tofu, or shrimp for a filling lunch or dinner.
Lemongrass Beef Spring Rolls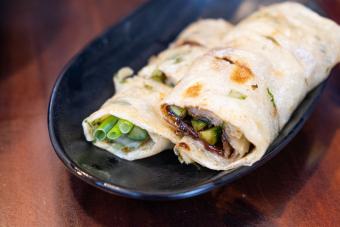 Herby, warm, and flowing with stir-fry flavors, these beef spring rolls will kick your ordinary weeknight dinner up a notch. If you want a vegan-friendly version of this flavorful dish, swap the beef for stir-fry mushrooms.
Fruit-Filled Spring Rolls
If you want to introduce spring rolls to your kids or just try a dessert twist on the classic, fruit-filled spring rolls offer a sweet surprise inside. Layer your rice paper with mango, kiwi, strawberries, and fresh mint for a delightful bite. You can also add feta cheese, lemon juice, or fresh melon to these fruity rolls.
Edible Flower Spring Rolls
So beautiful you won't want to take a bite, yet so yummy you won't be able to resist. Edible flower spring rolls look like a gourmet piece of artwork on your dinner party table and add something special to an average weekday lunch.
Spring Roll Bowl
Skip the rice paper wrapping and steam some rice instead! Introduce spring roll flavors to your family without the rice paper stress by tossing all your ingredients over a bed of steamed white rice or a helping of rice noodles. You can still enjoy the flavors of your favorite spring roll variation for a make-ahead lunch or a quick dinner with an effortless spring roll in a bowl.
Pair Spring Rolls With the Perfect Sauce
Spring rolls wouldn't be half as delicious - or fun to eat - without the irresistible dipping sauce options. Pair your spring rolls with an easy sauce recipe for a flavor-packed meal that still feels light.
Prep & Store Your Spring Rolls Properly
Whether you're prepping ahead of time or storing leftovers, make sure you know how to manage your spring roll ingredients before and after you assemble them.
Properly hydrate your rice paper in water for 15-20 seconds.
Be careful not to over-stuff your spring rolls as you're layering your fillings.
Make sure you cut veggies to the same length for a balanced roll.
Make your spring rolls fresh. They can dry out if prepped too far ahead of time.
If you're meal prepping your spring rolls for lunch, prep them the morning of since spring rolls only keep in the fridge for a few hours.
Swap rice paper wrappers for lettuce if you prefer a crunchier texture or go the fried route with wonton wrappers.
Try Spring Rolls for Easy Meals & Healthy Dishes
Take a walk on the flavorful side of life with these spring roll filling ideas. Your weeknight dinners and healthy lunches just got tastier, and even prettier, with these flavor-packed spring roll recipes. With these filling options, you're sure to find something that will please the whole family.