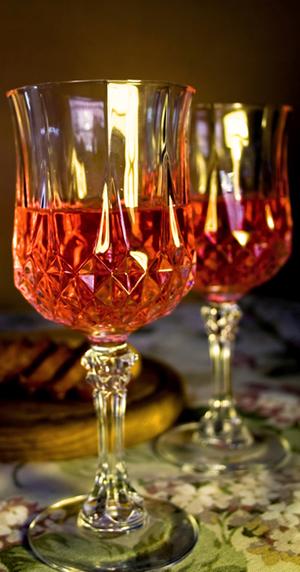 Many people consider blush wine to be their absolute favorite. With a delicate color and flavor profile, blush wines are usually easy drinks that pair easily with virtually any meal.
What Is Blush Wine?
Blush wines range in color from a very light to medium pink. Juice from grapes used to make all wines is clear in color - regardless of whether the grapes are red or white. What imparts color to wines is the process of leaving the clear juice in contact with a wine's colored skins. When winemakers decide to make a blush wine, they do it one of two ways: either they leave the clear juice in contact with the red wine grape skins for an hour or so to impart a little bit of color, or they blend a red and white together. Blush wines are also often referred to as rosé.
Rosé versus Blush
Many people use the two terms interchangeably, but there actually is a slight difference. Any wine called a rosé is made from juice left in contact with the skins for an hour or so. Rosés are never a blend of red and white wine, while blush wines may be made using either method. Therefore, all rosé wines are blushes, but not all blushes are rosés.
Rosé is a term describing the French technique for making wines ranging in color from grayish pink to very dark pink. In recent years, the trend has been to use the term rosé instead of blush. While the results may be similar, wines labeled as blush wines tend to be more mass-market wines made in large lots as opposed to the carefully crafted small batches of rosé.
Characteristics
Pink wines - both rosés and blushes - tend to be similar to white wines with a little more body. They are usually fairly light, and many consider them summertime wines due to their crisp flavors and freshness. Rosés that are more intensely colored may veer closer to their red counterparts, with a little more structure and complexity. Old World-style rosé wines are often very dry, while their New World counterparts may be sweeter with less alcohol. Blush wines may be light, bright, floral, and fruity. While some can be bland and insipid, a well-made blush or rosé balances alcohol, sugar, and acid to create a slightly complex wine that is not quite as powerful as its red wine counterpart, but interesting to drink nonetheless.
Varietals
In the United States, the most common types of blush wines you see are White Zinfandel, White Merlot, and White Grenache. While these varietals have "white" in the name, they are all made from red wine grapes left in minimal contact with the skins so they have a pink color. With rosé wines, you will see a wider range of red wine grapes used to create them - ranging from a rosé of Sangiovese to a pink Champagne. It is possible to make a rosé from any red wine grape.
Serving
Rosé and blush wines are best served chilled - at about 40 to 45 degrees. A more structured, dry, high-quality rosé may benefit from a little warmer serving temperature ranging from about 43 to 48 degrees. Serve blush wines in either red or white wine glasses with stems.
Food Pairing
With their light flavor, blush wine pairs very well with many foods. Some great pairings to try include:
Goat cheese
Salmon
Barbecue
Lobster
Italian food with red sauce
Some to Try
If the only blush wine you've ever had is White Zinfandel, you may be surprised at just how good a blush wine or rosé can be.Try any of the following wonderful blush wines.
A Wide Variety
If there's a red wine grape, winemakers have probably used it to make a blush or rosé wine. With such a huge range of blush wines available, there's sure to be something you enjoy. Start with red wine varietals you like and select their rosé counterpart. It may just become one of your favorite wines!