It's easy to get overwhelmed when looking at a pile of old stuff in your parents' attic or the family heirlooms you've inherited, but trust us. The key to making sense of what to keep and what to sell is knowing what's valuable. There are a few types of items worth money, and being able to spot them can help you with all the decisions.
Antique Coins and Coin Collections
Not every coin collection is valuable, but they're always worth a second look. Certain rare coins are worth a lot, but spotting rare coins can be tricky. Here are a few things to look for.
Uncirculated coins
Minting mistakes (anything funky or messed up with the coin)
Super old coins
Coins made of silver or gold
Quick Tip
Keep in mind, all coins are worth at least their face value, so if there are a lot of coins, you're basically in the money already.
Jewelry With Precious Metals and Gems
Even if your grandma's style in jewelry is not exactly in fashion, her old necklaces and bracelets might be worth quite a bit. If jewelry is made from precious metals like gold or silver, or it includes gemstones, it's already worth something.
You can identify the metal used in most jewelry by looking on the back or inside of the piece. There will be a stamp telling you what it's made of. If you suspect it could be valuable, consider having it appraised by a jeweler before you sell.
Sterling Silver Flatware and Serving Pieces
Another old thing worth money is sterling silver flatware (plus any serving pieces or decorative items). The key here is being able to tell the difference between grandma's super-valuable sterling and Aunt Jackie's silver-plated flatware she got from that Betty Crocker promotion.
Sterling is made of real silver, and no matter what kind of condition or pattern, it's worth something. Silverplate is just a super-thin layer of silver over a base metal, and it's rarely worth much. Take a look at the hallmarks on the back to know which is which. Sterling will be marked "sterling" or "925" or something similar.
Small-Scale, Useful Antique Furniture
Mom's china cabinet might be pretty, but it's not likely to fetch a lot of money if you sell it. Her antique cherry end table, on the other hand, could be valuable. It's all about what today's antique furniture buyers want. Most modern families don't have a ton of room for giant antique pieces, but they do love showing off some style with tasteful smaller items.
End tables, coffee tables, plant stands, antique chairs, and other useful, small pieces of furniture are often worth something. Look at the condition of antique furniture and whether it has quality craftsmanship. If it's pretty, practical, and well-made, it's probably valuable.
Hand-Painted China & Figurines
A lot of old sets of china aren't worth a ton. This is mostly because people don't entertain in the same way they once did. After all, who wants to store a set of china all year and use it for one big holiday dinner? Instead, it's the hand-painted pieces that could be items worth money.
Just as workmanship matters in antique furniture, it's a big deal with china too. If something is hand-painted or made by an artist, take a little time to dig into its background, condition, and value.
Quick Tip
You can tell something is hand-painted by looking carefully at the details. Compare multiple pieces in the same pattern and look for little inconsistencies that show a human touch.
High-End Crystal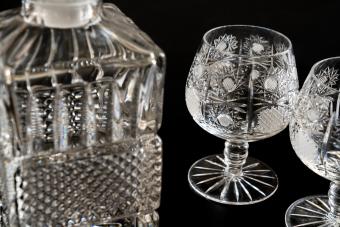 Like china, crystal seemed like a super-valuable thing to pass down through the generations, but it's usually not. The exception, however, is older high-end crystal by noted manufacturers like Baccarat, Waterford, and Lalique.
Old things worth money include useful items too, such as vases, stemware, and serving bowls. Those trinket dishes and paperweights probably don't have a ton of value.
Vinyl Records in Good Condition
Another item worth money is old vinyl, but there's a catch. It has to be in good condition. Scratches and imperfections can seriously decrease the value. If you've got your dad's old record collection, take a sec to look at how it has held up over time.
Then take an inventory of what you have. Records from the 70s can be valuable, and so can albums by music icons like Bob Dylan, the Beatles, the Sex Pistols, and others.
Original Pro-Level Fine Art
Art tends to hold its value or even increase in value, so if you've got a painting, drawing, or other lovely old item, it could be worth something. The big factor here is whether it was made by a professional artist or amateur with pro-level skills, or whether it's just someone's hobby.
Start by looking at the art to see if it's an original or reproduction. If it's just a print and it's not a limited edition, it's not usually worth that much. If it's original, especially if it's signed, then it could be worth quite a bit.
Next, take a look at the quality. If it feels basic or looks like something someone did in a class, it's probably not super valuable (though it could still have a lot of sentimental value).
Signed and First-Edition Books
Although there are tons of ways to use and decorate with old books, they aren't usually worth a lot. There are two major exceptions, though: signed books and first editions.
If you have an old book you've inherited, find out if it's worth anything by opening the front cover. If it's signed by the author or illustrator on the first few pages, that could spell value. Then look at the copyright page. If it's the first edition (read that fine print), it could be worth checking out with an appraiser.
Keep a Look Out for Items Worth Money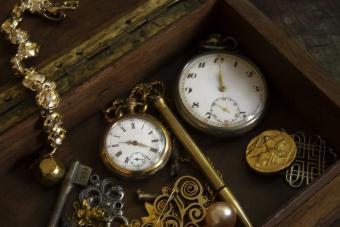 Although many old things aren't worth a lot, it's handy to be able to identify items worth money. If it's handmade, high quality, or constructed of precious materials, it's always worth digging into the history and finer points of something's value. Add to that the sentimental value, and most old stuff is closer to jewels than junk.