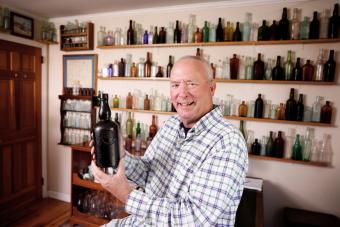 Whether you are a collector, digger, trader or someone who just loves the look of a few old bottles decorating a kitchen shelf, an antique bottle price list is an invaluable resource for identifying and appraising these utilitarian objects from the past. Tuck this list in your bag as you peruse the wares at antique shops, flea markets, and estate sales.
Free Printable Antique Bottle Price List
When you go out hunting for new bottles to add to your collection, it's always a good idea to come prepared. It can be difficult to gauge the value of a bottle offhand, but a price list can help. Simply look up the type of bottle to get an idea of its value.
If you need help downloading the printable price list to the right, check out these helpful tips.
Understanding What's on the Price List
Because there are thousands of different types of antique bottles and their value depends largely on condition, age, rarity, and other factors, it would be impossible to include every bottle in existence on a list. Instead, it's more useful to look at various categories of antique bottles and the value ranges you can expect to find for these categories. This handy printable list includes all the major bottle categories.
How to Use This List
Examine the bottle. Note its size, color, markings, and condition.
Look up the bottle type on the printable list.
Check the bottle you have against the detailed description of the type.
Note the value range for the bottle. Bottles in rare colors and great condition will fall at the higher end of the price range. Those with condition issue or in less desirable colors or shapes will fall at the lower end of the range.
Other Price Lists for Antique Bottle Collectors
You can also find other price guides for antique and collectible bottles. Many of them cover a specific bottle type, such as Jim Beam Figural Bottles: An Unauthorized Collector's Guide by Molly Higgins or the Antique Trader Perfume Bottles Price Guide by Kyle Husfloen and Penny Dolnick.
Other price guides provide a more generalized listing of old bottle types. Consider one of the following:
Tips for Using Price Lists
When using a price guide to determine the value of an antique bottle, consider the following tips: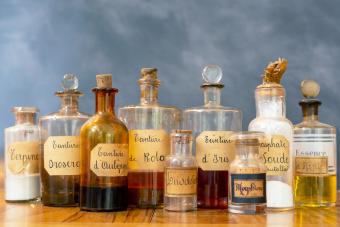 Be honest about the condition. Since value is largely based on the bottle's condition, this can be one of the biggest factors in determining where your bottle falls on the price range. If you overestimate your bottle's condition, you are also overestimating its price.
Stick to a general category if you can't find your exact bottle on a price list. Often, small factors like color, brand, or manufacturing method can have a big impact on price. If you use the price of a bottle that is similar to yours though not identical, you may not get an accurate result.
Carry your price list with you. You never know when you might encounter a bottle you'd like to look up. If it's a simple printable, you can keep the price list in your wallet or purse.
Limitations of Price Lists
Price lists for antique and collectible bottles can help you determine whether your piece is valuable, but they do have a few limitations. Keep these in mind as you use the books and publications:
If they are specific, price lists tend to be hundreds of pages long. This can make it difficult to carry them around with you.
Typically, price lists include a range of values. This is because value really depends on several factors, including the condition, age, rarity, and uniqueness of the bottle. Be suspicious of any price list that gives exact values.
Printed price lists can quickly become dated if market conditions shift. For instance, if there's a trend in collecting, a certain type of bottle may go up in value.
When in Doubt, Get an Appraisal
If you suspect you have a very valuable bottle or you're planning to sell your collection, it's a good idea to get your pieces professionally appraised. Appraisers consider factors like market trends, condition, manufacturer, material, desirability, and more when setting a price on an antique bottle. While a price guide can give you some insight about these factors, only an antique appraiser can tell you about the real value of your bottles.
Are You Holding a Treasure?
A price guide can be a helpful tool when you're shopping for or identifying old glass bottles. Although price lists have their limitations, they can offer some fascinating general information about the value of your finds. You might just discover that the bottle you're holding is a treasure. Next, explore some rare, valuable jars and see if you have any in your collection.