Whether you are a collector, digger, trader or someone who just loves the look of a few old bottles decorating a kitchen shelf, an antique bottle price list is the ultimate resource for identifying and appraising these utilitarian objects from the past. Being able to spot old bottles worth money is a really useful skill, so tuck this list in your bag as you peruse the wares at antique shops, flea markets, and estate sales.
When you go out hunting for new old bottles to add to your collection or want to dig a little deeper into what you already have, it's always a good idea to come prepared. It can be difficult to gauge the value of a bottle offhand, but a price list can help.
Examples of the Most Valuable Antique Bottles
The price list below takes a general look at the classes of antique bottles and what they're worth. But before we delve into that, let's take a look at what some of the real treasures tend to fetch at auction. These are some of the most valuable antique bottles that have sold recently.
| Antique Bottle | Approximate Value |
| --- | --- |
| Olive green double eagle flask | $6,700 |
| Keene Glassworks decanter | $5,200 |
| Victorian poison bottle | $3,000 |
| Red Stork whiskey bottle | $2,850 |
| Smith's Druid bitters bottle | $2,600 |
Free Printable Antique Bottle Price List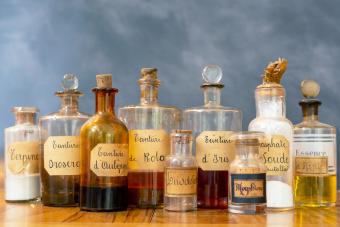 Because there are thousands of different types of antique bottles and their value depends largely on condition, age, rarity, and other factors, it would be impossible to include every bottle in existence on a list. Instead, it's more useful to look at various categories of antique bottles, and the value ranges you can expect to find for these categories. This handy printable list includes all the major bottle categories.
If you need help downloading the printable price list, check out these helpful tips.
The following estimates of value are from current auctions, past auction results, and antique valuation services.
Small Medicine Bottles
Small medicine bottles typically sell in the $3 to $20 range and have these qualities:
Less than six inches tall
Clear glass
Marked with the name of a practitioner and/or location
May say "elixir," "tonic," "syrup," etc
May be an interesting shape
Small Colored Glass Bottles
Bottles come in all kinds of gorgeous colors, and some colors can be worth a lot. There's a big range, but many sell for between $40 and $100 if they're in good shape. They tend to have these characteristics:
Less than six inches tall
Green, brown, cobalt blue, amber, or other color
Marked with a company name
Sometimes marked with the word "Poison"
Tiny Glass Bottles
Really small bottles are adorable, and they can also be valuable. They often sell for around $3 to $25 and have these features:
Less than three inches tall
Various shapes
Marked with company name or location
May be crudely constructed
Cola Bottles
Bottles from well-known cola companies can be worth almost nothing or sell for hundreds of dollars. It all depends on how old and rare they are, as well as whether they're in good shape. Some Coke bottles can be worth $300 or more, especially if they are commemorative editions or are really old.
Tablet Bottles
Tablet or medicine bottles regularly sell in the $15 to $45 range. Look for these characteristics:
Less than six inches tall
Dark-colored glass
May have logo or original paper label
Ink Bottles
Ink used to come in bottles, and they are pretty common. Still, collectors sometimes specialize in these bottles, which often sell for between $8 and $20. Some can be worth much more. Look for these qualities:
Less than three inches tall
Squat glass bottle with short neck
May have faceted sides
May have logo or label
Milk Bottles
Up until the middle of the 20th century, it was really common to get your milk delivered in glass bottles. These still abound in antique shops and at flea markets, and they often sell in the $10 to $20 range. Some of the most valuable milk bottles can be worth hundreds, though. Watch for these characteristics:
Small or large size, less than 16 inches tall
Classic milk bottle shape
Dairy name embossed or printed
Flasks and Liquor Bottles
There are as many styles of liquor bottles as there are types of liquor, but some of the really old and interesting ones can be worth money. Expect them to sell in the range of $20 to $200, although there are definitely outliers. These are a few of the qualities to watch for:
Flat shape or round
Sometimes amber or brown glass
Can be rare, depending on the manufacturer
Logo or label on side
Perfume Bottles
Antique perfume bottles come in all kinds of shapes and can be some of the most exciting glassware to collect. Really rare ones can sell for thousands of dollars, but most sell in the $20 to $200 range and have these characteristics:
Cut glass or pressed glass
Sometimes colored glass
Stopper included
May include logo or label
Narcotic Bottles
Like other medicines, narcotics came in glass bottles. These can be worth quite a bit to collectors, usually selling in the $50 to $100 range. Look for them by these signs:
Less than six inches tall
Usually amber or brown glass
May contain original label or logo
Will have words like "narcotic," "opium," and "laudanum"
How to Use an Antique Bottle Price List
If you're wondering whether you have an old bottle worth money, looking it up on a price list can help.
Examine the bottle. Note its size, color, markings, and condition.
Look up the bottle type on the printable list.
Check the bottle you have against the detailed description of the type.
Note the value range for the bottle. Bottles in rare colors and great condition will fall at the higher end of the price range. Those with condition issues or in less desirable colors or shapes will fall at the lower end of the range.
Need to Know
If you suspect you have a very valuable bottle or you're planning to sell one, it's a good idea to get your pieces professionally appraised. Appraisers consider factors like market trends, condition, manufacturer, material, desirability, and more when setting a price on an antique bottle.
Other Price Lists for Antique Bottle Collectors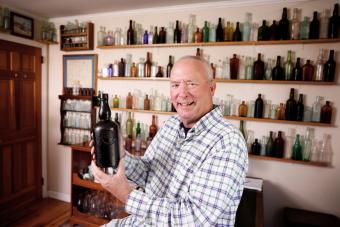 You can also find other price guides for antique and collectible bottles. Many cover a specific bottle type, such as Jim Beam Figural Bottles: An Unauthorized Collector's Guide by Molly Higgins or the Antique Trader Perfume Bottles Price Guideby Kyle Husfloen and Penny Dolnick.
Other price guides provide a more generalized listing of old bottle types. Warman's Bottles Field Guide by Michael Polak is a compact volume, for example, perfect for toting along on a dig or a jaunt to the flea market. Antique Trader Bottles Identification and Price Guide by Michael Polak is a large book, but it also comes in an electronic edition. You'll find extensive information about bottle types and prices.
Quick Tip
You may notice that many printed price lists are out of date. Times are changing, and printed guides can't reflect the current prices of every type of bottle. We still think they're handy for identification, though.
Tips for Using Price Lists
When using a price guide to determine the value of an antique bottle, consider the following tips:
Be honest about the condition. Since value is largely based on the bottle's condition, this can be one of the biggest factors in determining where your bottle falls on the price range. If you overestimate your bottle's condition, you also overestimate its price.
Stick to a general category if you can't find your exact bottle on a price list. Often, small factors like color, brand, or manufacturing method can have a big impact on price. If you use the price of a bottle that is similar to yours, though not identical, you may not get an accurate result.
Carry your price list with you. You never know when you might encounter a bottle you'd like to look up. If it's a simple printable, you can keep the price list in your wallet or purse.
Limitations of Price Lists
Price lists for antique and collectible bottles can help you determine whether your piece is valuable, but they have a few limitations. Keep these in mind as you use the books and publications:
If they are specific, price lists tend to be hundreds of pages long. This can make it difficult to carry them around with you.
Typically, price lists include a range of values. This is because value depends on several factors, including the condition, age, rarity, and uniqueness of the bottle. Be suspicious of any price list that gives exact values.
Printed price lists can quickly become dated if market conditions shift. For instance, if there's a trend in collecting, a specific type of bottle may increase in value.
Are You Holding a Treasure?
A price guide can be a helpful tool when you're shopping for or identifying old glass bottles. Although price lists have limitations, they can offer some fascinating general information about the value of your finds. You might discover that the bottle you're holding is a treasure.