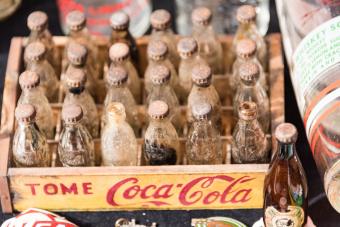 Name a more recognizable glass than a Coca-Cola vessel. That's right, you can't. You might've thought your grandparents were strange for keeping old anniversary bottles of Coke around the house, but the real joke is on you. Today, these old Coke bottles are worth much more than the measly scratch-off winnings we can rack up at the gas station counters. So, take a look at which vintage Coke bottles are worth money, and which ones you can skip at the thrift store.
7 Most Valuable Old Coke Bottles 
Coca-Cola is the quintessential American brand if there ever was one. First bottled in 1891, this company did what most never could achieve — to create a disruptive, lasting design. When you think of Coca-Cola, you immediately think of their curved and ridged glass bottles. But those dinky bottles your parents and grandparents tossed in the bin for years are hitting it big with online auctioneers today. It's time to discover just which old Coke bottles your ancestors should've held onto.
| | |
| --- | --- |
| Most Valuable Old Coke Bottles | Recent Sales Prices |
| Coca-Cola Root Glass Co. prototype bottle | $108,000 |
| Straight-sided Coke bottle | $1,500 |
| Chinese McDonald's Coke bottle | $1,100 |
| Hutchinson patent Coke bottle | $600 |
| Vintage glass bottle & bottle mold | $525 |
| Vintage Coca-Cola syrup bottle | $325 |
| Beatles commemorative Coke bottles pack | $325 |
Coca-Cola Root Glass Co. Modified Prototype Bottle
The most expensive Coca-Cola bottle ever sold was the Root Glass Co. modified prototype. This modified prototype came about when the original 1915 designed bottles didn't fit as easily into the bottling machines that the manufacturers were using. So the original design was revisited and modified. Only a handful of these modified prototypes were made and tested at the few bottling locations in production, making them incredibly rare. In 2019, a pristine one of these bottles came to Morphy Auctions and sold for a shocking $108,000.
Straight-Sided Coke Bottles
A few decades before Coca-Cola launched their iconic contour bottle, they used straight-sided bottles with crown tops. These bottles resemble the shape that we're all familiar with much more closely than the previous Hutchinson bottles did. An added bonus was that they came in a variety of colors. A few of the colors you can find of these old straight-sided Coke bottles are:
Clear
Amber
Green
Blue
Aqua
Of course, condition is a major factor in how valuable these bottles are, because they are pushing 110+ years old. One pristine bottle manufactured in Milwaukee, Wisconsin, recently sold for $1,500 online.
International Coke Bottles
One of Coca-Cola World's biggest draws is the wall of different-flavored cokes available from around the world that you can try. These slightly different formulas and packaging make them a perfect collectible, so international Coke bottles do pretty well at auction.
Given that there's a plethora of regions, designs, and periods to choose from, it's hard to make an accurate estimate for how much these bottles are individually worth. But interesting bottles do pique collectors' interests now and then. For example, this vintage unopened Coca-Cola bottle from a Beijing McDonald's sold for $1,100 on eBay.
Hutchinson Patent Coke Bottles
Early soda bottling has a bit of a complicated history, but all you need to know is that the Coca-Cola Company didn't start selling their soda in their own iconic bottles. Instead, from about 1880 to 1910, they used Hutchinson patented bottles, which were much stouter and more cylindrical than the ones we're familiar with.
These glass bottles are collectible for both Coca-Cola merch fans and old bottle collectors, and for their age, they're relatively low priced. Depending on their condition and age, these bottles can sell for as little as $50 to as much as $1,000 to $2,000. This old Coke Hutchinson bottle manufactured in Bowling Green, Ohio that features some staining and wear slides in somewhere in the middle, selling for $600 in 2012.
Vintage Glass Bottle & Bottle Mold
By the Interwar period, Coca-Cola was mass-manufacturing their now-iconic contour bottle using molds instead of hand-blown techniques. This fast-paced and cheap alternative relies on there being actual molds for the molten glass to cool around. You don't often see these vintage molds come to auction, so when you do, they'll draw a reasonable crowd.
They're not the most collectible Coca-Cola bottle product, but they can eke out a few hundred dollars. For example, this mold & corresponding glass bottle recently sold for $525 on eBay.
Vintage Coca-Cola Syrup Bottles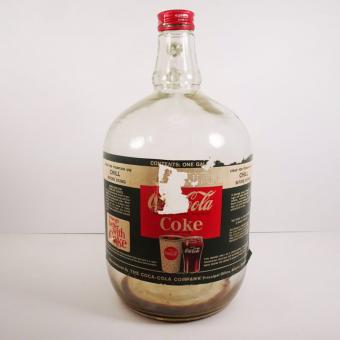 Before Coca-Cola was a household empire, it was a soda shop syrup business, and you can find these empty syrup bottles in a variety of sizes all over the internet. Although they're not exactly rare, old bottles with unique labels or in really good condition will still attract a loaded buyer. For example, this empty gallon syrup bottle from the 1930s sold for $325 on eBay.
Beatles Commemorative Coke Bottles
The Coca-Cola Company is nothing if not marketing savvy, and they know just how to draw in their audience. Back in the 2010s, they launched a super popular campaign with random names printed on their labels. This "share a coke" initiative was a smash success, so naturally the company branched out its basic concept into other pop culture brackets, such as The Beatles. You could share a coke with the Fab Four, which appealed to both Beatlemaniacs and Coca-Cola fans. One complete unopened case recently sold for $325 online.
Bottle Up That Old Coke Magic
No matter where you fall on the Pepsi vs. Coke debate (props to you, RC Cola dark horses), you can't deny that Coke has embedded itself into our culture and minds. It's not going anywhere, and neither are its vintage goodies. So, next time you pop over to the corner store for a cold Coke, consider picking up two, one to drink and one to save… just in case.