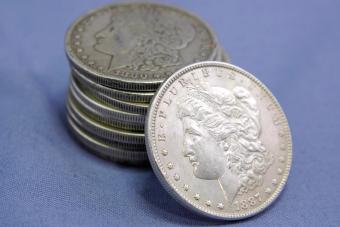 There's a reason Dorthy's slippers were originally silver; once upon a time, silver was just as valuable as gold, and silver dimes, nickels, half-dollars, and dollars filled cash registers across America. There's a good chance the first time you found one of these silver dollars was in your granddad's secret stash of old coins he kept in a colorful cigar box. Now, his dreams of getting a lottery-sized prize from his coin collection just might come true if you can find any of the most valuable silver dollars.
The dollar coins of today might only be worth a buck, but some from decades ago can sell for hundreds of thousands of dollars. It sure makes hunting through your grandpa's old change drawer worth digging through the loose tobacco leaves, pocket lint, and takeout menus.
Morgan Silver Dollars
| | |
| --- | --- |
| Most Valuable Morgan Silver Dollars | Recent Sales Price |
| 1893-S | $2,086,875 |
| 1884-S | $750,000 |
| 1892-S | $630,000 |
| 1901-S | $587,500 |
Named for their designer, George T. Morgan, Morgan silver dollars are infamous for their record-breaking auction prices. Struck at five different mints between 1878 and 1904 (and for a single year in 1921), Morgan took inspiration from Philadelphia teacher Anna Willess Williams's classic Greek profile to make the coin's Goddess of Liberty design.
Morgan silver dollars have a face value of $1, are 90% silver, and are one of the most collectible coins in existence. Coin collectors will do just about anything to own a complete collection of them, which is good news for you if you've got one. Even the poorest graded Morgan dollars will still sell in the low hundreds, but if you're really looking to make a profit from one of these rare coins, keep your eyes peeled for some of the most sought-after examples.
1884-S
The 1884 Morgan silver dollar minted in San Francisco isn't necessarily worth more than your average Morgan dollar, but a well-preserved one might be. An 1884-S Morgan silver dollar with one of the highest grades available (PCGS MS68), a great pedigree, and a beautiful but clear patina sold in 2020 for $750,000.
1892-S
With a little over a million of these Morgan dollars minted in 1892, it's not uncommon to find poor graded examples of these at auction or in collections around the world. But, examples with a MS65 or higher grade are particularly valuable. In fact, it's believed that no more than 200 MS63 or higher 1892-S coins exist. In 2020, one of these rare MS68 1892-S coins went to auction through Stack's Bowers and sold for an impressive $630,000.
1893-S
Until 2001, this Morgan silver dollar from 1893 wasn't known to coin collectors. It had been in the same family (the Vermeule) for decades. In a fascinating turn, this ungraded (at the time) coin was set to be auctioned on September 11, 2001, but the catastrophe of 9/11 postponed the sale and inevitably impacted its final price.
Years later, the Vermeule Dollar was graded and given a MS67, one of only two of these dollars above a MS65. It ended up selling in 2021 for a record-breaking $2,086,875.
1901-S
According to the Professional Coin Grading Service, the 1901-S is the rarest Morgan silver dollar to find in true mint condition. Early sales of these coins don't reflect their rarity, as people hadn't actually realized how unusual the mint coins were. Some coin collecting professionals propose that there might be fewer than five examples in MS65 or higher condition, making them worth a ton of money. The last one of these exceedingly rare coins went to auction in 2015 and sold for a little over half a million dollars ($587,500, to be exact).
Miscellaneous Silver Dollars
Although the Morgan silver dollar is the holy grail to dollar coin enthusiasts, you can still make some money from other silver dollars too.
Liberty Seated Dollars
Liberty seated dollars are an interesting bunch of U.S. coins that were minted between the 1830s and 1870s in various batches and designs. Just about the only thing they all have in common is the same image on the face of a woman with her head turned back over her shoulder. Among this batch of silver dollars, you can find rare and unique examples, with some in rough condition selling for more money than similarly beat-up Morgan silver dollars.
In fact, one of the most expensive sold in 2003 in a public auction for $1,092,500. It was an 1870-S coin with a mint status; one of only 12 in existence. Since rarity can drive up prices, it makes sense why it'd fetch so much money. So if you come across one of these beauties, while it may not win you a cool million, it could still be valuable. Take it to a reputable coin appraiser and see if you can finally pay off those student loans.
1885 Proof Trade Silver Dollar
The 1885 Trade Silver Dollar is an interesting coin from the U.S. mint, featuring classically-inspired designs on either side. Considered one of the rarest coins ever issued in the history of American currency, only five extremely high-quality proof examples are known to exist. Unlike many collectibles, all five are present and accounted for, and anytime one of them comes to auction, you're looking at a million dollar price tag. Most recently, one of these appeared in a Heritage Auctions lot and sold for $3,960,000.
Valuable Susan B. Anthony Dollars Worth Finding
Although your parents are probably most familiar with the Susan B. Anthony 'silver' dollars that were minted for three years, 1979-1981 (with a random single-year 1999 series thrown in), they're not actually made out of silver. Instead, they're made out of mostly copper, and what they didn't have in value back in the day, they're starting to make up for now. Since they're much easier to come across than coins from a 100 years before, you can make a quick buck from any of these Susan B. Anthonys.
1979-P Wide Rim
Known as the 'wide rim' Susan B. Anthony dollar, this series comes from a small batch of coins that featured a larger rim thanks to the U.S. Mint's demands. This design became the standard after the batch was made, and the initial run in the 1979-P batch was rather small. Only about 25,000 estimated examples survive today. Circulated coins aren't worth all that much (about $5-$10) since they've passed through so many hands and been roughed up over the years, but the uncirculated ones can go for $20+.
1979-S Type I and Type II
The 1979-S Susan B. Anthony comes in two different designs: Type I and Type II. The Type II is rarer and features a clear 'S' mintmark whose ends look like they reach into one another, creating an almost figure 8 on the coin. Given these are far less common than the Type Is, you can find them selling for $25 or more at auction in low grades and in the mid-100s for higher grades. Similarly, Type Is will sell for about $100-$400 in the best condition (aka highest grades).
Yet, occasionally at auction, you'll find a unique case where an error appears. Unfortunately, there's very little information about this particular 1979 Susan B. Anthony coin except for that it was graded NGC Genuine. It sold for a record-breaking $15,000 on eBay in 2021.
1980-S Proof Repunched Mintmark Dollar
Repunched mintmark coins are fun to collect because you can usually see the mistakes with your own eyes. Typically, repunched coins have their mintmarks (the capital D, P, S, etc that you see on coins today) double punched, which causes either a deepening effect or a shadow of where they punched the mold over the top of an existing mark. Several 1980-S Proof Susan B. Anthony coins were repunched, and these are much more valuable than their regular fancy Proof siblings.
Regular 1980-S Proofs are selling for about $25-$80, according to PCGS. There aren't any recent sales for these repunched dollar coins, but if one were to come to auction in a quality grade, they'd probably sell for at least around $100 if not more.
What to Look For When Selling Silver Dollars
If you're a novice to the coin collecting game, you probably don't have a lot of experience looking at coins and seeing where the hidden value is. Given that coin collecting is one of the oldest types of collecting in the business, there's a lot of information available to help you get started. But, if you don't want to read through pages and pages of complicated jargon, consider some basic tips:
Pedigree/provenance helps. Any silver dollars that have a documented history of whose hands they passed through over the years (provenance) can have extra validity (especially for non-circulated ones) and make them worth more money.
Grading is a must. Serious coin collectors only purchase coins that are graded, and those tend to be the people with the deepest pockets. Most collectors favor PCGS to get their coin's conditions looked at, but any certified numismatic grader will do.
Collectors consistently desire Morgan dollars. Coins, much like precious metals, wax and wane in value, but one thing that's consistent is that Morgan dollars are always in fashion. Finding one of these is like picking a winning scratch-off in the coin collecting world.
Not every 'silver' dollar is worth a lot. While there's a large collection of silver dollars that've been minted throughout American history, just being older and made out of silver doesn't make them worthwhile to every collector. Although they'll always be worth their value in silver, don't waste your money and time on getting a coin graded that won't be worth much more than its face value.
All That Glitters Might Be Silver
All that glitters doesn't have to be gold, as these incredibly valuable silver dollars can show. Collecting coins might not have the cool reputation that it once did, but the price tags alone mean that you might want to jump on the bandwagon before it makes a massive comeback.