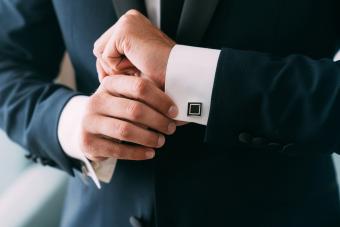 Your favorite formal wear is incomplete without a glittering pair of cufflinks attached to each wrist. Traditionally a masculine jewelry, antique cufflinks have historically been passed down through families as an emblem of coming adulthood. Recently returning into fashion's good graces, a pair of antique cufflinks can make a dapper gentleperson out of anyone.
About Antique Cufflinks
Long before post-Victorian social norms made it a taboo for the 'ideal' man to enjoy lavish amounts of jewelry, cufflinks were just one of the ways that men decorated their outfits. The earliest documented cufflinks come from the 17th century and were largely limited to the highest social strata. These small, bejeweled accoutrements fell out of favor for a few centuries until a resurgence in the 19th century with the creation of the French cuff - a stiff, rectangular cuff that needed to be pinned closed with a cufflink.
Prior menswear hadn't included sleeve cuffs with the same kind of prominence, so cufflinks became mainstream fashion. Of course, this resurgence first started with the social elite, as they could afford new fashions on a regular basis. With the rise of industrial production, mass-produced clothing and cufflinks broke through economic boundaries. While middle-class individuals' cufflinks might not have been luxurious or designer, they were purposefully constructed and dictated by fashion's demands.
Today, cufflinks have become a commonplace item. Not every person who has pieces of formalwear in their closet has cufflinks to accompany them, and typically people view cufflinks as something best saved for special occasions. Yet, because they're a multi-purpose item and they take up very little space, people outside of collectors' spaces are beginning to rediscover their magic.
Popular Cufflink Styles Throughout History
For a relatively simple piece of jewelry, there was certainly an abundance of cufflink styles created over the years. Ignoring the many art movements and fashion trends that influenced the actual shape, colors, and design of these decorative fasteners, there were quite a few different ways that the cufflinks were affixed to the shirts and to their adjoining parts.
How complicated a style is doesn't necessarily correlate to an increase in value; luxury designers have created an abundance of cufflinks using the simplest closure methods and sold them for top dollar. Similarly, these closure methods have waxed and waned throughout history, making them a poor characteristic to date them with. However, if you're in the market for a new pair of cufflinks (antique or not), it's a good idea to know what the different kinds are:
Fixed back - Fixed back cufflinks are the most basic kind of cufflinks, which have no mechanism. Simply, a larger and smaller button are attached by a straight post (much like an earring post) and are fed through the cuff, and then straightened out to secure.
Double-sided - Similar to fixed back cufflinks, these straight post closures differ in that both sides of the cufflink are decorated so that no angle of the cuff is without some snazziness.
Chain-link - Just like it sounds, chain-link cufflinks are usually designed with double sides and are bound together is a small chain.
T-bar - T-bar cufflinks are a great style for people who want to be able to put them in on the go; they're constructed with a hinged bar that folds vertically so that it can be passed through the cuff and then extended horizontally and secured against the fold.
Whale toggle - An extension of the T-bar style is the whale toggle, which gets its name from its curved shape. The curved bar ensures that the cufflink will always sit at the perfect angle against the cuff.
Snap - A 20th century style of cufflinks is the snap fixture, literally named for its snap closures. Just press each side of the cuffs together and they'll snap into one another.
Luxury Jewelry Brands With Antique Cufflinks to Admire
The jewelry business is an ancient operation, and cufflinks are just one of the many items they've introduced over the years. The leading brands creating cufflinks during the 19th and 20th centuries defined menswear accessories, and typically the old cufflinks of theirs that have survived are impeccably wrought - and very, very expensive. Some brand names to look for on any of the antique cufflinks you come across include:
Cartier
Tiffany & Co.
Bulgari
Larter & Sons
Deakon & Francis
J.E. Caldwell & Co.
Carrington & Co.
Krementz & Co.
Hemmerle
Antique Cufflinks Value
Antique jewelry is up there with fine art, fashion, and furniture with its high market values. Their deep connection with the wealthy social elites has kept their prices really high, and demand for these pieces doesn't wane much. However, there is a big range for what these pieces can typically sell for, costing in the mid-hundreds to the hundreds of thousands of dollars range.
Precious metals and gemstones will increase values, no matter the condition, due to their raw market worth. Look for stamps on the inside or base of the cufflinks that indicate a piece's metal content, such as 10K, 14K, 24K for gold or PLAT for platinum. If you're unsure about the potential gemstones, have the piece appraised by a gemologist.
In addition to materials, brands can really increase prices for jewelry. Luxury brands will have a base value usually in the low to mid thousands, whereas unmarked cufflinks will sell in the hundreds.
Additionally, design style can make a difference in values. Antique and vintage cufflinks that evoke a specific era, such as Art Deco, are notoriously more popular than generic-looking ones. So, these cufflinks' prices are increased by popular demand.
Here's a smattering of antique cufflinks of all different kinds that recently came to auction:
Where Can You Buy and Sell Antique Cufflinks?
The jewelry trade is well known for its markups, and if you're purchasing a piece, antique/vintage or not, you should be aware that many businesses will raise their prices high above retail value. Thus, it's important to be aware of what styles seem to be currently popular as well as what the market value for metals are. That way, you can come prepared to dicker over prices if need be.
That being said, you can find a lot of antique jewelry at antique stores, estate sales, and antique fairs/pop-ups. However, if you're interested in a specific era or style of antique cufflink, then looking for them online should bring you better results. Here are a few online retailers to get you started:
For All the King's Cufflinks and All the King's Men
Although it's the age of athleisure and wearing sweatpants to every function, you can dress up your life a little bit with a pair of antique cufflinks. Whether you want to save up for an expensive set or want to buy a beautiful, budget option, a pair of old cufflinks will give you that special sense of occasion.