There's nothing quite like the stunning effect of seeing bright light shone through colored glass, and you have the illustrious Tiffany family and their 19th century innovation, Favrile glass, for bringing these historic techniques back to life. Take a deep dive into how this unique colored-glass process developed and the way that it embedded the Tiffany name into mainstream American culture.
How Favrile Glass Came to Be
Tiffany & Co.'s founder, Charles Lewis Tiffany, had six children, one of whom became known as a prolific American artist in his own right. Louis Comfort Tiffany was born in 1848 and by the late-1860s, he was committed to honing his artistic ability. Initially trained as a painter, Tiffany began practicing glassmaking techniques in the mid-1870s. Eventually, he was able to launch his own glassmaking enterprise, first entitled the Tiffany Glass Company and later called Tiffany Studios. Under his design leadership and using his patented glass coloring process, business boomed. Embracing the natural motifs and bright colors of the Art Nouveau movement, Tiffany was quickly recognized for his talents and transitioned from making decorative lamps, vases, and jewelry to taking commissions for large stained-glass installations. However, the greatest part of his legacy, and the aspect of his work that people are most familiar, are the iconic Tiffany lamps that American families have clamored to display on their desks and side tables for decades.
Identifying Favrile Glass
Even from a distance, Favrile glass is incredibly striking; yet, there is always a concern over high-quality reproductions fooling appraisers and collectors alike. Therefore, you want to be absolutely sure that the piece you're bidding for is entirely authentic. The quickest way to do so (without contacting an appraiser) is to check for one of the seven different types of Tiffany marks available, all of which include some variation on the company's name. The most fragile of these is the company's paper labels, which are the easiest of the identification marks to recreate.
Favrile Glass' Many Forms
While the company has a vast inventory of historic pieces that it manufactured over the past 100+ years, it's three most popular products include their vases, lamps, and stained-glass installations. Although these three categories target vastly different scales and audiences, they all reflect that ethereal touch that only a Favrile piece can.
Tiffany Favrile Vase
Favrile vases are designed a bit differently than what is considered Tiffany's typical patch-work glass style. Most of these iridescent vases are entirely covered in flowing hues of earthy-toned colors which melt into one another. These statement pieces almost glitter when the light hits them just so, and they come in just about every size and shape imaginable. One thing they all have in common is that they're worth a significant amount of money. Here are a few different examples of how these Tiffany Favrile vases have been priced at auction.
Tiffany Favrile Lamp
Considered by some to be more iconic than the company's many jewelry lines, the Tiffany Favrile lamp (often shortened to just 'Tiffany lamp') was first introduced to the world at the Chicago World's Fair in 1893. These stained leaded or copper foil glass lamp shades brought the elegance and religious resonance of large stained-glass windows into the average home, and they perfectly embodied the hues and patterns of the natural world that the Art Nouveau and Aesthetic movements were taken with during this period. Given their lasting popularity, you have to be on particular guard when purchasing an antique or vintage Tiffany lamp, as countless reproductions are being released every day. Since these items have grown to be highly collectible by the arts market, rare pieces are evaluated in the thousands and tens of thousand of dollars range. Here are some of the shocking amounts that these lamps have recently sold for.
Tiffany Favrile Stained-Glass Installation
The largest Favrile glass projects that the Tiffany Studio embarked upon were special stained-glass installations commissioned by a variety of patrons. According to expert appraiser, Dr. Lori Verderame, "Tiffany windows in good condition [can range] from $25,000 to $150,000 on the market today." There is a small chance that you will find these windows listed at auction, since some private residents did commission pieces from the company; however, there are many public examples of these stained-glass windows in New York that you can take a look at for yourself, and here are just a few.
Christ Church - Rochester, NY
St. Paul's Episcopal Church - Rochester, NY
Third Presbyterian Church - Rochester, NY
St. Mary's Church - Rochester, NY
St. Michael's Church - New York City, NY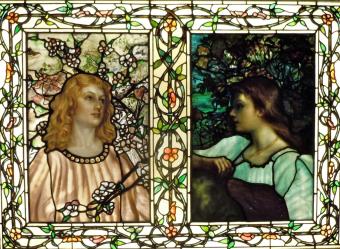 DIY Your Own Favrile Glass
Due to the company's aesthetic lineage and popularity, its unlikely for most people to be able to acquire one of these luxurious pieces of Art Nouveau art. Yet, fans of the incredible style innovated by Louis Comfort Tiffany can practice making their own DIY Favrile glass from home using just three things: plastic page protectors, electrical tape, and brightly colored permanent markers. By coloring different sections of the transparent sheets with the brightly colored markers, and then using black electrical tape to separate the different sections from each other, you can be right on the path towards emulating the master glassmaker's designs themselves.