Antique Tiffany lamps are considered to be one of the most highly collectible pieces of historic lighting by both collectors and interior designers alike. Unfortunately, because of their massive popularity, many forgeries and reproductions can be found on the market, making it important that you familiarize yourself with these legendary lamp styles and with how exactly they came to be coveted worldwide.
The Tiffany Lamp Emerges
Louis Comfort Tiffany, son of Tiffany & Co.'s founder, first showed his groundbreaking lamps designs at the Chicago World's Fair in the late 19th century. Tiffany's favrile glass technique became the thing of legend and helped bolster the growing Art Nouveau movement developing in France during the period. By 1900, the world was able to purchase one of Tiffany's leaded lamps, which elevated glass blowing into an exquisite and monetizable art.
Tiffany Lamp Styles
Often considered to be works of art today, Tiffany lamps were made in six basic styles, some of which will bring in startling amounts at auction. These styles include:
Table
Floor
Desk
Chandelier
Wall sconce
Hanging shade
Table Lamps
Competing only with the little blue box for the most popular Tiffany item, Tiffany table lamps are small lighting fixtures meant to fit snugly on top of desks and tables. Unfortunately for fans of this style, genuine antique Tiffany table lamps are worth a shocking amount of money. In fact, one antique Tiffany lamp was recently sold by Sotheby's for almost $2,300,000.
Floor Lamps
Tiffany's floor lamps differ greatly from their iconic table lamps in that they are generally larger and feature upwards flute-shaped lamp shades that send the light outwards into the room. In some cases, Tiffany's floor lamps can be worth hundreds of thousands of dollars. For example, one Tiffany floor lamp sold for $700,000 in a recent auction.
Hanging Shades
Tiffany did branch out into large lighting centerpieces with their hanging shades that came in upward facing and downward facing styles. Interestingly, these pieces were often created to be included in matching motif floor and table sets. While these antique hanging shades are similarly expensive as their table and floor lamp sisters are, modern reproductions will only cost you around $200-$300.
Designs of Tiffany Lamp Shades
Made out of blown glass or equipped with leaded glass shades, Tiffany lamps were immediately sought after by the American elite for their high quality construction and old-world beauty. Tapping into the natural themes of the Art Nouveau movement, here are a few of the motifs you might find depicted across genuine Tiffany lamp shades.
Geometric Shapes
Floral Patterns
Dragonflies
Vines
Wisteria
Tree branches
Medieval motifs
Renaissance designs
Zodiacal symbols
Bamboo designs
Shapes of Leaded Glass Shades
Cone
Globe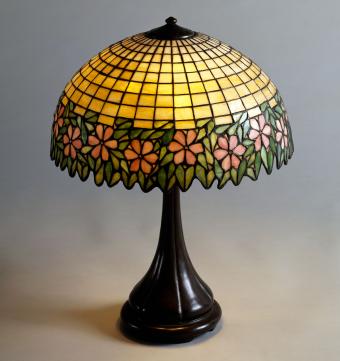 Unique Tiffany Lamp Characteristics
Considering that Tiffany lamps were hand-blown, no two of them are exactly alike, making some of the more brilliant pieces incredibly valuable to collectors. The unique process used to manifest one of these lamps or lampshades involved taking colored glass - which had been created by adding metallic compounds to molten glass - and wrapping copper wire around it. Once this was complete, the small pieces were fused together to mold them into a shade-shape. The fabrication most similar to this style was found in historic stained glass windows, and Tiffany's innovation became the new stained-glass standard for this era.
Marks and Signatures
In order to ensure that a Tiffany lamp is authentic, you want to first look for a manufacturer's mark, which indicates ownership. Many of the original Tiffany lampshades were signed, but over the years several different signatures were used. These inconsistencies can make the authentication process rather tricky for amateur sleuths. Some shades bear the full Tiffany name on the outer metal rim of the lampshade, while others have "Tiffany Studios", "Tiffany and Co.", only in initials, and some have nothing at all. In addition, many lampshades also have a model number stamped alongside the signature, although this isn't the case for every product the company released.
Beware Tiffany Reproductions and Forgeries
Interestingly, there is a large market for genuine reproductions which allows people to have Tiffany-esque lamps in their homes without having to invest the exorbitant amount of money in an authentic piece. However, there are many forgeries of antique Tiffany lamps which have been crafted so finely that they can pass by even trained eyes. One of the easiest ways to asses a Tiffany is based on the materials used to make it and the precision of the maker's marks; but, the most surefire way to determine if a potential Tiffany is a genuine Tiffany is to have it appraised by an expert. Given the steep values of antique Tiffany lamps, it's worth spending a little money to have a qualified professional take a look at your piece.
At the End of the Rainbow
Tiffany lamps and their rainbow-colored lampshades have become unique vestiges of a long-past art movement which continues to captivate modern audiences. Now, while it's rather unlikely that you'll be able to add one of these expensive pieces of design history to your collection, there are many historic homes and museums that have these on display for the public to enjoy. So, get out your maps and plan to stop and bask in the rainbow luminescence of an antique Tiffany lamp on your next vacation.