Barbie may be synonymous with dolls today, but she's not the monolith Mattel's marketing team wants you to believe she is. Before Barbie was even the wisp of a thought, highly talented doll makers were customizing their own fashion dolls. Learn more about the antique fashion dolls that came before Barbie and the contemporary vintage dolls that gave her a run for her money.
7 Antique & Vintage Fashion Dolls That Defy Barbie's Popularity
If Greta Gerwig's Barbie film making over $1 billion at the box office is anything to go off of, Barbie's grip on our society isn't going anywhere. But if you're a little tired of Barbie fever and want something else to scratch that childhood itch, take a gander at these lesser-known antique and vintage fashion dolls.
Collectible Barbies can be valuable, but so can other antique fashion dolls. Check out these vintage and antique fashion dolls and their values.
| | |
| --- | --- |
| Antique & Vintage Fashion Dolls | Approximate Values |
| Francois Gaultier Poupée de Mode | $2,000-$5,000 |
| Marilú Dolls | $100-$200 |
| Madame Alexander's Cissy | $1,000-$5,000 |
| Bild Lilli  | $1,000-$3,050 |
| Honk Kong Lilli  | $50-$300 |
| Durham's Charly  | $10-$50 |
| American Character Toy Company's Tressy  | $50-$200 |
Francois Gaultier Poupée de Mode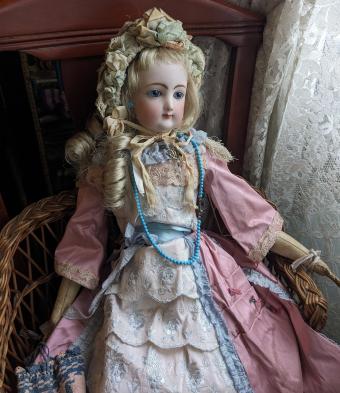 Francois Gaultier was a French doll maker who manufactured bisque-head fashion dolls between 1860 and 1916. Also called Poupée de Mode, these dolls were lavishly dressed in Victorian fashions and marketed towards an upper-class customer. Gaultier's fashion dolls represent just one of many European companies from the period that created similar products. But because of their custom work and high price tags, they never achieved the acclaim that dolls like Barbie did.
Antique Gaultier dolls are quite valuable, ranging between $2,000 to $5,000. One was even featured on season 16 of Antiques Roadshow and appraised for $4,000-$4,500.
Marilú Dolls
Marilú dolls were an Argentinian fashion doll that was manufactured in the 1930s and 1940s. These dolls have an interesting amalgamation of baby-like features with more adolescent proportions, and they were decked out in fashionable clothes inspired by the period.
Despite coming from a smaller, specific audience, a fair number of these fashion dolls have survived. They're not the most expensive borderline-antique doll on the market, selling for around $100 to $200 on average. For example, this Marilú doll circa the 1940s sold for $107 online.
Madame Alexander's Cissy
Over time, Barbie has become synonymous with the fashion doll movement, but decades before the platinum blonde was even a thought in Ruth Handler's head, Cissy was breaking molds in the doll space. Created by renowned doll manufacturer Madame Alexander, Cissy was a demure and delicate fashion doll with barely there features and an overflowing wardrobe.
Unlike baby dolls, Cissy really focused on emulating the cutting-edge fashions of the 1950s, and well-kept vintage Cissy dolls (and accessories) are worth thousands. For example, just one blue Cissy dress sold for $3,550 on eBay while this boxed Cissy from 1957 sold for $3,375.
Bild Lilli
If Barbie is primetime, then Bild Lilli is after dark. This svelte German fashion doll was originally marketed to grown men because of her racy inspiration — the sexed-up comic character Bild. Some people stick with whoopie cushions and joy buzzers when they buy gag gifts, and others gravitate towards the busty blonde dolls.
Bild Lilli wasn't a serious entrepreneurial venture in 1955, but Ruth Handler saw one of these dolls on a Swiss getaway, and so the Barbie seeds were firmly planted in her brain.
Bild Lilli might not be a household name, but serious doll collectors pay for her like she is. It's rather difficult to find a genuine Bild Lilli doll on the market, but the ones you can find are worth a few thousand dollars. For instance, this unclothed Bild Lilli in need of repair sold on eBay for about $3,050.
Hong Kong Lilli
To make things more complicated for Bild Lilli fans, the Marx Toy Company of Hong-Kong licensed the doll design and created their own line of Bild Lilli 'clones' between the 1950s and 1960s. To differentiate between the two, you should be able to find "Made in Hong Kong" stamped into these clone dolls' backs.
In pristine condition, these Bild Lilli clones can sell for anywhere between $50 and $300. Of course, boxed is going to be worth more than unboxed. For example, this clone named Suzie Q with her box & stand recently sold for about $260 online.
Durham's Charly
Durham's Charly fashion doll was affordable then, and it's affordable now. These blatant Barbie knockoffs were incredibly similar, save their Kewpie-like eyes and the swirly Charly emblazoned on the packaging. You could find them in all sorts of incredible 60s and 70s fashions and carded in simple packaging like a 10-cent action figure.
If you're interested in starting a doll collection, Charlys are a great place to start. You can find dolls in perfect condition listed for only $25 online. For instance, take this boxed duo of Charly dolls from the late 70s that sold for about $50 on eBay.
American Character Toy Company's Tressy
One of the most competitive Barbie knockoffs was Tressy, which debuted at the USA Toy Fair in 1963. Jesse and Diana Dean were the minds behind this 12" doll. However, the original incarnation of Tressy was only manufactured for three years before being snatched up by Ideal and remade time and time again.
What made Tressy stand out was that, with the turn of a key in her back, her hair grew. Instead of settling for long-haired or short-haired dolls, you could get them all-in-one. Today, the earliest Tressy dolls are worth the most, at about $50 to $150, and with every accessory or box included, that total goes up. For example, this Tressy from 1964 with her box and accessories sold for $165 on eBay.
Fashion Dolls Will Never Die
To some doll collectors, Barbie is a mid-level choice. She's over saturated and not that hard to find. Comparatively, these antique and vintage fashion dolls are sought-after additions to round out so many people's collections. For all that Mattel has tried to erase these other dolls from the zeitgeist, rogue doll enthusiasts keep their prices high and names in the papers.