Collectible dog bookends range from antiques, such as Bradley and Hubbard's cast iron bull dogs from 1925, to contemporary whimsical dachshunds made of bronze-coated poly resin. It's fascinating to learn what makes antique dog bookends valuable and see some examples of these adorable and practical collectibles.
Tips for Dog Bookend Collectors
Throughout history, many humans have considered dogs to be much more than just companion animals. With their loving nature, loyalty, and intelligence, dogs have earned a special place in the hearts of many people. Dog bookends have become a favored collectible of many canine lovers. Many of these collectors search for bookends of a favorite breed or type of dog. Others look for bookends from a certain era, type of material or particular manufacturing company. Once necessities to keep books from cascading off of shelves, bookends still hold books in place, but today they are also a unique decorative home accessory. These tips can help as you look for the perfect antique dog bookends.
Learn to Tell the Difference Between Antique and Contemporary Bookends
If you're on the hunt for antique dog bookends, it's important to be able to tell the difference between older examples and modern reproductions. Look for these clues:
Craftsmanship - When compared to modern examples, antique bookends are much more likely to be handmade or carefully crafted. Look for fine details, paint that doesn't bleed over into other areas, and an overall feeling of quality.
Labels and markings - Some bookends will have a sticker or marking on the underside. You can look up any markings or names to find out if the bookend may have been made by an older manufacturer.
Patina - A pair of dog bookends that's older will have a noticeable patina, or attractive wear. This is especially common in bookends made of metal.
Understand the Materials Used in Antique Collectible Bookends
Although bookends date back hundreds of years, most antique collectible canine bookends are from the 19th and 20th centuries. The materials used to create these treasures from years past include the following:
Bronze
Brass
Cast iron
Copper
Marble
Wood
Granite
Alabaster
Porcelain
Pottery
Look for Antique Dog Bookends by Known Makers
If you're able to identify the manufacturer of your dog bookends, this can help you get a sense of their value. The following are examples of manufacturers of antique dog bookends:
Bradley and Hubbard - One of the most famous manufacturers of bookends, Bradley and Hubbard produced delicate cast iron antique home decorations from the 1870s through the 1950s. Many examples, such as Scottie dog bookends, can be worth hundreds of dollars.
Jennings Brothers - Active from the 1890s through the 1950s, Jennings Brothers was a Bridgeport, Connecticut-based manufacturer who specialized in detailed metal wares. You'll find lots of different breeds of dogs, including Beautiful English or Springer Spaniel bookends by Jennings Brothers showing remarkable detail. These often sell for more than one hundred dollars for a pair.
Connecticut Foundry - The Connecticut Foundry, sometimes called the CT Foundry, operated from 1919 through 1983 and was famous for their lovely bookends. Often working in cast iron with a rich bronze finish, the CT Foundry created many exquisite examples, such as a 1929 Fox Terrier bookend worth more than $100.
Hubley - The Hubley Manufacturing Company was based in Pennsylvania and operated from 1894 through 1948. They are most famous for their valuable cast iron doorstops, but they also made gorgeous bookends. These included French bulldogs and Boston terriers made of cast iron, often worth hundreds of dollars.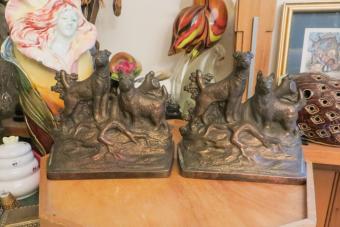 It's important to note that not every dog bookend has a known maker, and some dog bookends by unknown makers can still be very valuable.
Know What Makes Antique Dog Bookends Valuable
Antique and vintage canine bookends can sell for several hundred dollars if they catch the attention of collectors. There are several factors that can make them appealing and valuable:
Famous maker or artist - The manufacturers mentioned above, as well as known artists and other famous makers, can add to the value of an antique dog bookend. For example, a pair of Hubley Boston Terrier bookends sold on eBay for almost $300 in 2021.
Condition - If the bookends are in excellent condition for their age, they will be worth more. For instance, a perfectly preserved pair of Art Deco German Shepherd bookends sold on eBay in mid-2021 for about $500.
Rarity - Some breeds are harder to find as bookends, and these can be more valuable. If you encounter bookends of a less common breed, such as antique pug bookends that sold on eBay for $160, these can be worth more.
Where to Find Antique Collectible Dog Bookends
If you're interesting in buying antique or vintage dog bookends, there are lots of places to look:
Online antique stores - Online antique retailers like TIAS or Go Antiques can be good sources for finding the bookends you want. You won't be likely to find a bargain, but these shops have a constantly changing inventory that may include rare breeds.
Auctions - Local auctions or online auctions on eBay are a good way to find a deal on antique bookends. Remember that shipping can be expensive, since bookends tend to be heavy.
Local antique shops - As you're shopping in local stores, keep an eye out for bookends. Since this is such a specific item, you won't find it in every antique shop. However, it's a great thing to watch for when browsing.
Consider Contemporary Collectible Dog Bookends
Dog bookends do not have to be antique or vintage to be collectible. There are many collectors that search for newer bookends, just as they do for ones from long ago. Depending on the manufacturer, contemporary dog bookends can be made from the same materials as older bookends, as well as poly-resin and alabastrite. Other types of modern dog bookends that are highly collectible include these:
Artist-signed
Hand-painted
Designer editions
Replicas or reproductions
Choose Bookends You Love
Whether you love dogs, decorating with old books, or displaying antiques, there are certain to be collectible dog bookends that will look lovely in your home or office. Take some time to check out the options and then choose the designs you love the most. Ultimately, the most valuable antiques are the ones that bring you joy.