You really can't beat the vibrant beauty of Depression glass, so it's no wonder it's such a hit with collectors and anyone who wants to add a pop of color to their home. While some pieces sell for under $20, some of the most valuable Depression glass patterns are worth hundreds. The value often comes down to a super rare combo of color, piece, and pattern, so we've rounded up some of the ones to watch for.
List of the Most Valuable Depression Glass Patterns
If you're browsing in an antique store or sorting through your china cabinet, keep an eye out for these super valuable patterns. In some cases, the pattern itself isn't rare, but colors or specific pieces in that pattern are. In others, the pattern was only made for a short time, so there just aren't that many examples out there.
| Depression Glass Pattern | Example Piece | Approximate Value |
| --- | --- | --- |
| Hazel Atlas Royal Lace | Six cobalt blue tumblers | $285 |
| MacBeth-Evans American Sweetheart | Pink water pitcher | $895 |
| Hocking Cameo | Pink sandwich plate | $100 |
| Jeannette Adam | Pink covered butter dish | $1250 |
| Hocking Mayfair | Six blue footed tumblers | $720 |
| Jeannette Doric and Pansy | Ultramarine salt and pepper set | $150 |
| Federal Parrot | Green sugar and creamer | $280 |
| MacBeth-Evans Petalware | Eight pastel Petalware cups and saucers | $770 |
Hazel Atlas Royal Lace
One of the most collectible rare Depression glass patterns is Royal Lace by the Hazel Atlas Glass Company. This pattern was only made for a few years — from 1934 to 1941. That's part of its rarity, but it doesn't account for all of it. This pattern was made in three main colors: pink, green, and cobalt blue. While pink and green are valuable, royal blue is much rarer and tends to be worth the most.
You'll find lots of different pieces in Royal Lace, from tumblers to serving dishes. It's not uncommon to see items sell for $40 or more, and some are worth a lot. A set of six tumblers in cobalt blue Royal Lace sold for about $285.
Quick Tip
For the rarest and most valuable Depression glass patterns, you do have to worry about modern reproductions. Telling fakes from the real deal mostly comes down to a close examination to check for all the details. In the case of Royal Lace tumblers, you can flip them over and see if the pattern is on the bottom (real) or if the bottom is blank (fake).
MacBeth-Evans American Sweetheart
Made from 1930 to 1936, American Sweetheart isn't the rarest pattern, but it's actually kind of difficult to find in perfect condition. It's very delicate and thin, so it's prone to chips. This means that some pieces, especially those with extra-fine edges or delicate parts, can be quite rare and valuable. Soup bowls, tumblers, and pitchers are often worth the most, especially in pink Depression glass. This pattern also came in a color called Monax, which was a fine, bright white.
American Sweetheart has a lot of variation in price, with some pieces selling for under $10. However, rare items are worth a lot more. A pink water pitcher in American Sweetheart sold for $895. It was in perfect shape without any chips or cracks.
Hocking Cameo
Many of the most coveted patterns of Depression glass come from the first part of the Great Depression. This is true for Cameo by Hocking Glass, which was made from 1930 to 1934. Green is the most common color in this pattern, but it's still valuable. Rarer shades include yellow, pink, and clear (known as "crystal") with an edge of platinum. The crystal pieces are some of the rarest, with only a cocktail set and a luncheon set made, and yellow was only ever produced between 1932 and 1934. The very rarest and most valuable color is pink, however.
Hocking Cameo items average around $25 per piece, but there's a lot of variation. A single pink Hocking Cameo sandwich plate sold for over $100.
Jeannette Adam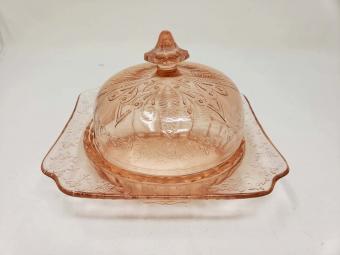 One of the most coveted patterns you'll encounter (if you're lucky enough to spot a piece while you're browsing) is Adam by Jeannette Glass. It was made between 1932 and 1934 and tends to be square in shape. There are a few variations with "swirl" and "Sierra" being among them. Pink is one of the most common colors in this pattern, and green is also fairly easy to find. The rarest colors include "delphite" (blue), crystal, and yellow.
Most Jeannette Adam pieces sell for around $20, depending on the color and specific item. Certain pieces are especially valuable with the covered butter dish topping the list. A pink Jeannette Adam covered butter dish in the Sierra style sold for just under $1,250. It was in perfect shape.
Hocking Mayfair
Made from 1931 to 1937, Mayfair actually had a longer production run than most patterns made by Hocking Glass. Even so, it's still one of the most valuable patterns. In part, this is because it has a lot of different subtle variations that can add to the value. There's also the colors. Collecting Mayfair in any color can be a pretty expensive hobby, but the most coveted is blue. This pattern was made in a super soft and delicate blue shade that's unique in Depression glass.
Most pieces of Hocking Mayfair in good shape sell in the $20 range, but rare colors and pieces are worth more. A set of six footed tumblers in blue in the Mayfair pattern sold for just under $720. They were in pristine condition.
Jeannette Doric and Pansy
Only made for two years from 1937 to 1938, Doric and Pansy by Jeannette Glass is one of the rarest Depression glass patterns. This doesn't mean that every single piece is valuable (some sell for around $30), but certain colors and pieces are so rare that collectors can spend years looking for them. The pattern had columns and flowers and came in pink, crystal, and a really pretty teal color called "ultramarine." The most valuable pieces tend to be salt and pepper shakers, tumblers, and covered butter dishes.
Any ultramarine Doric and Pansy tends to be valuable, but the super rare pieces are worth the most. A salt and pepper set sold for just under $150.
Federal Parrot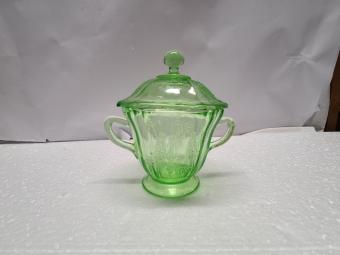 Many Depression glass patterns have geometric designs or floral motifs, but one super rare one stands out from the crowd. The Federal Glass Company made Parrot from 1931 to 1932, and it's one of the least common patterns out there. It came in pink and green and had a design of two parrots and some bamboo. Some of the most valuable items in the pattern include footed tumblers, water pitchers, and salt and pepper shakers.
Pink and green are both valuable, with average pieces selling in the $40 range. Some are worth way more, however. A cream and sugar set sold for about $280.
MacBeth-Evans Petalware
Although it was made for a long time (from 1930 into the 1940s), Petalware by MacBeth-Evans is a valuable Depression glass pattern because of the incredible variation. This opaque glass with a fluted edge started out in crystal and pale pink, but it ended up being made in tons of different colors. These included Monax (white), blue, red, yellow, and green, as well as painted decorations like pastel stripes, flowers, and even gold edges.
While Petalware isn't always valuable (some of the more common pieces sell for only a few dollars), certain colors and prints are worth a lot. The pastel bands are worth more than many others. For example, a set of eight MacBeth-Evans Pastel Petalware cups and saucers sold for about $770.
No Wrong Answers With to Depression Glass
Depression glass offers basically endless options when it comes to patterns, colors, and styles. You can collect a valuable Depression glass pattern or just stick to one color or one type of item. There's really no wrong way to do it as long as you're having fun. You just might find yourself with a treasure on your hands if you discover something rare.