Antique and vintage pieces can give your home a sense of history, but using antiques to decorate takes a bit of skill. The key is displaying a few favorite pieces in every room, mixing these older items with more modern ones. Antique furniture and collectibles can look timeless when paired with your favorite pieces from today.
Decorate With Antique Furniture
Antique dressers, sideboards, and other large pieces of furniture give you a place to create a vignette with a mix of modern and vintage items. This is a fun way to incorporate antique oak furniture into your decor. You can use the top of the dresser for displaying pieces of varying heights.
Choose one or two taller items like lamps or vases, and then surround that piece with a collection of shorter things.
Paint the wall a bold color to show off the antique furniture.
Consider placing a mirror or favorite piece of art on the wall to create more height.
Bring in Vintage Sofas and Chairs
Vintage sofas and upholstered chairs offer one way to decorate with antiques in a modern home. You can mix these vintage upholstered pieces in with your regular furniture, giving your home a collected look.
Select one or two bold colors or patterns and keep the rest of the room fairly neutral so your vintage treasures can steal the show.
It's important to check the condition of these older items, since upholstery doesn't always survive the years as well as wood furniture.
You can always have a piece reupholstered in a vintage-style fabric if it has stains, tears, or other damage.
Reflect Your Living Room With an Antique Mirror
One of the easiest ways to use antiques to decorate is to hang a mirror in your living room. It will reflect the rest of your decor and frame it with vintage style. Because a mirror is neutral, you can add pops of color in the form of vintage furniture or modern accents. There are lots of ways to make a piece like this work beautifully in your home.
Pick a mirror with a distinctive frame. Gilt or carved wood can be beautiful.
Hang the mirror over your fireplace or a piece of wood furniture to create a focal point in your living room.
Create a gallery wall around the mirror or use sconces to accent it on either side.
Add Charm With Vintage Textiles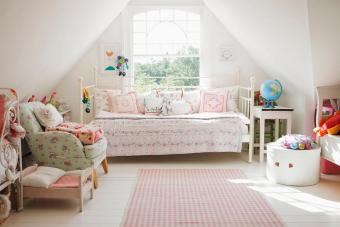 Vintage linens and textiles can offer a gorgeous way to add color and pattern and decorate with antiques at the same time. You can use vintage fabrics throughout your home as accents.
Make throw pillows out of antique fabric and place them on your modern sofa.
Frame a beautiful piece of antique embroidery to create wall art.
Use vintage fabric as curtains in your bedroom to create a gorgeous antique look.
Display an Antique China in the Bedroom
No one sees your antique china in the cabinet, but you can display it on the bedroom wall for a surprising and lovely decorating touch. Whether you choose your grandma's china or some pieces you've collected over the years, there are lots of ways to make this style work.
Pick some china pieces that are slightly different from one another but also have a similar color scheme and shape.
Display vases or cups on a dresser to hold earrings and other little items.
Play around with wall color to see what best shows off the china. You can do a contrasting color to make them pop or a variation on the tones in the pattern for a cohesive look.
Accent an Antique Bench With Modern Touches
An antique bench can seem difficult to style in a modern way, but it's actually a very useful item in a contemporary home. Place the bench in your entryway or foyer for people to use to take off boots or tie shoes.
If you have an antique oak bench, allow the prominent wood grain to be the main pattern in that room. Surround it with solid colors.
Update the look of an antique bench by putting distinctly modern pillows on it and surrounding it with contemporary photos or wall art.
Give an old bench an updated look with new cushions and storage baskets.
Keep Time in Vintage Style
If you collect clocks or simply have one beautiful antique clock, allow these lovely timepieces to become the focal point in a room. There are lots of ways to do this.
Put a collection of little clocks, such vintage alarm clocks or desk clocks, on any surface. Grouping several small pieces together gives them visual weight.
Surround an antique wall clock with simple art or photographs that will complement it without drawing attention away from the timepiece.
Put an antique mantel clock on a shelf or surface and flank it with candlesticks.
Use an Antique Rocker in a Modern Nursery
Although safety standards can make it difficult to use antiques to decorate in a modern nursery, you can still use an old rocking chair to add style and a sense of history. It's just as useful for rocking babies today as it was a century ago.
Update the look of an old rocker with a coat of brightly colored paint. It's best not to paint fine antique furniture, but many rockers have seen hard use and weren't expensive to begin with.
Surround the antique rocking chair with modern touches like a contemporary crib and bold-patterned linens.
Add a colorful, modern cushion to the vintage rocking chair for an updated style.
Get Creative With a Vintage Bike
Vintage sporting goods like bikes, skis, snowshoes, and other equipment can become beautiful antique decorations. There are lots of ways to use these pieces in your decor.
Hang a bike on the wall to give your contemporary room some vintage flair. This is especially fun in a living room.
Prop an old bike or other equipment outside your front door. This is a playful way to welcome people to your home.
If you have the space, use an old bike frame to hold towels and hanging linens in a bedroom or bathroom.
Repurpose Antique Furniture in the Bathroom
The bathroom might not be the first place you think about decorating with antiques, but there are lots of creative ways to add some historic charm to this practical room. One of the best is repurposing old furniture to use it as an antique bathroom vanity.
Choose a piece with plenty of surface area that's the correct height for the bathroom.
Add a vessel sink to avoid cutting into the top of a special piece.
Consider adding marine varnish or a protective surface treatment so the wood is not damaged by water.
Decorate With Antiques Throughout Your Home
Whether you're creating a vintage-style bedroom or simply adding a sense of timeless charm to your modern living room, there are lots of ways to use antiques in your decor. The possibilities are endless, and it's easy to rotate your favorite pieces in and out of different rooms for a fun and fresh look. Show off your collections and treasures throughout your home.