So many things have changed from our childhoods to what kids experience today, but one delight remains the same — searching through a bookshelf for those glittering gold spines. Little Golden Books, with their bright covers and durable pages, rank up there with Dr. Seuss's catalog as one of the longest-lasting children's books series.  
Many of us remember them for their sweet stories, whimsical illustrations, and how cheap they were. Because of how iconic and affordable they are, children's book collectors are all about them. And in many cases, these Little Golden Books' values have greatly increased. 
The Little Golden Books With Values You'd Never Expect 
For a cheap and mass-produced children's book, vintage Little Golden Books have been making a killing on the collector's market. But to know which ones you should snatch up at the thrift store and which you can leave behind, you've got to understand what makes them worth money. You can determine a Little Golden Book's value using several factors, including edition date, rarity, the book's condition, author, illustrator, and length of the issue.
| | |
| --- | --- |
| Vintage Little Golden Books Categories | Approximate Value |
| Early Editions (circa 1940s-1960s)  | $1-$50 |
| Mint or Fine Quality Editions  | $50-$5,000 |
| Rare Editions  | $1,000-$10,000 |
| Famous Authors & Illustrators' Books | $50-$1,000 |
| Wartime Editions | $150-$1,500 |
| Tiny Golden Library Books | $3-$200 |
Early Editions Are Worth a Ton 
As you might expect, serious collectors lust after early editions the most. However, it's challenging to find Little Golden Books from the 40s, 50s, and 60s, since these books were typically discarded after several years of use. Have you ever seen the sheer amount of saliva a toddler can embed in a cardboard-esque children's book when they're teething? It's a miracle any of these books made it out of our grandparents' homes intact. 
Lucky collectors sometimes run across rare editions while browsing antique shops, yard sales, flea markets, or estate sales. Titles from the 1970s and beyond are easily found on online auction sites like eBay and typically cost from about $1 to $50, although some titles sell for much more. Generally, the older the book and earlier the edition, the more it's worth. 
Need help identifying how old your Little Golden Book's book is? Steve Santi, author of several guides to collecting Little Golden Books, noted that edition dates are found in different places depending on the printing year: 
1942 - 1946: Look for the edition number on the first or second page.
1947 - 1970: The edition letter is located on the last page in the lower right-hand corner. Each letter, A to Z, corresponds with an edition. For example, an 'A' is a 1st edition book, whereas Z is the 26th edition.
1971 - 1991: The edition letter is found on the far left bottom of the first or second page.
1991 - 2001: These books have a copyright date and a printing date in Roman numerals. According to Santi's website, if the letter "A" precedes a Roman numeral, the book is a first edition. Additionally, books from this period without a Roman numeral are from the first printing of that edition.
The Better the Condition, the More It's Worth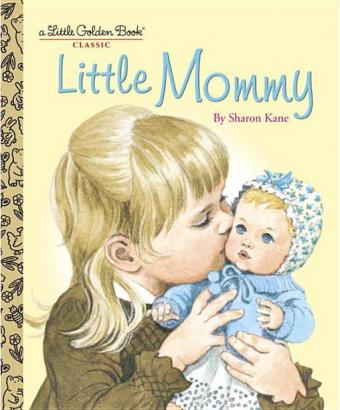 As with any collectible book, a Little Golden Book's condition means everything. The better the condition, the higher the price. According to The Little Golden Book Collector's website, a book is rated as one of five conditions: mint, fine, good, poor, or junk.
Mint: A mint book is fresh from a store and brings the highest value.
Fine: A fine book has been read but looks like new.
Good: A good book has been read and the pages and cover may be worn.
Poor: A poor book has torn pages and possibly writing on them.
Junk: A junk book is missing pages or its cover.
Uncirculated books have never been sold or opened. Since most people opened and enjoyed their Little Golden Books, uncirculated books must be in pristine mint condition and are considered rare and valuable.
They're so hard to find that you'll usually need to settle for only fine or good quality. For example, this 1942 1st edition of Baby's Book is in very good condition and is currently listed on Biblio for $1,200. 
Rare Books Always Sell Well 
When it comes to Little Golden Books, value, age and condition aren't the only factors to consider. How rare a book is can be a huge determining factor in what the final price tag looks like.
Rarity isn't necessarily determined by age or edition. Some rare books have later copyrights. For example, this very early edition of The Little Piggy and Other Counting Rhymes  listed for $1,600 on AbeBooks out performs some 1st editions because it still has the original dust jacket. Finding these original dust jackets is exceedingly rare and will draw serious collectors like moths to a flame. 
Books by Famous Authors and Illustrators Have Collector Appeal 
First edition books always draw a bibliophile crowd, but Little Golden Books penned by well-known authors and illustrators can also bring in higher values. For example, books written by famous authors, such as the author of Good Night Moon's Margaret Wise Brown, may bring higher bids on online auction sites.
In addition, books illustrated by popular children's book illustrators, such as Eloise Wilkin, are often highly prized by collectors. Occasionally, a book is autographed by the author or illustrator, and depending on how popular the author is (and the book's condition, of course), their signature may add value. For instance, Barbara Collyer is a relatively unknown mid-century author, but a signed copy of her book Christmas in the Country was listed for $80 on Etsy. 
Need to Know
On top of signed books, keep your eyes peeled for the original book art. These prints and illustrations have sold for thousands of dollars on auction sites like Heritage Auctions, and you don't want to miss out. 
Wartime Editions Can Be Special Finds 
In the early years, Little Golden Books were originally 42 pages. But quickly in their printing journey, paper shortages and rationing in WWII made publishers settle for a poorer-quality paper. As a result, high-quality wartime editions are extremely valuable. For example, Biblio has a wartime edition of Hansel and Gretel listed for $395.
Tiny Golden Library Books Have Their Fans 
Simon & Schuster published these quaint titles and sold them in sets of 12 tiny books presented in a beautifully illustrated box. This Tiny Libraries series offered Disney, non-Disney, and animal stories. Mint condition, non-Disney boxed sets often sell for $50 - $150, and single books sell for $3 - $5. Early mint Disney sets can sell for up to $100 - $200, with later sets selling for a little less. For example, this set of Dorothy Kunhardt hardbacks that's listed on eBay for $75 isn't in the best condition, but the intact box ups its value. 
Little Golden Books Keep on Shining 
Little Golden Book collections often start because of good memories and childhood nostalgia. Even if you're just collecting for fun and not as a future investment, you'll want to research their values so you can make the most of your collecting budget. But whatever your reason for collecting, Little Golden Books are collectibles that can span generations. As more and more children's books go digital, a Little Golden Book collection is a treasure made to be passed down.