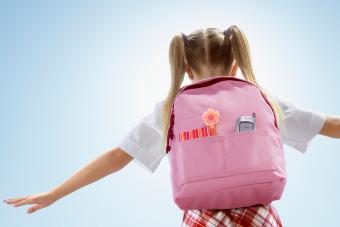 Gen Z, with their climate consciousness and thrift store savvy, single-handedly brought vintage back into fashion. After raiding their parents' closets and posting about it all over social media, they started turning their sights to the vintage goods of our not-so-yesteryear (flip phones, anyone?). But the vintage backpacks they're just now discovering are probably hidden deep in our closets, just waiting to be fished out and cleaned up.
Head Back to School With These Vintage Backpack Brands
While you reminisce over your old bandanas and JNCO jeans that are taking over Target's clothing sections, take a trip down memory lane to the now-vintage backpacks that lined the high school halls what feels like only a few years ago.
90s Jansport Backpacks
If you grew up in the 1990s or 2000s, then no book bag reigned supreme like Jansport. A brand that's been around since the 1960s sold every millennial on their padded shoulder straps and super simple U shape. From colorful corduroy to an infinite number of prints, Jansport backpacks haven't lost their grip on American schools just yet.
While you can find vintage backpacks from a variety of brands, Jansport is the gold mine. It's established, high-quality (so it lasts for years), and so many were/are made that you can find them practically anywhere.
Vintage Jansports that are in great condition can sell for anywhere between $50 and $100 on average. Classic, older bags with their iconic corduroy are pricier than their drawstring knapsacks or later canvas/nylon/polyester models. For example, this 90s drawstring Jansport sold for $60, while this larger, green Jansport from the 90s sold for $120.
90s/00s Lisa Frank Backpacks
There's no brand that better defined girlhood in the 90s and early 2000s than Lisa Frank. Pairing electric, psychedelic-inspired colors and prints with adorable animals, Lisa Frank products stood out on any rack or shelf that they were placed.
Original Lisa Frank book bags were delightfully small and chaotic looking. These bags featured rainbows of highlighter-level colors with nearly surreal scenes of dolphins swimming in the ocean and puppies prancing about. With nostalgia at an all-time high (looking at you Y2K television reboots) and neutrals dominating the market, some people have turned to vintage Lisa Frank for their serotonin.
These quaint backpacks from the 1990s and 2000s are pretty pricey when they're in good condition, and regularly sell for $100+. For example, this 90s dog print book bag sold for $150 on eBay and this 90s orca print book bag sold for $122.50.
80s/90s Eastpak Backpacks
Eastpak is another historic name in the backpack game. Originally breaking onto the military scene in 1952 with their canvas products, they eventually transitioned into non-utility bags. In fact, a burgundy Eastpak gets quite a lot of screen time in Back to the Future slung over Marty McFly's shoulder.
Because of this connection, Eastpak backpacks from this era are particularly valuable. For example, a vintage bag that was the exact same model as Marty McFly's sold for $225 on eBay.
70s The North Face Backpacks
When you hear the brand The North Face, you probably think about their fluffy jackets and outdoor gear, and not so much their book bags. But in the company's early years, backpacks were an easy product to sell.
Though not as memorable as other vintage book bag brands, The North Face bags are still a fairly popular collectible. For instance, one 70s The North Face backpack is listed for $119 online.
90s/00s Louis Vuitton Montsouris Backpacks 
We couldn't talk about vintage backpacks without mentioning the many luxury 'packs. Given their odd sizes, they're not usually as functional as regular backpacks, and their price range makes them so cost-prohibitive that they don't really appeal to the backpack demographic.
But no matter how forgettable the product is, if it's from a historic luxury brand and it's got its authenticity papers, then there's someone out there willing to buy it. Vintage luxury goods, in particular, are highly collectible, and high-end book bags are no exception.
For example, Louis Vuitton — one of the longest running luxury brands today — released a book bag line called Montsouris, and vintage ones sell from anywhere between $500 and $1,000. For example, this LV Montsouris recently sold for $575 on eBay.
How Much Are Vintage Backpacks Worth?
Besides luxury ones, vintage backpacks are usually worth about $30 to $50, with specific collectible brands pushing those average prices up to $50 to $150. Since book bags are meant to be used, it's hard to come across ones that're like-new or dead stock. Dead stock inventory is going to be worth the most of these non-luxury brands, because they won't have any wear and tear or signs of use.
That being said, if you're looking to make the most amount of money, then luxury brands are where it's at. Whether it's Prada, Coach, or Louis Vuitton, vintage luxury backpacks are always going to be collectible to some degree.
The Hardest Part Is Dating a Backpack
Surprisingly, backpacks are one of the hardest things to accurately date. Logos often stay the same for decades (looking at you, Jansport), and the functional nylon, canvas, and leather materials haven't really changed for years. The best you can go off of is design. But even then, many brands keep their more iconic designs still in stock. So, be careful when you're looking at 'vintage' bags online, because they just might not be so vintage after all.
Some School Supplies Still Go Hard
Trapper Keepers and metal lunchboxes might go in-and-out of style, but some school supplies never lose their charm. Just take a look at the suspiciously retro-looking book bags today. If you're lucky, you just might still have that 90s Jansport tucked away somewhere. And given how much some of these vintage backpacks are worth — it's definitely overdue for a dusting.