If your family is as competitive as mine, then you can't wait to ruin game night with a new vintage board game to challenge them to. Will there be rage quitting, a screaming match or two, and a whole lot of laughs? Yes. But these valuable vintage board games won't make it to game night because they're worth far too much to be swept off the table in a fit.
9 Valuable Vintage Board Games Worth Hunting Down 
Before we could smash through complex video games or occupy our time waiting in the doctor's office with addictive games on our phones, people challenged each other to board games. There's an underground community of board game fanatics who keep this treasured pastime alive. But you don't need a pro like them to convince you that finding one of these valuable vintage board games on your thrift store runs is a must.
| | |
| --- | --- |
| Vintage Board Game | Recent Sales Prices |
| Sidney Mobell Monopoly | $2 million |
| Swift Meats Game | $2,644 |
| The Shadow Board Game | $1,800 |
| Signed Batman and Robin Game | $1,380 |
| Lost in Space (Greek Version) | $800 |
| Dark Tower | $650 |
| Gay Monopoly | $600 |
| Disneyland Game | $500 |
| Dark Shadows Game | $130 |
Sidney Mobell Monopoly: $2 million 
To date, one of the highest prices a Monopoly board game has ever sold for is around $2 million. Though, it's not the game you think. While prototype and early editions from the 1930s do incredibly well at auction, this board game from 1988 surpasses them all. Jeweler Sidney Mobell handcrafted this 23-carat gold Monopoly game, with finishing touches of rubies, sapphires, and diamonds.
Mobell contacted Parker Brothers to discuss his idea, and they debuted the piece at the 1988 World Monopoly Tournament. This incredible (and playable) piece of art is just another in Mobell's series of recreating mundane products out of luxury materials.
Swift's Meats Game: $2,644 
Back in the 1950s, even kids weren't exempt from America's consumerist shift. No cardboard packaging was safe from being turned into some kind of Cracker Jack-style prize. One of these was Swift's Meats — yes, a meat company — which released an 18-card standup game. Each package of premium franks came with a new player in punch-out pieces you'd put together. Or, to avoid hot dog juice from leaking on your players, you could get the whole lot through a mail-in coupon.
Because this game was never produced for the mass market, it's a rare find. Locate a complete set, and you're looking at something worth a few thousand at least. For example, this complete set from 1957 sold in an auction for $2,644.
The Shadow Board Game: $1,800 
Before we had podcasts, there were scripted radio shows, and The Shadow was one that took the 1930s world by storm. A heroic vigilante character from pulp comics, The Shadow was the superhero, and he was big enough that merch was easy to come by.
Today, there are few dedicated Shadow fans and even fewer licensed board games to go around. One well-kept though slightly damaged 1941 copy of The Shadow Board Game recently sold for $1,800 online.
Signed Batman and Robin Game: $1,380 
Holy Board Games, Batman! The 1960s Batman TV show is a colorful departure from the dark and serious movie adaptations that have followed. Like The Munsters and Star Trek, this show had a prolific licensing campaign. If you can think of it having a Batman character on it, it probably did.
Though vintage lunch boxes are the first things that come to mind, the original board game does fairly well at auction. However, anything with a celebrity's signature is bound to be more valuable. The same can be said for this Batman and Robin Game from 1965. It was signed by six of the show's actors, including Batman himself, Adam West. An avid Batman fan couldn't pass this find up and bought it for $1,380 at auction.
Lost in Space Board Game (Greek Version): $800 
Ironically, Lost in Space is one of those 60s shows that, well…got lost in space. Unlike Star Trek, it faded into obscurity for most subsequent generations until Netflix's adaptation made it reenter the chat. But it's not just lesser-known tie-in board games that are worth something. Non-English copies are usually hard to come by and are even more valuable. Such was the case for this Greek Lost in Space Board Game that sold for $800 through Live Auctioneers.
Dark Tower: $650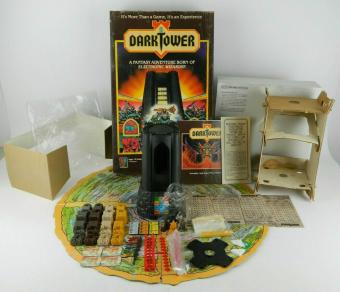 Dark Tower is the Moby Dick for a ton of game board collectors. Although it's not impossible to find, working and complete sets sell quickly and for a lot of money. Not to be confused with Stephen King's Dark Tower, this semi-electronic fantasy game grew a cult following thanks to the Dungeons & Dragons generation. Today, they're worth upwards of $500+, like this one that sold on eBay for $650.
Gay Monopoly: $600
Monopoly is known for making novelty-themed game boards yearly, such as the Star Wars edition my twin brother had to have for Christmas in the early 00s. But this proudly subversive edition isn't an official Monopoly game at all. Rather, 1983's Gay Monopoly stood as a protest to the growing homophobia from the AIDS epidemic.
This vintage board game transcends the personal into the political, and for that, it's particularly special. You don't often find complete copies at auction, but when you do, they're worth a pretty penny. For instance, one copy recently sold on eBay for $600.  
Disneyland Game: $500 
Disney kids sometimes turn into Disney adults with disposable income and a lot of space to store collectibles. This makes vintage Disney merchandise a hot commodity. Take a look at Disney VHS tape values, and you'll notice just how steep their prices are.
There's a subset of Disney collectors who try to find all things Disneyland during its heyday. This is the pre-Disney World period, where Tomorrowland reigned supreme. The massive company is nothing if not a master at making products, so you're bound to come across an old Disneyland game at some point. To the right collector, these are worth a ton. Someone recently bought one for $500 on LiveAuctioneers.
Dark Shadows Game: $130 
Dark Shadows is another of these cult classic shows that popped up in the 1960s. This gothic, supernatural proto-soap was a huge hit, and there are still massive Dark Shadows fans around the world. Like many niche collector groups, they're willing to pay a ton of money for the original licensed merch.
The Dark Shadows Game is one of these hot collectibles. It's not quite as valuable as some on this list because of the series's smaller fan base, but it always sells quickly online. One complete Dark Shadows Game recently sold for $130 on eBay.
What Makes a Vintage Board Game Worth Money?
Unfortunately, we can't include every valuable vintage game board on this list. So, to get you ready to find treasure in the wild, here are some things to look for that might indicate a board game is worth something:
It's in great condition. The better condition a board game is in, the more it'll sell for.
It's a complete set. Even opened board games can sell well if they've got all of their pieces, instructions, and boxes included.
It's hard to find. A rare board game with only a handful of copies will always have a high selling price.
It's tied to a cult/niche group. There are so many vintage board games spawned from popular 60s-80s TV shows. These games will always have an interested audience, no matter how small.
Put a Vintage Spin on Family Game Night
You can put a little vintage spin on family game night by picking up an old title like Pay Day in its modern but retro style format. Or, if you really want to immerse yourself in the tabletop games of old, scour the internet and some local thrift stores for any one of these valuable board games. You never know what great deal you might find!