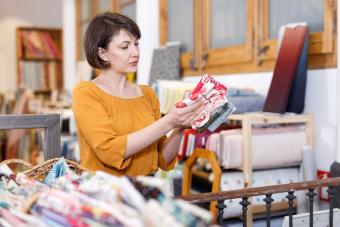 Antique and vintage fabrics have unique designs, colors, and textures that can't be reproduced with modern manufacturing methods. From the sweeping Art Nouveau prints of the late 19th century to the charming mod patterns of the 1960s, there's plenty of inspiration to be had when collecting and using these old textiles. These fabrics are available in limited supplies for all kinds of projects from antique quilts and clothing restoration to historic home decor.
What Is Vintage Fabric?
Most vintage fabrics that you find will be from the 1930s through the 1970s, although it is possible to find yardage from the late 1800s as well. These fabrics may have been found stored in someone's attic. They might also be new old stock (NOS), which means they came from bolts of fabric found in some manufacturer's storage room, where they had been long forgotten. The yardage is limited, and if you find something you love, you should buy it. These prints aren't easy to find, and you may not get a second chance.
Designs and Colors
The prints and colors of vintage fabric can offer a tour of the styles popular over the past century. As trends changed, so did the patterns. As you're shopping for vintage fabric, knowing a little bit about the styles for each era can help you authenticate and date your finds.
19th Century - Natural Fibers and Muted Colors
Fabrics from the 19th century varied a great deal, with cottons, silks, and other natural fibers dominating the market. Many colors feel muted by today's standards. This is partly because the dyes were not colorfast, and reds, greens, and yellows fade and change color. Patterns are often stripes or gingham plaids, but you'll also see floral fabrics in a variety of pattern sizes.
1920s - Geometric Forms
The 1920s brought more geometric forms to fabric. You'll see interesting color combinations like pink and black. Stylized and Art Deco-type prints became popular midway through this decade with repeating geometric shapes.
1930s - Synthetics and Shimmer
Early synthetic fabrics became especially popular during in the 1930s, including rayon. Evening fabrics had lots of shimmer, and everyday cottons had color and pattern. Stylized Art Deco designs were still popular. Paisley is another pattern that you can find a lot of from this decade. In addition to the basic colors, you can find pink and teal combinations.
1940s - Pretty Florals
The 1940s saw fabric patterns move away from the gingham, geometrics, and stripes of previous eras and embrace florals in all sizes and forms. Purple and lavender were often part of the color combination. Synthetics became even more popular, with acetate and nylon joining the already trendy rayon.
1950s - Larger Prints
Just as skirts became fuller in the post WWII years, floral patterns became larger and bolder. The designs were often scattered on a light colored background with a lot of space between them. Glitter and sequins were popular for evening fabrics.
1960s - Mod and Psychedelic
The 1960s brought mod and psychedelic designs to fabrics. Bold color combinations, optical illusions, and folk art prints became popular. Colors like orange, pink, bright green, and turquoise offered a cheerful alternative to the typical pastels.
1970s - Patterns and Pin Dots
Sheer, light fabrics with pin-dot designs, qiana (a silky, washable material), and bold florals were hallmarks of the 1970s. Little details like contrasting embroidery and colorful prints took fabrics to the next level. Polyester ruled the decade for men's and women's fashion, and you'll find plenty of vintage polyester fabric from this era.
Where to Buy Vintage and Antique Fabrics
It can be difficult to find vintage fabrics locally because they are not a common item. You may get lucky and find a pattern or two at a garage sale, estate sale, or even at a local thrift shop. Generally, however, you will need to find these specialty fabrics on the internet. They can be expensive, but if you love vintage fabrics, it's worth the cost. You can also watch for deals and purchase fabric lots that include specific materials you want.
Etsy
Etsy
is a good source for vintage everything, including fabric. You'll find pieces of all sizes from all decades. Sellers describe the condition and show photos of the actual fabric piece for sale.
Antique Fabrics
Antique Fabrics stocks over 5,000 yards of vintage fabric that date from the 1850s to the 1970s. They also offer a restoration service.
Revival Fabrics
Revival Fabrics has authentic vintage fabric from the 1920s to the 1970s. This is a good source for those hard-to-find materials.
Vintage and Vogue
Vintage and Vogue is another company that specializes in high quality reproductions of vintage and antique fabrics. They clearly state whether the fabric is original or is a reproduction of a vintage material.
Tips for Buying Vintage Fabric
If you're purchasing a vintage fabric print or solid online or in a store, there are a few things to keep in mind:
Know how big the vintage fabric piece is. Carefully read the dimensions of the fabric so you know if it's a large enough piece for your project.
Look for stains and damage. Antique fabric can have stains, tears, marks, and other damage. Read the description carefully and examine any photos of the fabric.
Check for fading. Keep in mind that, depending on how the fabric has been stored, there may be areas of uneven fading and wear.
Consider odors. Sometimes, vintage fabric can have an odor from improper storage or exposure to smoke and other smells. Ask about odors, and consider whether the fabric can be washed or dry cleaned to remove them.
Ask about the return policy. Because it can be difficult to examine a piece of vintage fabric online, make sure you can return it if you don't like it.
Uses for Antique Fabrics
There are a lot of ways that you can use old fabrics. You probably will not want to use an expensive antique piece to cover the couch in the den, however. Generally, it's difficult to find several yards in one piece, and these fabrics may not wear as well as some of today's options. However, there are lots of great ideas for using vintage fabrics:
Throw pillows - These old patterns look great as throw pillows and accent pieces to brighten up your home.
Curtains - Curtains are another good use for the fabrics, but use a backing or liner for them to prevent fading.
Toys - Stuffed bears and dolls that are meant to be used for display look great when made with the old patterns.
Lampshades - Lampshades can be covered with 1950s Hawaiian fabrics for a kitschy, casual flair in any room.
Accessories - If you want a vintage fashion look, consider making fabric purses, scarves, and other accessories. Vests and other articles of clothing that don't get much strain are good choices as well.
Framed art - Small pieces of vintage fabric in pretty patterns can make affordable and unique wall art. Simply frame a panel and display it in any room.
Dining textiles - Make vintage fabric into napkins or placemats, especially if the fabric is easy to wash by hand.
Quilts - Vintage textiles make beautiful quilts. Look for strong pieces that can withstand some wear.
Care of Old Fabrics
Older fabrics require special care. Use caution when cleaning and working with them; some can be fragile. Keep these vintage fabric care tips in mind:
Avoid sunlight. Do not place antique materials in a window or in line with direct sunlight. Old fabrics tend to fade quickly, and they can disintegrate if not cared for properly.
Wash vintage fabric carefully. All antique fabrics should be hand-washed, smoothed out, and carefully hung up to dry. Subjecting them to a washing machine and dryer may render them useless and tattered.
Don't bleach antique textiles. Never use bleach to whiten vintage linens. Try using a mixture of one part lemon juice to three parts cool water to whiten yellowed material.
Store vintage fabric with care. Store in an acid-free paper in a cool, dark chest. A cedar chest will keep moths and other bugs out of the fabric and keep it smelling fresh.
Add Vintage Style to Your Life
The bits and pieces of antique fabric can add more style to your life than yards and yards of contemporary materials. When planning your project, don't forget to look for old buttons, rick-rack, and other embellishments to finish the project with vintage style. Vintage notions, accessories, and embellishments combined with antique and vintage fabric can create memorable items for the home.