Buying antiques online opens up all kinds of options for antiques collectors, especially when it comes to hard-to-find items you may not see in local shops. From finding cheap antiques to seeing a local selection without having to leave your home, antique shoppers have never had more choices. However, it's also easy to get scammed when you can't actually see and hold the item you're buying. The key to a rewarding shopping experience is working with reputable retailers who stand behind the items they sell.
Ruby Lane: Best Selection of Antiques Online
A virtual antique mall offering everything from fine art to fashion, Ruby Lane has an ever-changing selection with something that will appeal to every collector. There are about 2,000 different shops, each specializing in specific collectibles like dolls, antique china, jewelry, and more.
The shops are run as independent businesses, but they all comply with the Ruby Lane no-questions-asked return policy of three days from the time of delivery. If you find the item doesn't look like the description or doesn't appraise for the value you expected, you can return it without hassle as long as you move quickly. You can also shop with confidence knowing Ruby Lane as an A+ rating from the Better Business Bureau (BBB).
1st Dibs: Best Source for Valuable Antiques
Buying an especially valuable antique online can be extra stressful, but high-end auction site 1st Dibs prides itself on carefully vetting sellers before allowing them to participate. The site stands behind the authenticity of every item offered for sale there.
According to Forbes, the average item sold on the site is close to $3,000, but this is a good place to safely purchase valuable items because of the strict standards and focus on authenticity. You can find everything from antique furniture by noted designers to the most coveted jewelry and collectibles. This isn't the place to look for a great bargain, but it is an excellent site for buying those treasured items with confidence.
Chairish: Best Online Antique Furniture Store
Chairish as a great place to reliably negotiate a good deal on items like art or antique furniture. Not everything offered on the site is antique; however, if you're looking for a specific designer or antique item, you may well find it among the more than 38,000 antique pieces offered. It's a great place to look for everything from china and figurines to rugs, furniture, and art.
Because Chairish is made up of individual sellers, the site cannot guarantee authenticity of items. However, you do have 48 hours after delivery to return any item if you feel it is not authentic or doesn't look like what you expected.
MS Rau Antiques: Best for Unique Antique Items
New Orleans-based MS Rau Antiques is one of the best online antique stores for unique finds. It offers a huge selection of art, jewelry, furniture, and more on their website. This antique shop also specializes in some unique antiques and collectibles like canes, medical antiques, and music boxes.
In addition to these interesting items, MS Rau Antiques stands out for its incredible 125% guarantee. You can exchange any item in purchased condition for five years after purchase, receiving a credit for the full purchase price plus 5 percent per year. The exchange must happen in the store, but if you are not in New Orleans, you can negotiate shipping the item for inspection. MS Rau Antiques has a BBB rating of A+.
Sotheby's: Best for Fine Art Antiques
High-end auction giant Sotheby's specializes in authentication and fair valuation of art and antiques, and they have been in business since 1744. You can bid in online-only auctions for heirloom jewelry, antique furniture, and more. This isn't the place to look for inexpensive collectibles or great deals, but if you're after something specific and valuable, it's a good way to buy with confidence.
The venerable auction house has a BBB rating of A+, as well as a reputation for reliable, safe transactions.
Rejuvenation: Best for Restored Antiques
Rejuvenation offers a curated selection of antiques that fit well in modern homes. What's unique about this store is that they also restore antiques and vintage pieces to bring them back to their former beauty. This is also a great place to get restored antique and vintage light fixtures and items for the home.
You can shop online without worry, knowing this store offers a 30-day refund guarantee.
Modern Antiquarian: Best for Curated Antique Items
Modern Antiquarian is run by a curation team and offers some very interesting and statement-making antique finds for the modern home. It's a great choice if you're looking for that special piece that's on-trend but still has a fascinating history. You'll find furniture and decorative items here.
You can buy directly from the online antique store. This is one of the top places for securely buying antiques, according to House Beautiful.
Amazon: Best for Collectibles
Did you know you can buy antiques on Amazon? While this may not be the place to look for original fine art or antique furniture, Amazon is a good source for safely buying collectible online. Shop for rare coins, baseball cards, entertainment memorabilia, and more.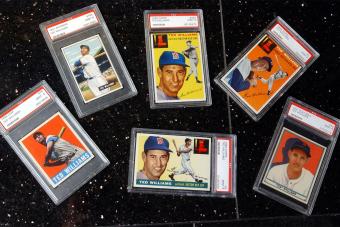 Everything is backed by Amazon's return policy, so you don't have to worry if the item doesn't meet your expectation.
TIAS: Best for Advertising Antiques
If you love to collect advertising antiques, such as neon signs, posters, and more, TIAS is a great resource. They actually have everything from jewelry to furniture, but their advertising antique selection is the best online.
Sellers with a TIAS Trusted Merchant Guarantee have a 14-day return period if the item isn't what you're expecting to receive.
Mercari: Best for Buying Cheap Antiques Online
If you like shopping at flea markets and getting great deals on antiques, Mercari is the best resource for finding cheap antiques online. This site makes it easy to find local deals, as well as affordable treasures from all over the internet. You can make offers to sellers, allowing you to negotiate for the best prices.
The thing that makes this site an especially safe option is the Authenticate service. Sellers can have their goods officially authenticated, and those items are easier for buyers to spot.
Look Beyond eBay and Craigslist
If you're looking for a great deal, eBay and Craigslist are good options, but they don't always offer the level of protection you may want for antique items. Take some time to shop carefully to avoid buying something that is damaged, a fake, or will appraise at a value lower than what you pay. When it comes to shopping for antiques, nothing beats doing your homework and using a source with a good return policy.