Are you interested in learning about homemade laundry detergent recipes? Explore the tried and true DIY laundry soap methods to find the one the works best for you and your family. Find out if homemade laundry detergents will really work in your washer.
Homemade Laundry Detergent Recipes for Every Home
You see homemade laundry detergent all over the internet. However, it's hard to know what is the best detergent for you and your family. Some people want to use Borax. Other people like to add a little vinegar. And then there is the whole essential oil thing. Get several recipes for liquid, powdered, and even detergent tabs for your home. Before getting started, you need to have these ingredients on hand.
Bar soap (Fels Naptha, Ivory, ZOTE, or Castille)
Borax
Baking soda
Liquid castille soap
Sea salt
Distilled water
Wooden stirring spoons
Bowls and saucepans
Ice tray
Cheese grater or food processor
Container (bucket, old laundry detergent container, storage container)
Best Homemade Liquid Laundry Detergent
The DIY liquid laundry detergent is sure to get your sock sparkling. You need to grab an old laundry detergent container, Borax, washing soda (not baking soda), and Fels Naptha soap. You can also add your favorite essential oils for a custom scent.
Grate 1/4 bar of soap.
In a large saucepan, boil the grated soap with 2 cups of water to dissolve it, stirring continuously.
Clean out an old 1.36- 1.5 gallon laundry detergent container.
Fill it half of the way up with warm distilled water.
Add in the dissolved soap.
Mix a ¼ cup of borax and washing soda together.
Add it to the liquid mixture.
If you want a scent, add in 20 or so drops of essential oil.
Fill the rest of the container up with warm distilled water.
Cap and shake.
Use ½ cup for a front loader and 1 cup for a top loader with a large load. Use less detergent for small and medium loads. You can also choose to dilute this further and turn it into two containers of laundry detergent by halving the mixture and filling it with water.
Best Homemade Powdered Laundry Detergent
When it comes to the best tried and true powdered laundry detergent, this is by far one of the best recipes out there. To get started you need, washing soda, Borax, and bar soap. ZOTE and Ivory work pretty well, but you can stick with good ole Naptha.
Grate the bar soap. If you want a finer powder consistency, use a food processor.
Put the grated soap in a container.
Add in 1 ¾ cups of both Borax and washing soda.
Mix it up well.
Store in an airtight container.
Use 1-2 tablespoons for a large load in front loader and 2-3 in a top loader. You'll use less for smaller loads. It can be helpful to leave the tablespoon right in the container for ease of use.
Homemade Laundry Detergent Tabs
Who has time to measure laundry detergent? Not a parent with no time to spare. In that case, homemade laundry detergent tabs can be super helpful and easy to make. You need Borax, washing soda, white vinegar, Fels Naptha soap, ice tray, and essential oils to get started. The oils are optional if you want fragrance-free tabs.
Grate or process the entire bar of Fels Naptha (other soaps can work too). When grating, the finer you make it, the better.
In a container, add 1 cup of Borax and washing soda to the grated soap.
Pour a ½ cup of vinegar over the mixture. You don't want to saturate it completely; you just want to make it moldable.
Pack the mixture into the ice tray. Fill each tray cube cubby about halfway up or about 1 tablespoon.
Add a drop of two of essential oil to each tab.
Allow the cubes to dry overnight.
When the cubes dry, pop them out of the ice tray and store them in an airtight container.
Add 1 tab to a front loader and 2 tabs to a top loader. Enjoy that fresh, chemical-free clean.
Homemade Laundry Detergent Without Borax
Not everyone is a fan of Borax. And for some homes with sensitive skin, it can lead to outbreaks. Thankfully, you can make DIY laundry detergent without Borax. Just grab baking soda (not washing soda), Castile soap, sea salt, a gallon container, and essential oils if you choose.
Heat 14 cups of hot water.
Dissolve ½ cup of baking soda and ¼ cup of salt into 7 cups of the hot water.
Stir to ensure the baking soda and salt are completely dissolved and pour into the container.
Repeat steps 2 and 3.
Add one cup of Castile soap to the container.
Optional add 20-30 drops of essential oil.
Mix well.
Store in a warm, dry place.
Use ½ cup of laundry detergent in a top-loading washer. Front-loading washers will take less.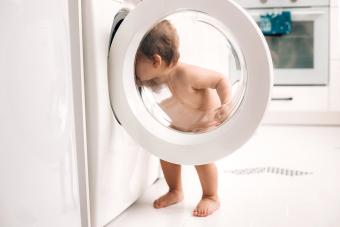 No Grate DIY Detergent Recipe
One of the reasons it takes so long for many people to make their own laundry detergent is that it's tedious to grate all that bar soap. Nobody has time for that mess! Well, this recipe has no grating involved. To get going, grab white vinegar, baking soda, washing soda, Borax, and Castile soap.
In a large tub, add 1¼ cup of white vinegar.
Stir in 1 cup of baking soda, washing soda, and Borax.
Work the spoon around to break up the clumps.
Add ¼ cup of Castile soap.
Continuously stir the moist powder together.
Stirring is essential to ensure everything is mixed together.
It helps to glove up and work it together with your hands.
Add ¼ cup to your washer machine and enjoy. If you want scents, you can use scented Castile soap or add essential oil.
Super Simple All-Natural Laundry Detergent Recipe
If you have sensitive skin or just want a super easy detergent recipe that works, you've come to the right place. This recipe only takes 2 ingredients and is easy to create. For this recipe, you need washing soda and Castile soap.
In a bowl, add ¾ cups of Castile soap and 1 cup of washing soda.
Add 4 cups of hot distilled water.
Stir to mix.
Store in an airtight container or jar.
Add 2-3 tablespoons to every wash to get a fresh, chemical-free clean. Remember, front loaders take less detergent.
Why Use Homemade Laundry Soap?
Have you ever read the back of your laundry detergent bottle? If you have, you've probably noticed there are many ingredients that you can't read, let alone know what they do. Well, all those chemicals are just not good for your family or you. This is especially true if anyone in your home has sensitive skin. Rather than wonder if those chemicals are harmful to you, many have chosen to create detergents with ingredients found around the home.
Will Homemade Detergent Get My Clothes Clean?
Homemade laundry soaps will get your clothing clean. However, whether they are better than store-bought detergents is quite a debate. In fact, the American Cleaning Institute offers some caution to using detergents made at home. Additionally, every family is a little different. So a recipe that might work for some families might not be optimal for you. If it's worth it to reduce your family's exposure to chemicals and save some money, give it a try.
Are Homemade Laundry Detergents Safe for Your Washer?
This is a tricky one to answer. Many people use these detergents without any problems in both their top loaders and front loaders. However, if you are in doubt, ask your manufacturer. They will give you the best information for your product and help you decide if it's worth risking it. No one wants to shell out the dough for a new washer.
Creating Your Own Laundry Detergent
Creating your own laundry detergent isn't hard at all. The worst part is grating the soap. Other than that, it's all about mixing it together and adding it to the wash. But it's important to remember the difference between washing and baking soda when making a laundry detergent substitute. With that in mind, good luck!