Finding the motivation to clean your home comes down to making the process an enjoyable experience. A bit of entertainment, some friendly competition, and a rewards system are just a few ways you might add some fun to your home cleaning experience. Making cleaning fun gives you the push you need to get your home clutter free and spotless. We've rounded up the best ways to make cleaning enjoyable, including some favorites from the LoveToKnow team.
Make It a Workout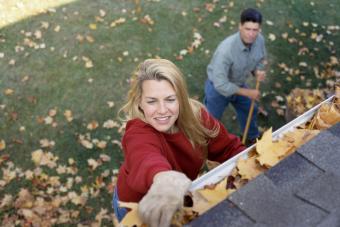 LoveToKnow writer Allison loves to treat cleaning like an extra workout in her week. Crank up the tunes, set your smart watch, and speed clean as quickly as you can. A clean house and an endorphin high are the perfect mood boosting combo.
Get Your Family Involved
Everything is more fun when you have helping hands and some people to make the time pass quicker. Make your cleaning list a competition among your family members. Split the rooms up and see who finishes first or challenge your kids to see who can do the most cleaning tasks in half an hour. When family and friendly competition are involved, your cleaning list won't feel like such a chore.
Get Motivated With Your Favorite Cleaning Task
You might find the key to motivation for your cleaning list is to start with your favorite chore and get inspired by your accomplishment. Eric at LoveToKnow likes to start with vacuuming because it's the one cleaning task he enjoys the most. The satisfaction of those clean vacuum lines is enough to inspire a full day of cleaning and decluttering.
Dance Out Your Cleaning Frustrations
There's nothing like a good playlist to inspire a productive cleaning session. LoveToKnow editor Karen enjoys blasting her favorite musical soundtrack and dancing along with her mop and broom in hand. There's really nothing the Hamilton soundtrack can't help you accomplish.
Have a Chat With a Friend
Having someone to share stories, laughs, and frustrations with makes your cleaning time fly by. Set up a Facetime call, catch up on Marco Polo messages, or put your best friend on speaker while you clean the bathroom or load the dishwasher.
Dress the Part
The way you dress can impact how you feel, and you're going to want some serious energy to tackle your cleaning tasks. Try sporting your most energizing workout gear or throw on a pair of jeans that makes you feel confident. You might even designate an official cleaning uniform that's comfortable but inspiring. Shoes are important too - a sporty pair of sneakers will keep you motivated and comfy as you work through your list.
Try This Genius Cleaning Game
LoveToKnow's commerce editor, Mary, has invented the most genius cleaning game and rewards system, and we're all a bit obsessed. This is a great motivating game with rewards involved, so kids will love it too.
Here's how Mary does it:
List everything you need to get cleaned during the week.
Assign points to each task - the harder or more timing consuming the task, the more points its worth.
Next, assign a number to each task and roll a D20 die to see what your next task will be. Once you accomplish that task, you earn the assigned points.
Tally your points at the end of the week to see what sort of reward you can treat yourself to. You'll need to assign points to your favorite treats too, like 100 points for a fancy coffee or 150 points for a new book.
Use Cleaning Products You Love
If your home feels and smells amazing after a thorough clean, you'll feel much more motivated to clean the next time around because you know how satisfying the final result is. LoveToKnow's editorial director, Carrie, swears by lovely scented cleaning products that make the process and the end result of cleaning your home a positive sensory experience.
Watch Your Favorite Show
A little background noise and a distraction from the task at hand might actually help your cleaning process feel less painful. Turn on reruns of your favorite show to play while you clean the floors or fold laundry to a new episode of your current reality TV obsession.
Get Inspired by YouTube Channels
If sitcoms or dramas aren't your thing, you might enjoy watching others clean along with you. I love to turn on a long video from my favorite cleaning YouTubers to keep me motivated and inspired as I organize my closet or clean the tile grout. There are tons of YouTube cleaning channels, but Amy Darley gives me inspiration and real-life cleaning tips, and she makes it feel like you're cleaning with a friend.
Get Motivated & Get Things Clean
Cleaning doesn't have to be a dreaded task every week. With a bit of fun or entertainment in the mix, you might find yourself looking forward to tackling that to-do list. Find the cleaning motivation hack that works for you or borrow one from the LoveToKnow staff to keep your home tidy and have fun doing it.