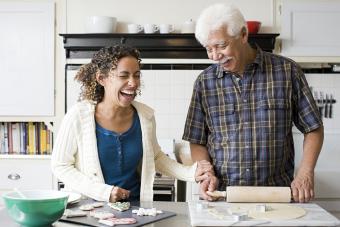 As you and your parents age, life can get in the way, and you might wake up realizing it's been years since you last spent quality time with them. Make the most of the time you have by planning fun and memory-making things to do with your elderly parents. After so many years of providing for you, you can give them the gift of your time and experiences they'll be talking about for years.
Things to Do With Your Older Parents on a Regular Basis
If you want to make the most out of every minute you still have with your elderly parents, start planning a weekly, bi-weekly, or monthly activity you can put on everyone's calendars. These are just some of the fun things you can regularly do together.
Experiment in the Kitchen
If you've got aging parents whose dinners are to-die-for delicious, ask them to spend some time teaching you their favorite recipes. Meet up as often as your schedule allows and learn how to make new dishes to wow your own family and friends with.
Bonus points if you bring all the ingredients and clean up afterwards. Instead of just writing everything down, you could record parts of your meetups, leaving yourself with beautiful mementoes to keep forever.
Start a Family Game Night
If you haven't already, you might want to start a family game night. This is one of those fun things to do with elderly parents that works for everyone. There's no one better to play with than people who know your tricks and tells from the start.
Master the craft of beating your parents at every game they ever loved, and encourage them to flex their reasoning and strategic skills as well. Who needs a bottle of gingko biloba when you've got family game night to keep your mind sharp?
Visit a Flea Market
If there are any local flea markets in your area, they can be a diverse and consistent activity you can bring your elderly parents to. If there isn't, you can swap it out for the weekly farmer's market or vintage show. Either way, having a reliable date neither of you can cancel on will keep both sides coming back for more.
Start a Book Club
If you're looking for things to do with your older parents, starting a book club with them is a great way for everyone to stay literarily engaged. Every month or so, you can meet together with snacks and drinks, and explore the latest plot developments together. Debate over your favorite characters and build new inside jokes. And if you stray away from the books and start gossiping about other things in life, what's the harm?
Plant a Garden
Getting in touch with nature is a super important thing to do, especially if your elderly parents have mobility troubles and can't get around easily anymore. Bond with your parents by growing a garden together. Even if they're beyond picking up their own trowels, having them outside and chatting with you while you till up the dirt will brighten their spirits. And once everything's in bloom, you'll all have something tangible to hold on to and remember the wonderful time you spent together.
Ways to Spend Time With Your Elderly Parents Outside the House
Your body might be aging, but your personality doesn't have to. Help keep your parents from turning into Oscar the Grouches by taking them on exciting adventures they never took while they were raising you. Now that they're well into their "empty nesting" stage, you might encourage them to explore the world and their interests in bold and exciting ways.
After all, deciding what to do with your elderly parents can be fun and exciting for everyone. Finding different places to go, whether it's near you or you decide to travel, can create unforgettable memories.
Go on a Family Cruise
Cruises are a great way to have a vacation while avoiding planning anything. Cruises are tightly run ships and they've got all the activities and events you could possibly need to entertain yourselves for a few weeks. Get your parents out of your hometown and set sail together.
Visit an Opera
Over the years, operas have become more and more democratized. People at any socioeconomic level can purchase a ticket and see a showing. A historic art form that you truly have to see in person to understand, operas are something special you can expose your parents to while they still have the chance.
Now, most operas are significantly more casual than they were in the past, but if you're heading to a major city opera, make sure you check the dress code before attending.
Visit a Cemetery and Do Some Grave Rubbings
It's only been in the past century that death's become a bit of a taboo subject in the United States. Get back into your ancestor's roots by taking your parents along with you to do an age-old practice - making grave rubbings. Explore local cemeteries in your area and, using a soft charcoal, pastel, or crayon and tracing paper, rub the engravings from interesting tombstones you find to keep forever.
While this one might not have been the first thing on your list of places to take your elderly parents for fun, it can be surprisingly entertaining for everyone.
Volunteer in a Wildlife Rehabber
Animals are therapeutic, fascinating, and can brighten anyone's day. Give back to your community while spending time with your elderly parents by volunteering at a wildlife rehabber or shelter in your area. Something as simple as helping them with cleaning, feeding, or socializing can bring these animals from the brink and a smile to everyone's face.
More Simple Ideas to Have Fun With Your Aging Parents
If you're looking for some easy ways to have fun with your senior parents throughout the week or on the weekend, try one of these easy everyday ideas:
Visit the library together.
Try a local museum they've never gone to before.
Go mini-golfing or head to a family driving range.
Go through family pictures and make a scrapbook together.
Help them write an autobiography, or create a family notebook with their different life experiences.
Have lunch at a classic diner or visit an old-time ice cream shop.
If they like sports, listen to or watch a game with them. Or attend a local event like a high school or community college baseball or softball game.
Help them rotate photographs or collections to display and share favorite memories.
Pull up a Bob Ross tutorial on YouTube and try your hand at painting happy trees together.
Do a virtual yoga or low-impact workout with them at home.
Try a new hobby you might both like that boosts cognition, such as jewelry-making or making models.
If you live near the water, try an activity like clamming or collecting sea glass.
Take a class together on a subject you want to both learn more about.
Memories Last a Lifetime
It's true that memories last a lifetime, and when your parents are getting older, it's more important than ever to continue making those memories. Don't rely on pulling a checkers board out every time you see them; help them live the last years of their lives boldly. Plan exciting places to take your elderly parents and create once-in-a-lifetime opportunities for you to experience together. Because you can really live a lifetime in only a few years if you plan it right.