Stay cozy and organized with stylish and functional blanket storage ideas. Keep your home free from clutter and display your most beautiful throws with clever organization and creative ways of showcasing your blankets. When all of your bedding and blankets have a place, you will no longer search through the laundry pile to find your coziest quilt.
Slide in a Stylish Storage Ottoman
For your living room and bedroom, a functional ottoman offers storage for your lighter throw blankets. When you're not snuggled up with your favorite book or turning in for the night, tuck your blankets neatly away in hidden storage that doubles as a chic decorative element. You can roll your blankets rather than fold them to save space inside the ottoman.
Layer Throws on a Ladder
For storing your quilts or other coverings in the living room, look for a fun way to display your favorite patterns and textures. Layer your blankets on a ladder against the wall to add extra cozy vibes to your space while keeping your throws well within reach when you are binge watching a show or entertaining guests.
Get Creative With Closet Storage
If you're looking to keep your blankets out of sight, you can always store them in a closet. Take the organized route by neatly hanging them over felt-covered hangers so they stay fresh and tidy. Whenever you need to cozy up, you can easily slide a blanket off the hanger and quickly hang it back up when you're finished.
Use an Antique Trunk
Bring some character to your interior and use an antique trunk to store your quilts or throw blankets. You can set this at the end of your bed or slide it into a corner of your living room. You can even set your trunk in a guest room or create a styled area in your hallway. Wherever you place it, a trunk will give you hidden storage for your best coverings and keep them within reach whenever you feel a slight chill in the air. Trunks are also useful in your bedroom for storing spare duvets and coverlets that you can easily access when it's time to freshen your space.
Hang Hooks for Your Best Blankets
Show off your favorite throws or quilts with a collection of hooks. A few blankets on hooks in your living room will make everything feel a bit more cozy and encourage guests to grab one if they need. You can hang your collection along the wall of your hallway for a fun focal point that doubles as simple storage. If you want your blankets out of sight, you can use over-the-door hooks to store your throws in a closet or behind a door.
Fold Blankets in a Cabinet
A freestanding cabinet in your living room or bedroom is a perfect place to fold and store your blankets. Stack blankets on top of one another and use risers to make grabbing from the bottom of the stack easier. Try organizing your folded throws by color, texture, or frequency of use for an extra tidy approach.
Hide Blankets in a Bench
Whether it's a bench in your entryway or a window seat built-in, storage benches are a great way to keep your blankets organized. Place a small bench at the foot of your bed for a convenient storage solution. Slide a bench beneath a window in your living room and top with a few throw pillows for a chic way to hide blankets you aren't using. You can even use a bench outside to store blankets for cozy morning coffees on your porch or late night wine talks on your patio.
Store Seasonal Blankets in Vacuum Sealed Bags
For blankets that are only used in the coldest parts of the year or reserved for special guests, keep them fresh and stored efficiently with vacuum sealed bags. Once the air is out, your bags of blankets will easily tuck under your bed, into your closet, or neatly in a cabinet. When you're ready to pull them out, they will instantly come back to life and feel just as fresh as they did the day you stored them.
Try an Abundance of Baskets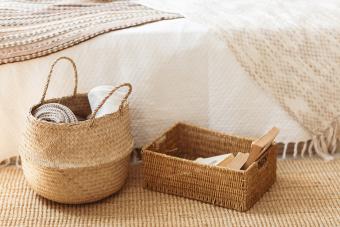 Baskets are basic storage items that can actually dress up your room and offer practicality at the same time. A couple of woven baskets in your living area or bedroom are an easy decision for storing your blankets. You can use tall and narrow baskets for stowing away throw blankets or short baskets with woven lids to keep spare quilts out of sight. Wire baskets allow you to showcase the textures of your favorite coverings while still keeping them neat and tidy.
Display Coverings on a Wall Rack
Blanket wall racks are a great way to showcase the colors and textures of your throw blankets without compromising on space in closets or taking up floor space with extra storage equipment. You can buy a blanket wall rack that matches your home decor for an industrial, rustic, or contemporary look. You can even make your own blanket rack for a fun DIY.
Don't Forget the Linen Closet
The linen closet is meant for linens, of course! This space isn't just for spare sheets and pillowcases. Designate an entire section of your linen closet to spare quilts and your coziest throws. Try folding thin blankets and stacking them on top of one another to save space and roll thicker items like bedspreads as tightly as possible and store in a bin or basket on your tallest shelf.
Store Blankets Under Your Bed
When cabinet, floor, and wall space are all used for other storage, you can always try under-the-bed storage solutions for keeping your blankets all in one place. Try foldable under-bed bags for an affordable option that will fit under the common bed frame. A rolling bin that slides perfectly under your bed is also a great option for stowing away all those extra quilts.
Style Blankets Like a Pro
For the blankets you like to keep out at all times or the ones that go perfectly with your decor, learning how to style your throw like a professional will make everything look more tidy and intentional. Once you know how to show off your blankets, you might never store them away again.
For a casual look, drape your throw blankets over one side of the sofa, making sure that most of the blanket is falling onto the sofa seat and a single corner of the blanket points down and just barely hovering off the floor.
For a formal setting, fold your blanket into a rectangle and neatly drape it over the arm of your sofa. Place pillows in an arrangement so that most of the blanket is on the outer side of the sofa.
If your sofa back is not against a wall, you can drape a neatly folded blanket over the back with one third showing on the back and the rest showing on the front.
Layer your blankets on the bed for a designer look. Start with your duvet, then add a fleece or knit blanket folded into a long, narrow shape across the bed about two-thirds of the way down. Finally, drape a more luxurious blanket like fur, velvet, or cashmere casually off of one corner of the bed.
When draping a throw over a chair, either fold the blanket narrowly and drape it formally over the back with most of the blanket showing in the chair's front without reaching into the seat, or casually drape it off to one side and spilling onto the arm and seat.
Finally Use Your Entire Blanket Collection
Once you have properly stored your blankets and visually see all the different textures and styles you have, you will most likely use your blankets more often. The more you notice the various bedding and blanket options you have, the more you will enjoy using your entire collection. Keep your throws tidy and your quilts properly stored so you can grab them whenever that book and cup of coffee calls your name.