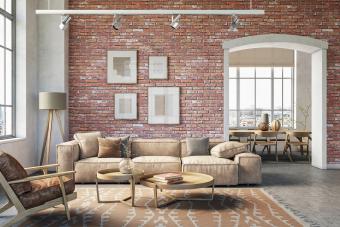 An exposed brick wall is far more than a passing trend. When done correctly, exposed brick walls can add a timeless and visually interesting detail to your home. With the correct prep, maintenance, and designer tips, you can create your own exposed brick feature wall. Jump on the exposed brick trend with DIY tips and style inspiration for a brick accent wall that makes your home feel designer.
How to Get Exposed Brick in Your Home
If you've recently discovered a brick wall behind your drywall or plaster, you've uncovered an interior design treasure. Exposed brick walls are a trending detail that has all the components of a timeless style, so it's likely here to stay. Follow the proper DIY guidelines to get this stylish look in your home. You'll need a few tools and products that can be easily found at your local home improvement store.
hammer
chisel
tarp or plastic sheeting
wire brush
mild detergenet or soap
Spray bottle with water
cloth or sponge
paint, primer, sealant, and/or limewash
natural bristle or nylon paint brush
Expose the Bricks
If your brick is behind plaster or drywall, you'll need to do a little demolition work to start the process. Start exposing your break by breaking up the covering wall with a hammer and chisel. Take your time and be cautious as you move along the wall. Try placing a tarp or plastic sheeting on the floor against your wall to catch debris and make cleaning up a breeze.
Prep & Clean Your Brick Wall
Once your brick is exposed and the debris from your wall demolition is cleaned up, you can begin cleaning and prepping your wall. Use a wire brush to ensure that all the small remnants of debris are cleared away. You can also use tack cloth to clear away dust. After this, you can clean the brick with a mild detergent and wipe down the surface with a wet cloth or sponge.
Seal Your Brick Wall
Sealing your brick is one of the most important steps when trying to expose a brick wall. Since brick is so absorbent, you want to make sure this step is complete before applying any paint. One or two coats of masonry sealant should seal your exposed brick wall. Make sure this has plenty of time to fully dry and seal before beginning the painting process.
Paint the Bricks
When it's time to paint your exposed brick wall, carefully consider the type of paint you choose. Before applying any tinted paint, be sure to use a latex primer to ensure your paint sticks to the wall and prevent any peeling. When you're ready to paint, acrylic latex paints work well with brick that's properly sealed and primed. You can also use masonry or stucco paint, which is often self-priming so you can skip the priming step altogether. Paint your brick with a speciality masonry and stucco paint brush or use a nylon bristle brush available at most home improvement stores.
Limewash Your Brick Wall
A trending look for interior and exterior walls is a limewash look. You can easily achieve this modern, rustic look with a limewash made specifically for masonry. Because this application requires that your brick still be porous, you'll want to skip sealing and priming your brick. Instead, make sure your brick is well saturated with water once it's been properly cleaned. After doing so, apply the limewash, mixed with water, using a natural bristle brush. In most cases, expect to apply two coats. Rinse the limewash once you start to see dark spots forming on the wall. Rinse lightly for an opaque look and rinse heavier for a more rustic look. If you want a less chalky finish on your limewash, you can purchase a matte limewash sealant to add a subtle sheen.
Choosing the Perfect Brick Paint Color
While exposed brick as an application is timeless, the color of paint you choose might depend quite a bit on trending colors. While black and stark white are classic brick paint choices, there are some colors that have recently caught the eye of designers and homeowners alike. Cream and oatmeal shades have gained popularity in kitchens and exteriors. Slate blue and dark gray are deep, cool color choices that will stay trendy for a while. One of the most popular brick color predictions that designers are raving about is green. Dark, forest green and warm, olive green are trending colors for multiple design styles and will add a rich and modern statement to your exposed brick wall.
Hanging Art & Shelving on Your Exposed Brick
Though an exposed brick wall often has enough visual interest to stand on its own, you can still add wall art or shelving to personalize the space. Use brick clips, also known as brick hangers or siding clips, to hang lightweight art pieces on brick. There are special teeth on the brick clip that will secure it to the edges of your brick and hold your art in place. Installation is easy and doesn't require any drilling into your brick or mortar.
For heavy-duty items like shelving, you'll follow a slightly more detailed process with specific tools. Don't worry, anyone can still do this! This process is similar to drilling into drywall, just with slightly different tools available at any home improvement store. All you need is a drill, a masonry drill bit and, depending on how heavy your shelving is, anchored screws or concrete anchors.
For lightweight items, you can get away with basic anchored screws. For heavier shelves and other hanging items, you might need concrete anchors with corresponding bolts and socket set. With a masonry drill bit you can penetrate either the mortar or the brick itself, depending on where your screw needs to be on the wall. Of course, mortar will be easier to drill into and brick will take longer. The key is to take your time and go slowly. You might find it safer to hang heavy-duty items directly on the brick rather than the mortar, just make sure the brick is in good condition with no cracks or crumbling. Drilling into a damaged brick will only cause further issues. Once your screws or anchors are properly installed, you're ready to hang your shelving or art just as you would on any other wall.
Why Exposed Brick is a Becoming a Classic Design Detail
Exposed brick began as a rustic and modern industrial design trend, gaining popularity as the farmhouse style took off in the 2010s. The trend can now be seen as a detail in countless design styles, and it appears to be somewhat of a timeless look. Because exposed brick, whether painted or left bare, provides textural interest and involves a classic design material, it has staying power as other design trends come and go. There is no need to worry about your exposed brick dating your interiors. With regular maintenance and tweaks along the way, you'll find that exposed brick always seems to fit in with your decor and adds visual interest to any room of your home.
Styles that Exposed Brick Can Elevate
Though exposed brick is on its way to being a classic design feature that can work well with virtually any design style, there are certain styles that this visually interesting application naturally elevates.
An industrial design style lends itself well to exposed brick as it backs up the straight lines and smooth surfaces as well as complements the black metals often seen in the style.
Modern farmhouse style can easily fit with exposed brick that's painted or whitewashed.
Vintage-inspired and eclectic styles are a perfect opportunity to use exposed brick. These styles embrace natural textures and maximalism, making them perfectly suited for an exposed brick design detail.
Mid-Century modern styles that incorporate some retro details can easily showcase a painted brick wall in a dark or moody shade.
Traditional interior design styles work well with exposed brick walls that are left in their natural color and sealed, while modern interior design styles are suited to painted brick in white or black with a matte finish.
Interior design styles that feature natural elements, texture, mixed materials, and the blending of modern and traditional styles are all great opportunities to use an exposed brick wall.
Troubleshooting Exposed Brick Walls
Though exposed brick can work in many styles and is a DIY that anyone can do, there are times when you might want to avoid the task, call a professional, or simply go to plan B. Keep these points in mind as you make your design choices and try to decide if exposed brick is right for your home.
Exposed Brick Rules You Shouldn't Break
In most cases, exposed brick works out well for the homeowner, DIY pro, and designer alike. That said, there are a few rules you should take note of, making sure your exposed brick plans work out in your favor.
If your brick appears to be heavily damaged, in need of repair, or contains an abundance of mildew on the surface, you might want to halt your project and reevaluate whether you need to replace the bricks or remove them altogether.
Avoid painting your brick before it's properly sealed. Brick is extremely porous and will soak up your many coats of paint if there isn't a coat of brick sealer below.
Be confident in your choice to paint the brick. Though you can paint over the brick with a new color, once the bricks are painted, they cannot return to their original state because of their porous nature.
When to Seek a Professional
Though you can definitely expose, seal, and paint your own brick, there are times you might want to call in a professional. A general contractor or a professional painter can help you with an exposed brick project and make sure that all the proper steps are taken to get the job done correctly. You will certainly want to call in a professional if your brick wall needs a large amount of repair or replacement. You might also consider using a professional to hang heavy duty art pieces or shelving units that require expensive power tools like hammer drills.
A Design Alternative to Exposed Brick
Though there is nothing that perfectly imitates the textural beauty of exposed brick, there is an option that's surprisingly close, and designers rely on it often. Heavy duty wallpaper with a brick pattern and raised texture can be applied to nearly any wall to mimic the look of exposed brick. This option works particularly well in kitchen or food preparation areas, as it is easy to clean and not nearly as absorbant as natural brick. If you're looking for a cost effective and easy way to achieve an exposed brick look without all the maintenance and commitment, brick wallpaper might be the perfect alternative for your home.
Exposed Brick Could Be the Detail Your Home Is Missing
Versatile, classic, and full of personality, exposed brick could take your home's design to a whole new level. Following a few guidelines and making style choices that perfectly complement your home's vibe will give you the exposed brick detail that all of your friends gush over during visits. Exposed brick might be a design commitment you look back on as one of the best decisions you ever made for your home.