Don't let those pesky TV wires distract from your home's design and decor. Hide TV wires in your home to create a streamlined look in your living room and bedrooms. These genius hacks for concealing TV wires will transform your space and instantly bring a high-end designer look to your home.
Hide TV Wires Behind Furniture With Hooks
Clear Command hooks provide countless home hacks, and your unsightly TV wires are no exception. Attach Command hooks to the back of your TV stand, console table, or dresser, and use them to hold TV wires in place. This TV wire hack keeps your cords in place and out of sight.
Drill Holes to Hide Your TV Wires
Don't worry, this TV cord hack is a lot easier than you might think! You only need to drill two holes in your wall to keep your TV wires hidden, and no one will see the holes by the time you finish. You'll measure a hole right behind your TV and at the base of your wall big enough to fish your cord through so it's cleverly hidden behind the wall. This helpful kit will guide you through the process in less than half an hour for a seamless look beneath your mounted TV.
Style Decor in Front of TV Wires
If you need a renter-friendly way to hide TV wires or just need a quick hack for keeping cords out of sight, reach for some of your favorite decor pieces. For this decor tip, the taller the item, the better! Style vases, statues, floral arrangements, and candlesticks on your mantel or TV stand to make cords and wires disappear.
Paint TV Cords to Match Your Wall
Concealing TV cords is as simple as applying a quick coat of paint. This TV wire hack is great for rentals or temporary TV mount spots. Paint the cord of your TV set the same color as the wall it's mounted on to make the wires far less noticeable at a glance.
Run Cord Down Your Fireplace
This hidden cord hack will have you reaching for those trusty Command hooks again. Clear hooks along the side of your fireplace help tuck your TV wires into place and keep them concealed. Make sure you choose hooks small enough to go unnoticed and run your cords along the side that's seen the least.
Tuck Wires Into Cute Baskets
If you have a TV on a stand or a TV mounted low on the wall, you'll love this simple and clever cord trick. Grab a basket (or two or three) for all the cords running from your TV, speakers, and other gadgets. Simply place the cords inside the basket or go the extra mile and cut a hole in the back for easy threading. Make sure your baskets are stylish and the right scale to keep your cords out of view while also adding to the aesthetic of your room.
Paint Your Wall Black
Black is a stylish and trendy wall color already, so try it to conceal your TV and its cords. Paint the wall your TV is mounted on in a flat or matte black paint and watch as your wires fade into the background so your decor and style take center stage.
Hide Cords Between Wall Slats
If you have a chic slat wall feature in your home, you already have the perfect situation for hiding TV wires. Once you mount the TV on the slat wall, you can run the cords and wires down through the slats for an effortless way to keep your wall looking designer.
Try the Trim Hack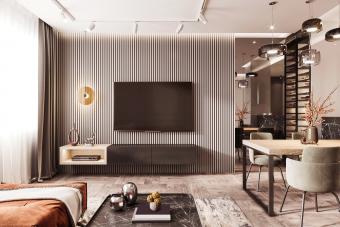 This clever TV cord hack from Julie Blanner is easier than it looks, and it keeps all of your cords out of sight. Plus, there's an aesthetically pleasing component. A strip of decorative trim gets mounted behind your TV, but there's a hollow portion of the piece that keeps your cords hidden. This is a DIY worth your time since it will keep your home looking classy.
Shiplap Around Your TV Wires
Feature walls aren't always strictly visual; sometimes they serve a practical purpose as well - like this shiplap wall hack. Installing shiplap panels around your TV is a stylish way to conceal all the wires and cords that come along with the screen. Designers suggest using a snap-in panels - think luxury vinyl planks - so you can access the cords without damaging your wall.
Add an Accent to the Lower Half of Your Wall
If a full feature wall feels overwhelming for your space, try a half-wall detail that helps you hide TV cords. Shiplap, beadboard, and other types of wall paneling allow you to hide TV wires by drilling holes into the feature to thread your cords through. The trick here is to mount your tv low enough so you can conceal them behind the feature.
DIY Wall Panels to Hide Your Cords
If your TV is mounted over the fireplace in your home, this DIY hack will help you gain storage space and a way to hide everything your entertainment technology includes. This DIY cable box panel lets you hide everything from cords to consoles. This project is a little more involved, but well worth the time and effort.
Mount Your TV Low on the Wall
Even if your TV is mounted on the wall, you likely have a console table or cabinet styled beneath it. For this hack to work, you'll want to mount your TV just above the cabinet, so the bottom edge of the TV is almost flush with the top of the unit. This clever placement will conceal most of your TV wires with little effort on your part. If the wires are seen beneath or behind the console table, use the handy Command hook hack to keep them hidden on the back.
Purchase a Cord Cover Raceway
This little gadget solves your unsightly TV cord issue without breaking your budget. A cord cover raceway tucks your cords into a covered track that makes your TV wires less noticeable. This hack is renter friendly and super simple to put together.
Cover Cords With Books
Here's an easy cord hiding tip if you're an avid reader. Use your collection of books to cover less-than-aesthetic TV cords with one of these styling hacks.
Frame your TV in with a large book collection mounted to the wall. Your TV and book collection work together to create a unique art display.
Tuck cords behind books stacked vertically or horizontally.
Hollow out a stack of books to create a hidden box for extra cord length or a console.
Hide TV Wires Along Your Trim
Those clear hooks are seriously so versatile! Use them to run your TV's cords alongside the back of your vertical trim. If you hang your TV close enough to a doorway, this hack will almost entirely conceal your cords.
Build an Electric Fireplace Wall
If you love a transformative DIY project, this tutorial from Our Travel Home will help you hide unsightly wires with a beautiful statement piece for your home. This rustic and chunky mantel design isn't just for a stylish fireplace display - it hides your TV's cords while also powering your electric fireplace.
Transform Your Room With a Streamlined Look
In the case of technology cords and wires, less is definitely more. You want guests to pay more attention to your stellar style and no attention at all to the less-than-fashionable parts of your home. With all your TV wires hidden, guests will start to notice your admirable design skills.