Make your living room stylish and elegant by creatively hiding your TV with DIY hacks or handy furniture and decor. Taking the emphasis off of your TV will help guests focus more on your chic space and interior design skills. A hidden TV will instantly elevate your space while giving you the option to binge your favorite show later on.
Point Furniture Away From the TV
One of the easiest and quickest ways to draw attention away from your TV is to avoid pointing all of your furniture toward it. Try creating zones in your space by having sofas and chairs styled in a square or circle, pointing away from the TV. You can always designate a TV-viewing area with other furniture pieces that feel separate from your conversation area.
Tuck Your TV Into an Alcove
TVs stand out in spaces because they project even the smallest amount from the wall and contrast against most wall colors. If your space has an alcove or even a set of built-ins, your TV will be far less distracting tucked away into a recess rather than projecting outward from your wall, and you'll be able to hide all those unsightly TV wires too.
Frame Your TV With Art & Decor
If you aren't able to hide your TV, try displaying it with art and decor. If your TV is on a wall or sitting atop a stand, frame it in with a gallery wall of art or photos. If your TV is sitting in a built-in unit or entertainment center, use decor and books to frame it in stylishly.
Use Dark Wall Paint
One of the main reasons TVs tend to stand out is because the black box of entertainment contrasts against popular colors of paint that are light and fair. Use dark and matte finish paint to help your TV blend in. Shades of black, charcoal, navy, and even very dark greens are trendy and dark enough to prevent unwanted contrast.
Cover Your TV With Shutters
Perfect for rustic, traditional, and farmhouse styles, a set of wall shutters will hide your TV in a stylish way when it's not in use. Leave the shutters closed for intentional elegance and open them up when it's time for a family movie night or a few episodes of your favorite show. Style these with some sort of console or cabinet underneath, so the shutters look intentional and balanced rather than standing out oddly.
Try a TV Lift Cabinet
Add Doors to Your Unit
If you store your TV in a cabinet or set of built-ins, your solution may be as simple as adding doors. Stylish doors on a cabinet or even a repurposed armoire will hide your TV while guests are over but still leave it in the optimal space for viewing.
Avoid Windows
If you want to make your TV less noticeable, avoid placing it in front of your windows. Eyes naturally gravitate toward a source of light or an open area in the room, and windows are one of the first places our eyes go when entering a room. Arrange your living room or bedroom in such a way that the TV isn't directly in front of a set of windows. If you can't avoid the windows, try to keep your TV below the level of the windows if possible.
Distract With an Accent Wall
If your TV stands out on the wall, try styling the wall in a way that makes it an intentional focal point of the room. An accent wall with brick, wood slats, or any other feature details will help your TV wall look like it's supposed to draw the attention of guests.
DIY a TV Frame
Maybe hiding your TV isn't the best course of action. Instead, try making it work as a design feature in your space. Give your TV an artwork frame to make it more of a decorative detail and less of a design obstacle.
Hide Your TV Behind a Tapestry
When guests come over, you might want a quick way to get your TV out of sight that blends in with your decor. This TV tapestry DIY gives you an artistic option for disguising your TV in a stylish way.
Fashion Your Own Folding Panels
Whether you want an artwork look or something more sleek and structured, you can hide your TV behind DIY folding panels. During the day, your wall appears to sport a beautiful piece of art or a contemporary decorative detail. In the evening, you open the panels to binge your favorite show or watch a movie with your family.
Try Hide & Seek Screens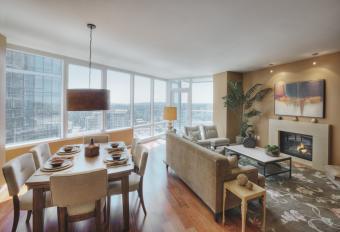 Disguise your TV behind a hinged collection of photo frames for an elegant look. Most frames will need custom orders to fit your TV perfectly, but the finished product is well worth the time and effort.
Hide Your TV to Showcase Your Style
When your TV no longer takes center stage in your space, your personal style really shines. Tuck away your TV or disguise it with a clever product so guests can appreciate your design skills and you can enjoy a much needed break from the screen.