Combine the sleek sophistication of modern style with simple rustic details for a kitchen full of character. Modern rustic kitchen styles are gaining fans among homeowners who want the perfect blend of yesterday and today in their home. Rustic kitchens offer an unmatched welcoming vibe to your home and have staying power past the trend with a few modern details thrown in. Use our rustic kitchen ideas to strike the perfect balance.
Use Black & Wood Together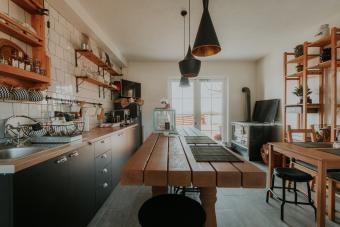 One of the easiest ways to achieve a modern rustic look in your kitchen is using stained wood features alongside black details. This could look like light wood stained cabinets with matte black light fixtures or satin black cabinets with dark butcher block countertops.
Choose a Bold Rustic Light Fixture
As with every design style, lighting can really elevate the look you're hoping to achieve. For a rustic kitchen, a bold and unique light fixture can help shine a spotlight on the style you love. Look for a fixture that has clear rustic features like natural wood shapes, corrugated metal, or repurposed pipes.
Include a Vintage-Style Range
Even with mostly modern design elements, a vintage-style range adds unique rustic flair to your kitchen. Look for antique shapes, bold colors, and black or gold details for an oven that perfectly exemplifies your modern rustic style.
Use Dark Wood Stain on Cabinets
If you love the rustic look of a stained wood cabinet but want to incorporate some modern style elements in your kitchen as well, a rich and dark stain will help you bridge the gap between rustic and modern. Try a deep stain in a true brown or slightly red shade for a timeless look that suits the trend.
Accent With Green
If you want to add a bit of color to your modern rustic kitchen, shades of green are your best friend. Try sage on cabinets, bold green in rugs, or a dark shade of emerald for your backsplash tile.
Feature Exposed Beams
Architectural details are an important style element of the modern rustic trend. Exposed beams on your ceiling or wooden posts in your great room are a great way to incorporate the structural foundation of this interior design movement.
Update Counters With Butcher Block
Butcher block counters have taken the kitchen design world by storm for a few years and fit into many design styles, but they fit perfectly in a rustic setting. Even if your kitchen features more modern style elements, a butcher block counter top can add the subtle rustic vibes you've been looking for.
Try an Apron-Front Sink
A truly rustic kitchen, modern or otherwise, must have an apron-front sink. Often referred to as the farmhouse sink, this kitchen design feature will set the tone for the rest of your decor elements as you design your rustic space.
Highlight Metal Details
You may think of wood as one of the central materials in rustic design, but metal also plays a large role in the style. Metal light fixtures, wall decor, furniture, and decorative details all elevate your rustic space. For a more modern approach to the style, look for thicker, sleeker types of metal and choose slim, textured metal to fully embrace the rustic kitchen trend.
Style a Traditional Dining Area
If your dining space is in your kitchen or your home has an open floor plan, carry some of your modern rustic design features over to your dining table. Look for traditional furniture pieces and blend stained wood with painted elements for a balanced design feature that's cohesive with your modern rustic kitchen. You could also add metal or upholstered chairs to the mix if you want to break up a room full of wood details.
Mix Vintage Details With Modern Updates
The key to a modern rustic look is to blend the old and new in a stylish way. Even if you have a new build or are working on a remodel, including a few foundational design elements that feel vintage or reclaimed will create the ideal canvas for a modern rustic kitchen. Brick or stone flooring, antique cabinets, and reclaimed wood beams will set the stage for your dream rustic home.
Include a Brick Feature Wall
Add texture and character to your rustic kitchen with a brick feature wall. Whether you prefer a traditional red brick or a painted brick accent, this design detail will bring all the cozy rustic vibes to your home and can act as the perfect alternative to a tile backsplash.
Paint Cabinets in a Dark Color
The benefit of mixing modern and rustic style is getting to include design features rarely associated with the rustic trend. Though you may see dark-painted cabinets more often in current modern styles, this color detail will add sophistication to your rustic kitchen. Rich shades of green, deep blues, and dark grays contrast beautifully with warm shades of wood and rustic metal components.
Incorporate Vintage Tilework
If your kitchen already has vintage-style tile flooring or original hardwood floors, work them into your modern rustic design. A well-worn floor adds character to your kitchen with an old-world feel that doesn't veer too close to the retro design style.
Use Glass-Front Cabinets
Glass-front cabinets are one feature that strictly modern and deeply rustic kitchens share, making it the perfect marriage of the two styles. Because we see glass cabinets in a lot of traditional styles, they feel like the perfect rustic balance alongside more modern kitchen fixtures. If you want to amp up the rustic vibes with your glass-front cabinets, choose a stained wood in place of a painted cabinet.
Steer Clear of Matching Furniture Sets
Opt out of the typical matching furniture sets for your kitchen and choose a more collected look instead. This approach lends itself well to modern rustic style because it showcases a slight affinity for eclectic style. A dining table in a style differing from your chairs is one way to achieve this look. You can also use different styled chairs at the heads of your kitchen table. If you really want to embrace the collected rustic trend, you can mix things up with unmatched kitchen chairs. This principle may also apply to stools at your kitchen counter.
Select Rustic Plumbing Fixtures
The core of your design style is all in the details, including your plumbing fixtures. Highlight your kitchen's rustic style with a vintage-inspired faucet. Avoid chrome finishes, as these may feel too contemporary, and opt for brass, oil-rubbed bronze, or brushed nickel instead.
Mix Your Woods & Metals
Rustic design enables you to mix and match many materials, including wood and metal. Whereas you might use one singular wood or metal detail in most design schemes, the modern rustic trend allows you to blend brass and silver, black metal and copper, and light-toned woods with dark-toned woods.
Combine Sleek Tile With Textured Stone
A beautiful aspect of the modern rustic trend is being able to use a wide range of materials for feature walls and backsplashes. With this perfect blend of old and new styles, you can use a sleek tile backsplash alongside a heavily textured stone wall.
Add Touches of Copper
Copper is a fun metal to use in any room, and it works well in the modern rustic style, especially for a kitchen. Add a few touches of this bright and shiny material in your lighting, cookware, or small decorative pieces.
Choose Rustic Decor Details
Your kitchen's decorative elements are just as important as the architectural details and hard finishes. Add your personal touch to the space with vases, cutting boards, risers, and cookware pieces that have rustic vibes.
Add Dark Decor
A couple of dark decorative pieces will add a touch of modern sophistication to your rustic kitchen. Try dark gray ceramics, sleek black pottery, and beautiful amber glass.
Choose a Stylish Blended Look for Your Kitchen
Modern rustic kitchens have all the staying power of a timeless design style. Because they effortlessly blend traditional vintage home design with modern styling, a modern rustic kitchen will stand the test of time in your home.