The painted accent wall of yesterday is stepping aside for the new, modern, and chic accent wall of today. This time around, the walls have more timeless applications and staying power in the design world. Wood accent walls and other modern twists have created endless ideas for your home. Add a stylish and interesting design element to your space with pro tips and designer style hacks.
A Modern Update on Wood Paneling
It's not the wood paneling of your mother's living room. This time around, wood paneling is elegant and actually elevates the style of your space. Lighter stains and a high-end look replace the dark shades and thin boards of past panel styles.
Lighten the Stain
For a modern and elevated accent wall using wood paneling, update dark or orange-toned stains with a lighter and softer shade. Natural, blonde, honey, and even white-toned wood stains will lighten your space. These lighter shades will complement new and trending home design styles like mid-century modern, coastal grandmother, Scandinavian, and bohemian. Unless your style leans more traditional or vintage, avoid wood stains with undertones that are orange, red, or yellow.
Cool Down Dark Shades
If your style is more moody, academic, or traditional, your wood panel accent wall could look chic with a darker stain. For modern dark stains, look for shades that are cool or completely neutral. Black stains, gray stains, and deep shades of a truly neutral brown can be a sophisticated look for your wood accent wall.
Look for Flat Panels
Wood panel walls of past trends often feature small to medium panels with plenty of grooves in between. For a contemporary and minimalist look, try side-by-side panels with no grooves at all. This seamless look feels more streamlined and will give you the opportunity to include wall hangings without cluttering the space.
Do Texture the Right Way
If your space needs a little texture, then panels and grooves might be the best choice. The key here is to stick to small panels with deep grooves and make sure there is equal space between them rather than large panels with small grooves throughout. The narrow panels alongside equally narrow grooves will create modern texture on your accent wall and look chic for years to come.
The Slat Wall Craze Sweeping the Design World
If updated wood paneling is the accent trend of today, then slat walls are the high-end accent wall of tomorrow. This architectural style is taking the design world by storm, and its timeless elegance makes it a versatile accent wall choice for nearly every home.
Place Slats Close Together
The modern and elegant essence of a slat wall comes from the tight placement of the slats. Place slats only two and a half inches apart for a textured accent wall that's streamlined and lends itself well to modern home furnishings.
Create Contrast
An easy way to take your slat accent wall from stylish to stunning is to create a contrast between the slats and the wall. Use a light, natural stain on your slats and contrast that with a bold black or deep green on the same wall. The contrast will subtly highlight the deep background color while projecting the color of the slats forward for a striking accent wall detail.
Create Asymmetry
Step into a contemporary and style-forward trend with an asymmetrical application. Try placing your slats vertically on one third of the wall while leaving the remaining space bare for a look that adds height without compromising all your horizontal space.
Try a Modern Pattern
Slat walls don't have to be strictly vertical. A herringbone pattern will add more visual interest to your accent wall. You can also apply smaller slats in horizontal and vertical sections for a subtle checkered pattern.
Carry Slats to the Ceiling
This trending accent wall doesn't have to stop at the top of the wall. Carry your wood slats up and onto your ceiling for an accent wall that adds striking architectural details to your entire room. For this application, apply the asymmetrical rule to avoid overwhelming your room with slats.
Wallpaper Is Back & Better Than Ever
Wallpaper accent walls are no longer featuring the wallpaper of decades past. This time around, wallpaper brings a bold and high-end look to your accent wall that highlights your personal style and creates a striking detail for guests to gush over.
Create Movement With Abstract Wallpaper
Though geometrics have been a wallpaper trend for quite some time and will always remain a classic style, the flow and movement of abstract wallpaper is undoubtedly a striking detail for any room. Look for prints that resemble marbling, tie-dye, or flowing water. This sort of print is perfect for a bold look in your bathroom, hallway, or office.
Choose Texture Over Print
For a subtle and classic wallpaper accent wall, look for wallpaper that highlights a texture rather than a print. Grass cloth wallpaper creates a timeless look and paintable texture wallpaper gives you endless options for creating the accent wall that best complements your interiors.
Select a Small Print for Elegance
Small prints that feature flowers, geometric shapes, and abstract patterns will create effortless elegance on your accent wall. Here, look for bold contrast like black and white or small prints that feature a couple of fun colors in small doses like chartreuse, hot pink, or cobalt blue.
Panel Molding Revives Traditional Elegance
With the popularity of sleek and minimal styles in recent decades, panel molding became a quality of mostly traditional styles. Updated accent walls have revived the elegance of panel molding for traditional and modern styles alike.
Install Your Own Panel Molding for a Stylish DIY
Panel molding of all sorts, whether wainscoting or long vertical wall panels, is a DIY project any average homeowner can accomplish. This elegant and custom look is no longer reserved for the home construction industry professionals. Gather your molding pieces, paint, tape measure, painter's tape, and a nail gun to get this project started. Measure and layout your panel design with painter's tape, install the molding, and paint the finished project for a sleek look. You can make this project even easier by purchasing prefabricated wall panels and frames. This type of accent wall looks elegant behind a sofa or bed and can even elevate the wall of your entryway.
Paint Panel Molding Like a Pro
The way you paint your panel molding can impact the translation of style your accent wall provides to the room. For traditional, maximalist, or highly detailed and decorative styles, consider painting your panel molding white against a rich or pastel color. For a modern and minimalist look, paint your panel molding in the same color and finish as the rest of your wall.
Give Paneling Personality
If simplicity isn't your thing, there are plenty of ways to add pizzazz to your panel molding. Wallpaper inside the panel borders will complement styles that highlight traditional or ornate details. You can paint your panels with metallic paint for a glitzy and glam look. Layer decorative panels to create more visual interest. You can even hang wall art and photo frames on your paneled wall for a vintage eclectic style.
Painted Accent Walls Can Still Offer Style
Painted accent walls of previous decades may feel dated or less than chic, but painted accent walls can still be fun and stylish. Use modern applications, easy DIY projects, and unexpected details to help your painted accent wall stand out in the best way.
Apply Classic Paint Techniques for a Sophisticated Accent Wall
Classic and timeless paint techniques like sponge texture and painted stripes will have staying power on your accent wall. Look for high contrast and wide stripes for a more contemporary look and choose slimmer stripes in blended colors for a traditional take on the application. Use painter's tape to define your stripes as you paint. You can even use the same painter's tape striping technique to achieve other patterns like chevron or herringbone.
Use Simple Brush Applications to Achieve a Fun Print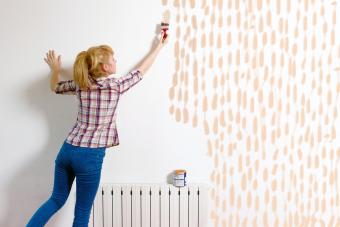 You can achieve a striking look on your accent wall as easily with paint as you can with wallpaper. You can use a small bristle brush to create a fun brush stroke pattern by lightly applying brush strokes against your wall in a close pattern. For polka dots, use a round sponge brush to create your pattern. You can even use sponge brushes to create dalmatian prints or a fun leopard pattern by trimming the sponge brushes to resemble the shapes you're looking for.
Use Gold Leaf Paint to Add Glamour
Gold leaf paint can set your accent wall apart and add a glamorous style detail to any room. Use gold leaf paint to highlight a painted pattern, panel molding edges, or even create an abstract pattern from the gold leaf itself. Keep in mind that any metallic paint can bring you the same look. So consider trying silver, rose gold, copper, or bronze tones to add the style detail that best suits your space.
Consider Other Accent Wall Options
There is an endless list of possibilities for creating an accent wall. Consider selecting an accent wall detail that features a natural material with a lot of texture to create interest and depth in your room.
Choose a Sleek Tile
Tile isn't just for your shower wall or kitchen backsplash. A tile feature wall can add high-end and sleek style detail to any room when applied to a feature wall. Look for tiles with a glossy finish, bold color, or glass elements to create a contemporary look. Tiles with irregular edges or a rough texture will help highlight a rustic style.
Try Shiplap
Shiplap may have already had its time in the spotlight as a trend, but it is still a timeless wall feature when applied correctly. Rather than choosing the white and wide shiplap of past years, step into an updated look with thinner panels. Consider stained shiplap or even a dark shade of paint to add more sophistication and a timeless feel to this wall accent.
Let Nature Inspire You With Stone
Stone accents can work on more than just fireplaces. A stone feature wall in a dining room or kitchen can bring an earthy and welcoming feel to the space. Think outside of the box and look for stones that aren't just strictly gray and brown. If you're feeling extra chic, you might consider a stone feature that incorporates quartz, agate stone, or a colorful stone like amethyst.
Use Exposed Brick for Texture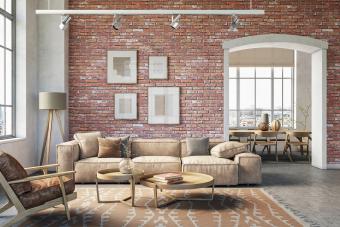 Exposed brick walls are a classic accent that brings textural interest to any room. You can add paint to highlight your personal style or leave them in their classic red for a traditional look. Whitewashed or painted brick can work well for farmhouse modern or other transitional styles. Painting your exposed brick in black or a deep shade of green can bring a sophisticated vibe to your room and highlight styles that are more electric.
Keeping Accent Walls on Trend
Accent walls don't have to feel dated or only apply to certain decorative styles. Feature walls are certainly back in style and may be bigger than ever. The architectural details, stylish colors, and textural elements of today's feature walls are setting up this returning trend for a place alongside other timeless interior design focal points. Keep your own accent wall stylish by focusing on materials, colors, and textures that are in today and will still lend themselves well to your home's style as it grows.
Avoid an Accent Wall Faux Pas
Though the modern accent wall has improved from those of past trends, there are still some accent wall rules designers follow to avoid a feature wall that looks dated or out of place. Stick to these rules to make sure your accent wall always looks stylish and thoughtful.
Make sure there's a purpose to your accent wall. Adding a feature wall just to say you did can lead to a cluttered or confusing room.
Avoid placing your feature on a wall with windows.
Try to place your feature on the largest wall of your room and avoid creating an accent on the smallest wall of the room. The exception for this rule is painting the small wall at the end of your hallway or alongside your staircase. In this case, painting the smaller wall can look thoughtful and designer.
Never mirror your accent wall on the wall directly across from your feature, resulting in two accent walls. This will defeat the purpose of your accent wall and make your room feel choppy.
In most cases, avoid an accent wall in your kitchen. With cabinetry, tiles, and other elements, your kitchen should have enough interest to stand on its own. Unless your kitchen lacks visual interest or texture, it's probably best to avoid an accent wall in this space.
In most cases, you'll want to avoid using a wall with a door for your accent wall. However, if your accent revolves around a bold paint color or even a wallpaper, you can carry that color onto the door or paint your door and trim in a complementing color to make this choice feel chic.
When deciding on an accent wall, carefully consider if the choice will help highlight your home's style or if it will add confusion and disharmony to the space instead.
When choosing an accent wall for your bedroom, it's usually best to avoid the two walls next to your bed. Rather, choose the wall behind your bed or the wall your bed faces.
Accent Walls Can Still Be Stylish
Designers have relied on feature walls for quite some time. The trick is to make sure the feature wall fits into the room and into your style to create a timeless and chic look. With the right approach and designer tips, your feature wall will add depth to your room and enhance the style in your home you have so carefully curated.