The sleek, streamlined design of a flat screen TV is actually easier to decorate with than the old-school fatback TVs. Whether it's mounted on the wall, positioned inside a media center or placed on a console table, these versatile display options provide a wide range of decorative opportunities.
Wall Mounted TVs
A wall mounted TV looks lost when it sits alone on a large, blank wall. Give it some company and make it part of the group.
Treat It Like Art
Treat a wall-mounted TV like a piece of framed art. Because the TV is large and dark, it will act as an anchor in a grouping of framed art pieces. Consider staggering another large framed picture with vertical orientation near the TV so both pieces anchor the grouping. Arrange the other framed pieces both vertically and horizontally around the TV, keeping an equal, balanced look on all sides.
It's a good idea to practice the arrangement on the floor first. Make a newspaper cut out of the TV and arrange the surrounding frames until you are happy with the design. Snap a picture with your cell phone so you can remember which picture goes where when hanging them on the wall. Make the grouping as big as you like, turning the TV wall into an art gallery wall.
Frame It
For something a little quirky and unusual, you can mount a large picture frame around the TV. Keep the look sophisticated using a white or black frame or add some shine to the wall with a metallic gold, silver or bronze frame. If you can't find a ready-made frame large enough, one can easily be constructed from wall or casement molding. Pick up one of the bold accent colors in the room and paint the frame to match.
Surround It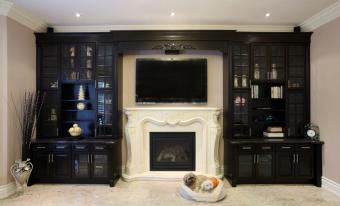 Surround a wall-mounted flat screen TV with built-in shelving and cabinets for a custom look. This classic design is often used to enhance the fireplace as a focal point and works with a wall mounted TV just as well. Draw the eye away from the empty black box of a TV not in use by filling the surrounding shelves with artistic sculptures, figurines, pottery, vases, framed pictures, books and greenery. If your style is more modern, extra long floating shelves installed above and below the TV incite an edgy look.
Unify or Enhance With Color
By painting the wall a dark color, the TV blends in to the surroundings. Dark or textured wall panels behind the TV can help unify it with nearby shelving, cabinets or furniture. If you prefer to emphasize your expensive flat screen as a focal point, paint the wall a bright color for sharp contrast against the black set.
Hide Additional Electronics
Cable boxes, DVD players and home theater equipment can be safely hidden away in lower built-in cabinets or console tables with cabinets positioned underneath or nearby wall-mounted TVs. Simple devices such as an IR blaster can help you operate your components when they are behind closed doors.
Electric components can also be stashed away in a nearby closet, stacked on a wire rack with casters to promote airflow. Wires and cables have to be fed through drilled holes in walls and sometimes attics, ceiling crawl spaces or basements to reach from the TV to the closet. You'll also need an infrared sensor and repeater to help capture the signals from your remote controls and send them to the components in the closet.
Standing TVs
Don't let a flat screen TV placed on a console table look like an afterthought. Give the set a sense of deliberate design by incorporating it into the surrounding décor.
Build a Gallery Around It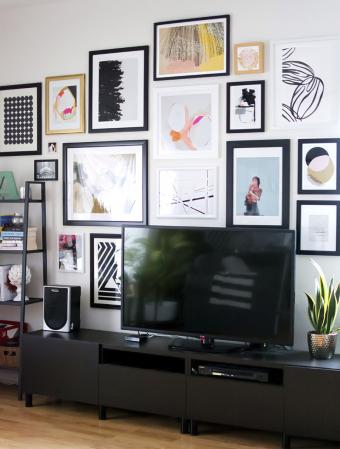 Hang one or two rows of evenly spaced pictures on the wall behind the TV, creating a grid-like effect. Black-and-white pictures in black frames or large white mattes with silver or chrome frames coordinate wonderfully with the TV.
Try a different repeating shape on the wall behind the TV for visual interest such as:
A collection of plates in coordinating colors
A collection of round or oval clocks or mirrors
A grouping of round or oval fabric wall panels
If you prefer the casual look of asymmetry, hang a variety of wall art on the wall behind the TV, using frames of different shapes, sizes and orientation. Incorporate a shelf, a large wooden letter or metal wall art to add dimension and texture.
Add Companion Pieces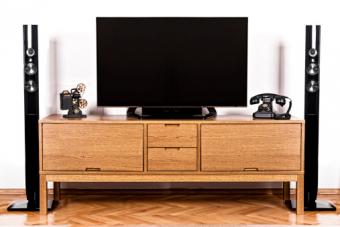 Flank a flat screen TV sitting on a console table with two table lamps, candle holders, ginger jars or figurines on each side for a look of formal symmetry.
Another option for balancing decorative objects on either side of a focal point (the TV) is to use one large object such as a lamp on one side and a grouping of objects on the other side, such as three vases in varying heights.
Complement the Design
A modern console table pairs beautifully with a flat screen TV. Play up the shiny surface of a black TV frame with a table made from metal and glass or a wood table with a shiny lacquered finish. Install a series of floating shelves on the wall behind the TV, allowing the shelves to frame it above and on both sides. Display sleek art glass, metal sculptures or ceramic art but keep the accessories to just a few select pieces to enhance an ultra-modern, minimalist feel.
Go for an Eclectic Vibe
Don't worry if your style is more traditional, play up an eclectic look by placing a flat screen TV on a traditional or antique style table with carved or fluted legs. Paint the table a bold color to give it a more modern feel and use black hardware to tie it in with the TV. Complete the look with painted shelves featuring carved wooden brackets installed above the TV.
TV Sizes and Viewing Distances
To make the most out of the high definition technology of a flat screen TV, it's important to get the right size according to how far away you are sitting when you're watching it. So before you go shopping for one, you might want to take some measurements between where you plan to mount it or place it and the location of seating arrangements.
According to the audio/video tech site, Crutchfield, the best viewing distance for 1080p HDTVs is 1 ½ to 2 ½ times the diagonal measurement of the screen:
| Diagonal Screen Size | Best Viewing Distance for 1080p HDTV |
| --- | --- |
| 40 in. | 5 to 8.3 ft. |
| 50 in. | 6.3 to 10.4 ft. |
| 60 in. | 7.5 to 12.5 ft. |
| 80 in. | 10 to 16.7 ft. |
If you decide to invest in the super detailed picture of a 4K ultra HDTV, the optimum viewing range is slightly closer, from 1 to 1 ½ times the diagonal screen measurement:
| Diagonal Screen Size | Best Viewing Distance for 4K Ultra HDTV |
| --- | --- |
| 40 in. | 3.3 to 5 ft. |
| 50 in. | 4.2 to 6.3 ft. |
| 60 in. | 5 to 7.5 ft. |
| 80 in. | 6.7 to 10 ft. |
Clever Concealment Options
If you would rather see the TV disappear altogether when you're not watching it, there are lots of clever options for hiding it as well.
Sliding Panels
When not in use, a wall mounted TV can be replaced with an artistic panel that slides across or down over the front of the set. Electric panels can be configured to work with the TV remote so when it is powered on, the panel slides away. Turn the TV off and the panel slides back into place.
Mechanical Cabinets and Consoles
With the push of a button, watch your TV magically rise out of a cabinet or console containing a lift mechanism inside. When you're done watching, the TV sinks back into the cabinet. You can find cabinets in both modern and traditional styles or you can buy a lift mechanism separately and retrofit an existing cabinet. Be sure to decorate the wall behind the TV, so you don't have an empty bare spot when it's put away.
A mechanical cabinet placed at the foot of the bed may also contain a TV that swivels on its base, so it can be viewed from all areas of the room. A company like Electronics Design Group can help you with trendy concealment ideas.
Hinged Doors
If you're looking for a more budget friendly option, a wall mounted flat screen TV can be concealed behind a couple of hinged doors. This is an excellent option for a TV mounted over a fireplace, where the additional framing needed to pull it off won't look out of place.
Mirrors
A wall-mounted mirror helps reflect light and adds dimension to a room. It can also double as a wall-mounted TV, instantly transforming when it's turned on.
Where the Challenge Really Comes In
When you realize the multitudes of options for decorating around a flat screen TV, the real challenge is choosing which way to go -- wall-mounted, standing, or concealed. It's nice to know that any way, your TV won't detract from the style of your room.