Choosing the right door style for the interior of your home should be a priority. There are many choices and each one can impact your overall design.
1. Elegant Provincial Style
The double door design features a very elegant Provincial style door frame and casing. Long slender vertical bottom panels reach to smaller raised panels on the top of the door. The space between the two panels features mitered horizontal detailing. Use this type of door in a traditional home decor, especially French Provincial or Georgian styles.
2. Door With Gold Trim
This door flows with the entire room. Painted the same color as the walls, the elongated vertical panels created by molding are repeated in a unique shaped panel. The molding forms an indented shape on the bottom portion with an inverted repetition on the top half. Use this door style in any elegant or formal décor style.
3. Glass Panes and Wood Panel Combo
This is a classic look ideal for any farmhouse, coastal or traditional décor. Double doors allow a teasing glimpse into the adjoining room décor. Select door knobs that reflect this type of decor, such as old-fashioned rubbed bronze or antique finishes.
4. Modern French Doors
The French door concept can be updated to suit a modern décor. These panels feature a circle transposed over the intersecting smaller panes. The thin frames are sleek and add an ultra-modern appeal to a décor. These doors are perfect for an urban loft and would also add a sophisticated flair to any contemporary decorating scheme.
5. Arched French Doors
These arched doors are another take on French doors, though the non-traditional shape means an added expense for such a specialty door treatment. You can use these in any décor where French doors are justified, especially homes where you want to allow light to travel into other rooms. This style is best used in rooms with high ceilings and luxurious décor.
6. Mitered Panel Doors
This traditional door style gives the look of substantial depth, thanks to the mitered layers that create a beveled effect for the outer frame paired with the raised center panel. This door style is ideal for any federal, Georgian or luxury contemporary home décor. Choose a lovely handleset for this door style to play up its beauty.
7. Stained Oak Panel Doors
The center of this door is raised while the panels are not, creating a different look than typical paneled doors. The molding forms elongated narrow panels with the two longer ones at the top of the door. This type of door is ideal for a country or rustic home style, though it can be used in both traditional and contemporary style homes. It is especially appropriate in homes with oak features, such as floors, paneling and molding.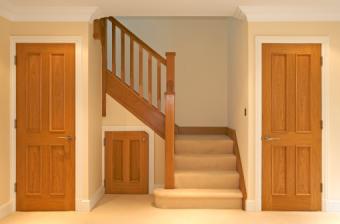 8. Six-Panel Door
This elegant interior six-panel door features a unique look with two small center panels highlighted by two elongated upper panels and two bottom panels in an open book. The center panels are beveled, and the outer framing features mitered multi-level beveling. This style can be used in any traditional or high-end decor that warrants that extra touch of elegance.
9. Cross and Bible
This door style is nicknamed the 'Cross and Bible' since the top portion of the six-paneled door resembles a cross and the bottom portion an open book. The center insert panel features beveled edges. This is a very traditional door style and can be used in any contemporary, rustic, Craftsman or traditional décor.
10. Stained Vertical Slat Door
Let the beauty of wood shine through when you stain a wood slab door. Heavy pieces of mahogany are stained to reveal the wood grain and different wood boards joined together to form a gorgeous door. This type of door can be used in a cabin, chalet, Tudor style home, country or rustic décor.
Match Your Décor
One guideline you can use when selecting an interior door style is to find on that best matches the overall style of your home's décor. There may even be an instance where an alternative to a door works better than a traditional door.