Escape to an oasis in your very own backyard with a meditation garden designed to help you find calm and focus. Create a Zen garden or meditative garden that will help you release stress, look inward, and reap all the benefits of spending time in nature. With creative tips and professional guidance, you can design the meditation garden your soul longs for.
Define Your Garden With Walls
In outdoor spaces large and small, you can always create a little privacy and definition for your garden using cleverly placed walls. For a natural approach, you might consider thick shrubs like boxwoods or flowering hedges like lilac. Variations of holly and berry bushes also work well. If you want to add a wood or metal element to your meditation garden, adding to the Zen of your space, consider using a wooden wall or metal fencing with curves in place of sharp edges for balance.
Add a Path for Clear Direction
Meditation can happen before you ever take a seat, so clearly define the journey through your meditation garden. Add a stone or concrete path to your meditation garden that will give clear direction to the central focus of the space. Rather than a straight path, consider adding curves for visual interest and a more open feel. Use natural stones in varying colors and shapes to amplify the balance and Zen of your meditative garden.
Have a Central Meditation Area
Though your meditative garden should feel like the ideal meditation space regardless of where you are, it's good practice to include a central meditation area intended to be the most calm and peaceful place in the garden. There are two ways to accomplish this. You can try a linear approach by situating your meditation space at the edge of your garden. Adding extra shrubs or trees to this area will add additional definition alongside your garden wall.
Another option is to design a circular meditation area in the center of your garden. This approach creates optimum flow for your garden and reinforces your own centered meditation. You can create a stone area or even a lawn in the middle of your garden surrounded by winding paths to help your garden feel purposeful and centered.
Incorporate Flowing Water
A flowing water feature not only covers the water element for balance, but it adds beautiful and relaxing sounds to your meditation garden. You can add a small pond if space allows or add a couple of small fountains to achieve the same goal on a smaller scale. Garden waterfall features are also a great option. You can even add a few bird baths and enjoy the splashing sounds of various feathered friends.
Use Outdoor Rugs for Texture & Color
Outdoor rugs are a great way to bring more color and texture to your garden. Use these in layers in your central meditation space to bring softness and inspirational patterns to your practice. You can also add rugs throughout your garden near the seating area, entrances, and places you like to highlight. Rugs are also great for using beneath your yoga mat to keep it clean and add extra cushion to outdoor terrain.
Select Seating You Love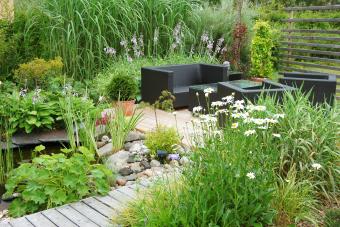 Though your meditation practice may involve using a mat or seating yourself on the ground, it is still a good idea to include one or two seating options. You can place these in areas along your garden path where you might like to linger or spend some time meditating. Consider benches in metal, concrete, or wood to add varying elements to your garden. You can also choose outdoor furniture like wicker chairs or metal gliders. Whatever seating beckons you to sit and relax, that's the best seating for your meditative garden.
Add a Wood Slat Wall
A slat wall in your garden is a great way to gain extra privacy, balanced height, and an additional wood element. This addition will provide a place for climbing vines to thrive or a beautiful backdrop for a garden bench.
Keep It Traditional With Stone Elements
In traditional Zen gardens, you are more likely to see stones than water. You can use small pebbles in place of a water element, or you can add additional stone features throughout your garden. Look for large rocks that inspire you, stone statues that encourage your practice, or a rock sculpture that you love.
Elevate Your Yoga Practice With a Raised Patio
If your meditative garden extends past your home's patio, you already have everything you need for a leveled up yoga experience. If your garden lacks such a place, consider adding a raised patio to the central area of your garden. Not only is this great for your meditation or yoga practice, but it can also provide a great place for reclining and relaxing.
Encourage a Joyful Journey With a Small Bridge
Whether it's over a small body of flowing water or a flower bed full of blooms, a small walking bridge will add interest to your garden. A bridge over pebbles or sand is the perfect complement to a Zen garden feature.
Choose Beautiful Ceramics
Though they may be a small decorative feature, ceramics can add beautiful detail to your meditation garden. You can easily incorporate this material through potted plants or ceramic garden decor. You might use ceramic tiles near your water feature or incorporate them through art that inspires your meditative practice.
Go Big With a Gazebo
The luxury feature of any garden, a gazebo, will offer beautiful architectural details and the perfect place to stop and reflect. You can choose a small gazebo that's easily nestled into your garden or extend the raised patio area of a central meditation zone to feature beams, a roof, and built-in seating for a gazebo structure that makes a big statement.
Look for Opportunities to Use Lattice
Latticework is a classic garden application that's affordable and versatile. Not to mention, it brings more wood elements to your meditation garden and encourages vines to grow. You can choose a classic look with a white lattice or stained wood. You can even add depth and sophistication to your garden by using a lattice that features dark shades of green or black.
Inspire Movement With a Swing or Hammock
Relaxation and a bit of fun can coexist in your meditation garden. A garden swing is a great way to bring movement to your garden and encourage the embrace of movement for yourself. You could also use a hammock to create movement that also invites you to rest and look inward while enjoying your garden.
Add a Pagoda to Your Garden
A must have for every meditation garden is at least one pagoda structure. A pagoda is any structure made of stone, wood, or bricks, and often resembles a tower. For a meditative garden, your pagoda can be small or a large focal point of the space. A pagoda can be a simple structure of irregular stones or resemble a more streamlined structure that is ornate and detailed. Add this structure near your meditation space or the central focus of your garden.
Make a Statement With Metal
Metal features in your meditation garden can create movement or structure depending on what pieces you select. Artistic and abstract metal structures will complement the movement of nature in your garden. More structured pieces like fencing, arches, trellises, and garden canopies will balance other elements in your meditation area.
Create Pleasant Sounds With Wind Chimes
Whether made of wood, metal, or reed, wind chimes make many gardens feel whimsical. Hang wind chimes near the areas of your garden where you like to linger. Rather than hanging them in a collection, try to space different wind chimes throughout your garden for balance and beautiful sounds wherever you step.
Balance Your Garden With Bonsai Trees
Trees grown in a pot that can bear beautiful flowers, leaves, or fruit are the perfect plant choice for a meditation garden. Since you can grow bonsai trees in pots, they are perfect for nearly any size garden or location. Bonsai trees can bring luck, harmony, and peace to your meditation garden.
Grow Ornamental Grass
Ornamental grass in a meditation garden provides multiple benefits to your meditation practice. Ornamental grass is often easy to grow and creates a beautiful nature experience during the gentle breezes of warm seasons. Think of it as natural white noise for your meditation garden. Try Japanese forest grass or zebra grass to add texture and movement to your meditation garden.
Bring Luck to Your Garden With Bamboo
A plant that anyone can grow, bamboo is an easy decision for your meditation garden. Bamboo is best known for bringing luck to spaces, and your meditation garden is the perfect place to add this beneficial plant. You can plant bamboo directly in the ground or showcase it proudly in pots. Bamboo is also a great plant for creating walls in and around your meditation garden.
Use Plants to Attract Wildlife to Your Meditation Garden
Fill your meditative garden with the chirps of your local birds and the beautiful colors of butterfly wings by adding plants that attract wildlife. Daisies, coneflower, and aster will invite birds to gather in your garden. Daffodils, sage, and lavender will encourage butterflies of your region to make themselves at home. Marigolds are also famous for drawing birds and butterflies alike. For additional wildlife, try foxglove and hollyhock to attract hummingbirds and sunflowers to attract bees.
Create Focus in Your Garden With Striking Plants
To create the perfect environment to encourage focus during your meditation, look for plants and flowers that have striking features like color, shape, and height. The colors and linear shape of snapdragons will bring balanced focus to your garden. The striking height of sunflowers or the bold colors of dahlias will add gorgeous points of interest to your meditation oasis.
Add Height With Climbing Vines
Elevate your meditation garden with the elegant movement and height of climbing vines. Boston vines, climbing roses, and climbing hydrangea will all add beautiful height to the vertical details of your garden. Place these near posts, walls, lattice, or trellises to encourage them to thrive.
Bring Your Meditation Garden Indoors
Whether you have harsh winters, sweltering summers, or a lack of ideal exterior space, an indoor meditation garden can help you embrace the Zen of nature inside the walls of your home. Thoughtfully design your indoor meditation garden for an accessible place to seek calm, balance, and introspection.
Create a meditation space in a sunroom by embracing the natural light and using potted plants to bring the outside in.
Add pebbles and a water fountain to elevate the elements of nature in your space.
Turn your spare room into a meditation garden with plants suited for low light and indoor environments.
Add art inspired by nature, balance, and peace.
Amplify natural light as much as possible and hang plant baskets from the ceiling to surround yourself with nature.
Use an outdoor shed, greenhouse, pool house, or guest house to maintain the separation from your home that an outdoor garden would provide.
Add a mini Zen garden to your indoor space with pebbles or sand to encourage meditation.
Declutter as much as possible and remove any elements that feel distracting, overly energizing, or in opposition to your garden's vibes.
Add candles, essential oil diffusers, or incense that helps you enjoy the aromas of nature.
Find Peace & Calm in the Meditation Garden of Your Dreams
The most important thing to remember when designing and planning your meditation garden is to include the elements that you truly love. Pass on any elements that do not add value to your meditative practice and save space and budget for those things that create the vibe you long for. With a plan in mind and all the elements that inspire your meditation, your garden will soon become your most restful and peaceful environment.