Elevate the texture and visual interest in your home's interior and exterior with designer lattice ideas. Decorative lattice taps into the traditional elegance of historic homes and design motifs from all over the world. Whether you need to bring texture to your interior or add some decorative interest to your exterior, a touch of lattice will upgrade your space.
Shape Your Doorways With Lattice
If your interior style calls for a touch of southern charm or Morrocan flair, introduce decorative lattice to your home's interior. Elevate your standard doorways with latticework, and suddenly you have a home interior with some historical character that's reminiscent of the coastal homes of the south. Paint the lattice in the same color as your home's trim for a seamless look that boosts the architectural detail.
Make a Statement With Lattice at Your Front Door
One wide panel of lattice near the entry of your home greets your guests with a stylish focal point. Choose lattice in a color or stain that stands out while complementing the existing shades and tone on your home's exterior. Hang your wide panel to one side of your front door and add a decorative wreath, witty sign, or plants for added interest. If your door is at the center of your home, use two small and narrow panels of lattice on each side to create symmetry.
Upgrade Your Wall Paneling
If your home already has chair rail or picture frame paneling, you're halfway to a trendy interior design upgrade. Add lattice below your chair rail for a more casual take on wainscoting, carrying the color of your trim and chair rail onto the latticework. Cut lattice to fit inside your picture frame molding for a decor upgrade that doubles as an interesting art display.
DIY a Room Divider
DIY your own room divider for an interior design statement piece that serves a practical purpose. If you need to create separation in a multipurpose room or shared bedroom, a lattice room divider will help you designate your spaces. Use your divider as a focal point in the room and hang some of your beloved art frames and plants on one side to create layers of visual interest.
Conceal Utility Equipment
A bulky central air unit or unsightly lawn equipment distracts from your gorgeous home exterior. Conceal the less-than-appealing parts of your home with clever latticework. Create a cubby to stash your lawn mower or gardening equipment with simple lattice frames. Build a lattice framing around your air conditioning unit to help maintain curb appeal and keep all eyes focused on the home details you want to showcase.
Level Up Your Ceiling Style
Reach for the sky in your interior endeavors by upgrading your ceiling style. Whether it's your home's interior hallway or exterior porch, latticework on the ceiling just feels like a high-end design feature. Play with color placement in the decorative lattice application to achieve the look you want. If your trim and ceiling are the same color, carry on the monochromatic look by using that color on the lattice as well. If you want to create dimension and add color, paint your ceiling a deep or bold shade and layer the contrasting lattice over it to create an interesting design detail.
Simulate Hanging Lattice On Your Porch
Give yourself shade from the sun and a bit of privacy by adding lattice to your home's porch. Hang lattice panels between the roof line of your porch and the top of your railing to create a fun way to display your beloved plants. This decorative lattice idea also gives you plenty of privacy for that morning cup of joe or those late night porch chats in the summer.
Introduce Bold Color to Your Home
More Details
If you want to bring color to your home's interior, lattice will help you ease into the bolder side of interior styles. A colorful wall behind white latticework helps to break up the vivid shade and make the color more digestible in your home. You can also paint your lattice archway or panel molding a bold color to act as an accent among your neutral home palette.
Make a Statement Art Piece
A couple of lattice panels are all you need to create a focal wall piece that elevates your room. Two or three long and narrow lattice panels with an intricate design are an affordable way to DIY wall art for your home's interior. Guests will think you found a one of-a-kind art piece by searching for weeks and totally blowing your budget. They'll never know you created a striking focal point with a few lattice panels and a bit of paint.
Let Lattice Transform Your Home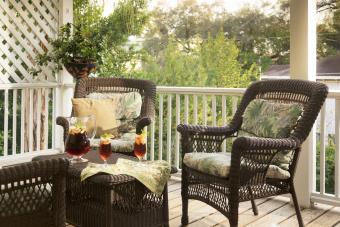 With the rise of vintage and eclectic design trends, lattice is well on its way to bringing back the intricate design details of decades past. Add this decorative wood element to your interior or exterior space to bring some historical charm and international design flair to your home.