You can't help but commiserate with the Beast from Beauty and the Beast when you see the last few petals on your rose bouquet hanging on for dear life. Soon, all you'll be left with is the memory of your beautiful roses.
It doesn't have to be that way! Instead of tossing them out or taking them straight to compost, figure out something cool to do with them. From making candied roses to top off your desserts to painting with custom-made rosy watercolors, we've got some fun and creative things to do with rose petals you're going to love.
Brew a Little Rose Water
If you've got a few less-than-fresh rose bouquets on hand and don't want to throw away the pretty petals just yet, try whipping up a batch of rose water. Rose water is a super versatile ingredient that you can add to moisturizers, oils, and teas. From helping with digestion to soothing skin irritation, rose water is a must-have around the house. And the best part is, you can make your own with Healthline's instruction.
Need to Know
When adding roses to skincare products or foods you consume, make sure they haven't been sprayed with pesticides or chemicals.
Stir Up Some Rose Syrup
If you're nailing the cocktail game, then you know how often you've got to restock on simple syrup or make new batches on your own. One way to expand your cocktail recipe book without having to master new combos is by adding uniquely flavored simple syrups.
Rose simple syrup is a less common, but still known, flavor to pair with your alcoholic favorites. Just follow a standard simple syrup recipe and add a few cups (depending on the amount you're making) of food-grade rose petals to the pot.
Mix Together a Rose Toner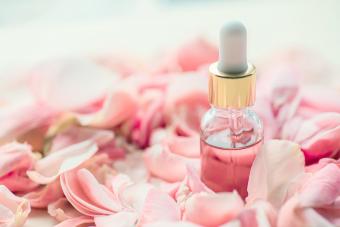 Look at the ingredients list on any of your skin care products and chances are, you don't know what half of them do for your skin (or even how to pronounce them). If you want to take a cleaner, more natural approach to your skincare routine, give rose toner a try. Simply Beyond Herbs has a great rose toner recipe you can use; all you need is rose water, witch hazel, aloe vera juice, apple cider vinegar, and a rose essential oil.
Soften Your Skin With Rose Petal Bath Salts
Bath bombs are kitschy, but before we had fizzy, flower-shaped things to turn our bathwater rainbow colored, we had bath salts. When those flower petals are fully dried out, My Moonstone Kitchen crushes them with some Himalayan salt and rose essential oil for a soothing spa day bath-time additive.
Create Rosy Watercolor Paints
Before you could pop on down to the store and pick up a cheap pack of watercolor paints, people were mixing their own paints together. For hundreds of years, the natural world was the only color palette we had. Connect with our shared past by whipping up a few watercolor pigments using rose petals. Rebecca Desnos can walk you through the entire process on their website.
Quick Tip
This is a great way to use commercial rose petals, since they're not safe for consumption or skincare use.
Mix and Pour Some Rose Soap
Just a few years ago, people were discovering all sorts of new hobbies. Remember the sheer number of videos discussing how to make the best sourdough starter? Another craft that people took up was soap making. With a few tools and ingredients, you can bring your custom formulations to life, including rose soap that's scented with your very own rose petals.
If you've never made soaps from home, our basic guide will walk you through every step.
Create Beautiful Rose Resin Jewelry
Practically everyone experimented with friendship bead bracelets at some point in their childhood. Take that jewelry-making creativity up a notch by creating beautiful acrylic pendants. Crushed or full-sized rose petals take on an entirely new incandescent look when encased in crystal-clear acrylic.
Acrylic can be a harder craft to master, but you should be able to bang out a beautiful acrylic rose pendant using the instructions on Mod Podge Rocks' website.
Cook Up a Few Candied Rose Petals
If you're a die-hard baker, then you've probably come across rose-flavored sweets, but you might not have taken a full bite out of a rose petal by itself. Making candied rose petals is one way to do farm-to-table baking.
Emily Laurae breaks down the process on her website, which only involves three ingredients: rose petals, egg whites, and granulated sugar. However, it's important that you carefully pick out the rose petals you're using. Store-bought flowers are usually covered in unsafe pesticides and fertilizers, so you should look for food-grade rose petals or pluck some from your own organic garden.
Don't Let Rose Petals Go to Waste
A rose by any other name is still a rose that's destined to die. Give your rose bushes a new life by using your rose petals in new and unique ways. From skincare to wearable art, the possibilities are endless.