When the frost finally breaks, you'll see everyone making a mad dash to grab the latest shipments of potting soil, watering cans, and trellises. Garden trellises have been around for ages, and they kill two birds with one stone - holding up your plants and looking really cool. Today, people are having fun with their landscaping designs and thanks to those trailblazers, there are a ton of trellis ideas for you to toss around.
Set Up an A-Frame Trellis
If you've got a tiny garden, this a-frame trellis is a great way to maximize on the available space. Built with a few wooden planks and some screws, this simple trellis is a great way for anyone to put a little DIY into their backyard.
Bring the Garden Trellis Inside
More Details
Historically, trellises have been relegated to outdoor gardens, but people have gotten really creative in the past few years. Now, you can bring the garden trellis concept indoors with a trellis idea like this one. While you might buy pretty custom-made versions online, you can also make your own at home using cross stitch hoops and some wire.
Go Traditional With a Roof Trellis
A quintessential trellis option for a real show-stopping garden is a covered walkway with a trellis roof. Hang plants like wisteria through the slats to create an Instagram-worthy backdrop. However, the upkeep is a bit more involved because these roof trellises are usually taller than you are. So, invest in a good hose attachment and a comfortable ladder if you plan on bringing this whimsical vision to life.
Add a Rustic Touch With a Simple Tent Trellis
If you want to keep your garden's habitat devoid of any artificial constructs, then this simple DIY trellis is perfect for you. Using sticks you find in your yard or elsewhere and some twine, you can create a tent shape your plants can grow up into.
Get Spooky With a Sculptural Spider Trellis
More Details
Not every garden has to feel like the fairies frolic around in it. Bring a little Halloween energy to your summer gardens with a spider web garden trellis panel. Created using wire wrapped around an oval frame, this sculptural artwork will turn any average garden into something spectacular.
Keep it Simple With a Trellis Arch
If it ain't broke, don't fix it. So don't snub your nose at the simple trellis arch. A garden staple across the United States, these metal or plastic frames are cheap and easy to install. Since they come in a variety of sizes, they'll work for just about any garden plan.
Get Crafty and Make This Hanging Trellis Circle
More Details
With two large wooden hoops, some popsicle sticks, and wood glue, you can bring this modern indoor trellis to life. Whether you want a petite version for your new plant baby or you want a massive one to support your big brood, this wall-hanging trellis might become your new favorite piece of décor.
Turn Your Entryway Into a Massive Trellis
If you don't live somewhere with landscaping restrictions, then you can get really creative with your trellis ideas. One ambitious design is to install front gates with trellis slats in place of fencing. You can fill the wooden fixture with all sorts of plants and shrubs throughout the year. And once you've got everything to your liking, you'll be able to show off your beautiful arrangement to everyone who walks by.
DIY a Ladder Trellis or Two
Another super easy and cheap DIY garden trellis is the ladder style. Created with small wood planks and screws, you can make these ladders as big or small as you want. You can also paint or stain them to your heart's content. Leave it plain for a clean aesthetic or paint it in your favorite sports team's colors to show your support.
Everybody Loves a Wagon Wheel
Who ever said a garden trellis had to be something new? Wagon wheels are a staple in southern gardens, and one way you can repurpose them is by weaving plants through their spokes. If you don't have the energy or the capability to put together a build, then a wagon wheel is a great option. Just set them up and leave them be.
Use a Metal Headboard in a New Way
More Details
You don't have to reinvent the wheel with this one. Simply thrift an old bed frame headboard to use as a garden trellis. You can really bring a Victorian garden to life by using these swirling metal frames for trellises and adding metal yard furniture.
Gamble on an Artistic Topiary Frame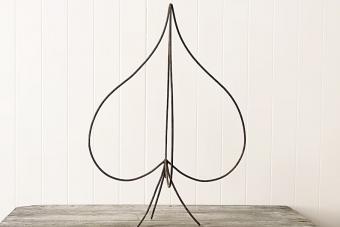 More Details
Vintage topiary frames are also things you can repurpose as a garden trellis. They come in a multitude of shapes and designs, like this cool metal spades one. Since they were made to support heavy shrubbery, they'll handle any plants you throw at them.
Repurpose Vintage Window Grates
Upcycle a pair or two of old window grates into trellises for your garden. These are highly decorative and pack a visual punch while serving a new purpose in amongst your rose bushes. And, since they were made to be kept outside, they'll handle the elements with ease.
Find the Trellis That Fits
More Details
Your garden is an extension of your home, so naturally, you want to turn it into something that screams "you." Yet, that can be really hard to do when you're limited by the few standard equipment options that're provided at your local hardware store. Instead of settling for the same old trellis every one of your neighbors has, try standing out with one of these unique ideas.