Easter is all about rebirth, whether it's from a religious perspective or the way that spring is usually peeking around the corner by the time the holiday is here. There's no better way to celebrate that sentiment than with a meaningful and colorful floral arrangement. Brighten your home and spirits on Easter weekend with these beautiful Easter flowers.
Easter Lillies
Aptly named, the Easter lily is everyone's go-to flower for the weekend holiday. Typically, the white varieties are used, but there are others you can add for a pop of color. These trumpet-shaped flowers are bulb plants and can be grown in flower beds or pots depending on your preference. They love a little sunlight but need some shade throughout the day to really thrive. Make sure you plant them before the frost sets in to give them the chance to bloom by spring.
These flowers are perfect for Easter because they have deep symbolic roots in rebirth and new beginnings, even being associated with Christ's resurrection from Christian theology. And a bonus is that they smell great.
Need to Know
If you're a devoted cat mom, keep the Easter lilies out of your home because they're highly toxic to cats.
Gerbera Daisies
Gerbera daisies are another flower you'll find in grocery stores in the weeks leading up to Easter. These are super-saturated, colorful daisies whose colors almost look painted on. Depending on where you live, they can be grown as annuals or perennials, and should be planted where they'll get a good amount of shade. Make sure they're planted in well-draining soil.
On top of being one of the April's birth month flowers, they have meaningful connections to the sun and cheery dispositions. Who wouldn't feel happier surrounded by a bundle of these cheery blooms?
Daffodils
Daffodils are another bulb plant that grows white or yellow starry flowers with little round centers that appear almost puckered up for a kiss. Great as cut flowers or grown in your garden, daffodils are easy to grow and need a lot of sunlight. Plant them in the fall in well-draining soil for a garden full of them in the spring.
Much like Easter lilies, daffodils also represent new beginnings and renewal, seeing as they're one of the first flowers to bloom in spring. And the colors you pick will add layers to their meanings as well. For example, yellow daffodils call for happiness, while orange ones can call for joy.
Tulips
The quintessential spring flower is the tulip. Tulip fever wasn't a historic phenomenon for nothing, and you can find them everywhere once the weather turns warm. Perhaps the best-known bulb plant, tulips (like most bulbs) need to be planted in the fall in well-draining soil. Make sure you pick a sunny patch because they'll show-off their blooms the most in sunlight.
Because they bloom in spring, tulips are connected to ideas of rebirth and new life. Yet, they've also been linked with feelings of true love. Fascinatingly, there are a myriad of meanings associated with each tulip color. For instance, green tulips represent fresh, hopeful beginnings and pink ones wish good luck.
Carnations
Carnations are a springtime favorite because they're dainty and soft, and they come in a ton of eye-catching shades. Not only will you find them in Easter arrangements but also in Valentines' Day school functions and prom corsages/boutonnieres. Yet, these perennials are pretty easy to care for. Plant them in well-drained soil in an area that gets 4-6 hours of direct sunlight. They also need a consistent watering schedule to make the biggest blooms.
In addition to being January's birth flower, carnations are deeply connected to love in all its forms. It's why they're so commonly associated with holidays and romantic celebrations. They're super versatile and can be whipped out for an Easter, Mother's Day, or summer barbeque centerpiece.
Chrysanthemums
If you want a flower that'll come back every year to grace your Easter holiday, then chrysanthemums are a great choice. With a bountiful array of colors and super dense petals, chrysanthemums are striking flowers that look awesome in any bouquet or arrangement. If you're planting them for the first time, pick a sunny spot and make sure they're in well-drained soil or planters.
These mums are linked to longevity and youth and will add a sense of well-wishing for the future to your Easter arrangements.
Gladioluses
Gladiolus is also called the sword lily, and it's a perennial that belongs to the iris family. Unlike traditional irises, these blooms climb up vertical flower spikes much like delphiniums and larkspurs do. They're colorful and quirky bulb plants that can grow up to six-feet tall. They'll thrive so long as you plant them in the spring in sunny areas with well-drained soil.
Interestingly, this flower's symbology stretches back all the way to Ancient Rome when it's believed that gladiators wore them as a means of protection. In a romantic sense, they can mean that you're enamored with the person you gave them to. The flower meaning has since shifted into a platonic message - that someone's remembering you.
Ranunculus
Ranunculus flowers' blooms look like they were crafted using colorful icing and a piping bag. These spring-blooming flowers need lots of light but some midday shade as well. They're sensitive to being over-watered and need to be planted in well-draining soil. Unlike some flowers, you should deadhead them throughout their blooming cycle to encourage more growth.
Unsurprisingly, these delicate flowers represent charm and attractiveness, meaning they'll bring beauty to your Easter bouquets.
Snapdragons
Snapdragons are similar to gladioluses in the way they grow vertically and have small, descending blooms of bright colors. Though, snapdragons have a distinctively bulbous bell-shape. These are plants you'll want to get into the ground a few weeks before the last frost because they'll perish in the peak summer heat. Plant them in well-draining soil and make sure you keep them watered because these are some thirsty flora.
Like so many other flowers on this list, snapdragon's meaning has changed over time. Each color comes with its own set of meanings (like purple being connected to spirituality), and Victorians used them as a symbol of truth-telling. If you want to inspire honesty throughout your Easter celebrations, include a few snapdragons in your displays.
Crocuses
Crocuses are some of the most common native spring blooming plants. They're known for their distinct cup-shaped blooms that come in mostly cool-toned shades of colors like purple, lavender, and white. These petite plants prefer well-draining soil and should be planted in the fall so they'll bloom in the spring.
Because crocuses are one of the first flowers to pop up in spring, they'll go hand-in-hand with the resurrection story that's celebrated in religiously minded households on Easter.
Forget-Me-Nots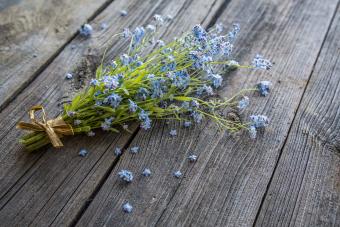 Forget-me-nots are flowers with a melancholic name but a beautiful, delicate appearance. Typically, people are most familiar with the powder blue ones, but they come in a variety of colors. These ground-cover plants should be planted in the fall so they'll bloom in the spring. Unlike most of the flowers on this list, forget-me-nots don't need a ton of sunlight and prefer cooler areas instead.
These plants are rooted in respect and showering the people you love with it. Adding a few forget-me-nots to a bouquet will remind the ones you love that you're faithful and respectful in your admiration of them.
Brighten Your Holiday With These Easter Flowers
Unlike holidays like Christmas where there are expectations about which flowers you should decorate with, Easter flowers are up to personal inclination. Of course, it's the most fun to pick spring flowers that embody the general sense of rebirth that comes during the season and those with bright pastel colors that complement your other Easter decorations. And if you want to enjoy these flowers for more than one weekend, consider tackling a few of them as a springtime planting project.