There's nothing quite like hanging out by the fire on a summer evening (or any time of year, really), whether you own or rent your place. Get inspired with some super creative and pretty DIY fire pit ideas that you can put into action this season. You'll be proud to have friends over for the evening. Now all you need are some marshmallows!
Use Pallets as Benches by the Fire Pit
If you like to entertain a lot of people, you can affordably provide seating for everyone with a fire pit bench made of old pallets.
Build a bench from the pallets or stack them to bench height and nail them together.
Treat the pallets with tung oil to keep them from rotting; that way you can use them for several seasons.
Enjoy your new upcycled seating.
Make a Portable Fire Pit Feel Like Part of Your Home
You can buy a portable fire pit at a home improvement store, but it takes a few decorating tricks to make them feel like a statement-making piece of your landscaping. Add some chairs, cozy throw pillows, and lots of fairy lights, and you have all the ingredients for a magical backyard get-together.
Add Texture With River Rock
A pebble or river rock exterior will give your fire pit a custom touch without a ton of work from you. You can buy cast stones that are stable for changes in temperature (available at home improvement stores) or use river rock in an area where it won't be exposed to dramatic temperature changes. It's a great way to add a natural touch to your backyard.
Combine Fire and Water
One amazing backyard fire pit landscaping idea is to combine a water feature and your space for fires. A sunken patio with a waterfall or fountain makes a perfect spot to enjoy a fire on a summer evening. You don't have to make this elaborate. If you're renting or don't want to take on a major project, you can buy a fountain and a fire pit.
Enjoy Glowing Decorations on Your Fire Pit
You can buy a laser cut fire pit that will cast beautiful lit shapes and decorative shadows when you have a fire. Some are very simple with a pattern of stars or lattice, while others are custom cut with a name or word. Add gravel and rustic benches to complete this look.
Claim a Corner of Your Yard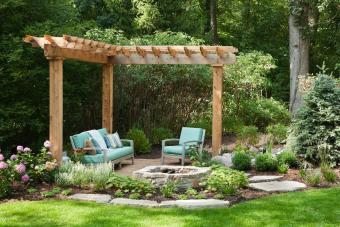 You can define one corner of your yard by creating a fire pit and seating area there. A triangular design works best here - either a purchased fire pit or one you make yourself. Surround it with a patio of the same shape and privacy panels or pergola to help it feel enclosed.
Make a Small Fire Pit and Patio Feel Bigger With Landscaping
When it comes to super practical DIY backyard fire pit ideas, landscaping is your secret weapon. You can make your fire pit more of a focal point by adding wood chips and garden plantings around the space.
Start by removing the sod in the area you plan to expand.
Plant bushes and flowers.
Lay down landscaping cloth to keep weeds from growing there.
Top with wood chips.
Add Privacy and Ambiance to Your Fire Pit
It's easier to relax by your fire if you feel like the space is secluded, and adding privacy panels or hedges has another benefit: it actually makes it easier to light the fire. This simple DIY fire pit idea is easy to make a reality. Just plant bushes or add a fence to one or two sides of your fire pit patio area.
Give Your Fire Pit a Pretty Backdrop
Place your fire pit near a rock retaining wall or add rocks to a hillside or small slope to create a sheltered and attractive space. The rock background will go perfectly with any chairs or benches you choose, since it makes a neutral base.
Quick Tip
Rocks can have moisture trapped in them, which can cause them to fracture when they're exposed to too much heat from your fire. Position your rock wall at least a few feet from your fire pit to avoid this.
Define Your Space With a Long Fire Pit
A long, low fire pit inside a stone planter or wall can be the perfect way to define your patio. It also makes a great focal point. To make one, use pavers or bricks to create the fire pit in a long rectangle.
Surround Your Fire Pit With Chairs in Your Favorite Color
If you want an easy DIY way to add color to your fire pit area, paint wooden chairs in your favorite color (or one you would love to see in your backyard).
Starting with unfinished wood furniture, give it a light sanding.
Use a coat of primer that's rated for outdoor use.
Then give it at least two coats of an exterior-grade paint.
Make a Tile Top for Your Fire Pit
One great way to give a simple fire pit a unique appearance is to add a tile top. You can do this with fire pits made from pavers or bricks, since they provide a smooth surface for tiling. Lay out your design ahead of time and use tile mortar to add it to the fire pit.
Make a DIY Brick Fire Pit Patio
One of the best DIY brick fire pit ideas is to include the fire pit as part of the patio that surrounds it. You can dig down and bury the fire pit and then surround it by bricks in a decorative pattern. This can take a few weekends of work, but it's the kind of landscaping project that will be a source of joy for years to come.
Add Your Personal Touch to Your Fire Pit
Whether you use pretty patio furniture or benches or add custom surfaces like tile or rock, your fire pit can be an extension of your home and your personal style. Take some time to make it special, since you'll be spending lots of time sitting around it.