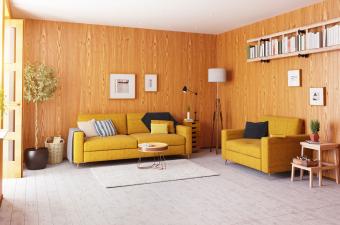 Giving a plywood subfloor a coat of paint transforms it from something that was once meant to be covered up into something worth displaying. Plywood is a compressed, layered wood made of mixtures of cedar and pine. It holds up well to use, but its porous surface can soak up the wrong paint quickly, making any treatment you give it seem more challenging that it truly is. To get the best results, make sure you use the best paint and primer for the job.
The Best Primers for Plywood Floors
Depending on the type of plywood you have down, it may have a rough, uneven surface, or it may be extremely porous. Tackle both of these problems at once by applying a coat of primer that will also seal your floor. These floor-specific primers will smooth out your plywood, while sealing up any pores, making it ideal for the finish coat you plan to apply.
Durock Primer-Sealer
Durock, the manufacturers of cement backerboard, have also come up with the perfect primer-sealer for all subfloors, including plywood. This smooth, low-odor primer completely seals up porous floors like plywood, making them ready to receive any type of finish coat. The primer thins and cleans up with water, which makes it easy and safe to apply. One coat is all that is necessary. A gallon costs around $60.
ArmorSeal
Paint manufacturer Sherwin Williams offers a water-based epoxy primer-sealer that is ideal for use on wood substrates such as plywood. ArmorSeal is a low-odor, fast-drying product that cleans up with water. It has the toughness of traditional epoxy primers, which ensures that your plywood will be protected from moisture, spills and any wear and tear you can throw at it.
Behr Premium Plus
Oil-based products are some of the toughest and longest lasting on the market. If you know your plywood floor will be getting a lot of foot traffic, or will be exposed to moisture, consider using an oil-based primer-sealer such as Behr Premium Plus. This tough primer will get your plywood ready to handle any kind of top coat or treatment you are planning. It is also tintable, which can help you achieve deeper, more saturated colors with fewer coats. A gallon lasts about 500 square feet and runs about $40.
The Best Paints for Plywood Floors
The paint you use on your plywood floors needs to be able to stand up to foot traffic while also repelling moisture and stains. These floor paints offer a range of different durabilities and finishes to give you just what your floor requires.
Valspar Porch and Floor Enamel
While your plywood floor may be on your home's interior, some of the best paints to use on it are actually made for your home's exterior. Valspar Porch and Floor Enamel, available at Lowe's, is an oil-based floor paint that will provide a hard, durable layer of color and protection for your plywood floor. It goes on smooth and resists any chipping, scuffing or abrasions for a long-lasting finish. A gallon costs around $25 and lasts for approximately 500 square feet.
Sherwin-Williams ArmorSeal Enamel
If you live in an area where oil-based paints are prohibited, consider using a urethane-based paint for your plywood instead. Urethane-based paints like Sherwin-Williams ArmorSeal are nearly as tough and durable as oil-based paints, but they clean up with water and have lower VOCs. A gallon of ArmorSeal runs about $25 and covers approximately 500 square feet.
Real Milk Paint
If you want to give your plywood floor an antiqued-finish, consider using Real Milk Paint. This 100 percent organic, non-toxic paint is stiffer than ordinary floor paints. Any roller or brush marks you leave behind will remain in the floor, giving your plywood the look for weathered, antiqued hardwood. Protect the surface of the floor with a coat of wax after application to ensure long-lasting results. A gallon of Real Milk Paint costs approximately $46 and covers roughly 500 square feet.
Dutch Boy Latex Porch and Floor
Like Valspar, Dutch Boy makes a porch and floor paint ideal for use on your home's interior. Unlike Valspar's paint, however, this product is latex-based, which makes it suitable for environmentally friendly states like California. Dutch Boy Latex Porch and Floor paint is scuff, chip and abrasion resistant, and dries to a hard, durable finish, while cleaning up with water. A gallon costs approximately $40.
Protect and Beautify Your Floors
Painting your plywood floors can transform the room they are in within just a few days. Use the best primers and paints you can find for the project to ensure that time doesn't transform them into something else entirely.