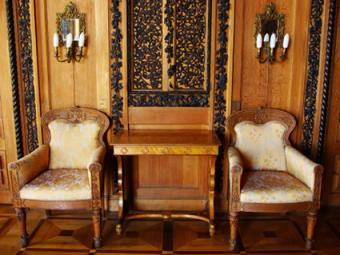 A Tudor home is an English traditional design style that is both warm and comfortable; it was named for the Tudor monarchy who reigned from 1485 through 1603. You can recreate a Tudor interior even if the exterior isn't Tudor. The modern Tudor design is called "Mock Tudor" and is a very popular design choice.
Designing Around Dark Wood
If you aren't a fan of wood - specifically dark wood - then the Tudor style is not for you. The Tudor style is immediately recognized by its use of stucco accented with dark wood rails.
Ceiling Styles
Tudor ceilings were also called cathedral since they mimicked those of Gothic styled cathedrals.
Box Beams
Box beams stained dark served as both structural support and an aesthetic. If you have a high-pitched or cathedral ceiling, then add authentic-looking wood beams. In today's décor, you can use faux beams that are lightweight and easy to add to a modern ceiling, although a high ceiling is best for this design treatment.
Coffered Ceiling Tiles
Coffered ceilings were stained dark like the other woodwork. If you prefer, you can always paint the ceiling to avoid creating too dark a room.
Ceilume sells coffered ceiling tile that can be installed with a drop ceiling grid in a variety of colors.
Tilton Coffered Ceilings offers several options for customized ceilings.
Wall Treatments
Some of the interior walls also repeated the stucco and rail look found on the exterior; however, the majority of the walls were made of stone and plastered over with wall paneling applied. In addition to the panels, you have several other options for creating an inviting modern home with Tudor style.
Paneling
The epitome of Tudor style was wall paneling consisting of squares or rectangles. These were made mostly from oak that was stained dark. The paneling covered the entire wall height or two-thirds of the height in what's called wainscot. Prefabricated oak panels from Tudor Artisans can be made to your specifications and are also available in cherry and lyptus.
Warm Paint Choice
While Tudor homes typically used a whitewash on the plaster walls, modern choices offer a large selection of colors. Choose a color that will help brighten the sometimes dark, drab effects from traditional Tudor design.
To contrast with the dark wood paneling, use equally warm colors from yellow, amber, gold, or red.
To offset the intensity, paint the walls in a light hue with your warm color choice.
Popular accent colors included various blues and greens.
Wallpaper Options
In some rooms, you may prefer a wallpaper. The Tudor rose was the emblem that marked the end of the War of the Roses (English civil war) and was adopted by the Tudors royals. However, scenes and other floral options were also available. Selection may include those from these retailers:
Wall Décor
The walls of Tudor homes also displayed tapestries and rugs that were hung on the walls. Lots of pastoral, hunt scenes, and other medieval designs, as well as Renaissance ones, are available through Medieval Wall Tapestry that you can use to accent your home's walls.
Window Treatments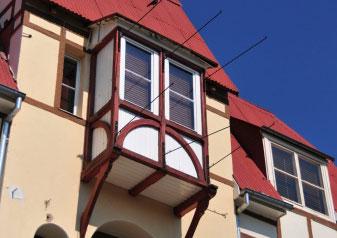 Depending on the architecture of your home, you may be able to use an "oriel" window. This window style appears to float from the wall and is shaped like a bay window. It's supported by corbels and will give you space inside for displaying art objects, photos, or plants.
Lead Windows
Windows were typically mullioned. A mullion is a vertical piece of wood or stone placed between the glass pane units. This was used in cathedrals where the panes were arched, although rectangle shaped windows were also mullioned. The panes were leaded in a grid or diamond pattern or stained glass.
Anderson Windows and Doors sells diamond and grill Tudor style windows.
Going Lighting carries a Tudor stained glass in the classic color palette from Meyda Tiffany Lighting.
In addition to wood panels, Tudor Artisans carries reproductions of Tudor geometric lead glass designs.
Textile Patterns
Draperies were heavy and made of velvet or tapestry fabrics to block the cold drafts from windows. Matching curtains were often used over doors and surrounding beds to further block drafts. Textiles with patterns and appliques can provide detail in a room with dark wood and large furniture.
Floors
The flooring used during this era were wide plank oak floors, brick, and stone. Floors were covered with wool rugs.
Overstock sells a porcelian-colored 100% wool classic Tudor design rug that's perfect for breaking up rooms and adding warmth to floors.
Shades of Light sells the Tudor window grill pattern rug in several colors, making it a good option for a pop of color.
Furniture
Tudor furniture styles were made from local oak in a dark finish. The heavy furniture was more ornate than its predecessors with decorations hand-carved into the wood.
Four poster beds were the normal with the luxurious mattresses made from feathers instead of straw.
Trestle tables were sturdy and large and often used with benches or upholstered high-backed chairs.
Sideboards were all the rage and china plates could be displayed.
Purchase reproductions of the furniture from UK-based companies like Tudor Oak and Arttus. Just be sure you check their shipping, delivery, and pricing policies before placing an international order. Antique-lovers might want to check out 1stdibs, which highlights antiques available in your desired price range, category, location, and time period, on one website.
Fireplaces
Not just a focal point, the fireplaces was the hub of warmth in very drafty castles and homes. Mantels were ornately hand-carved with a slightly polished finish or made from stone or marble often with an arch motif.
Accessorize Your Tudor Home
Accessoring a Tudor home means seeking pottery and metal work. Select objects made from metal, such as pewter and wrought iron. Crewelwork, a type of embroidery stitch, was created for wall hangings and pillows. Everyone home had a family coat of arms displayed and pewter was the go-to metal for housewares, especially tankards.
Bring Tudor Style to Life
The lives of the Tudors were greatly improved with modern textiles and home fashions. Glass windows brought a new way of seeing the world and home interiors were rich with new housewares. You can enjoy this historical time period with any of these design options in your home.