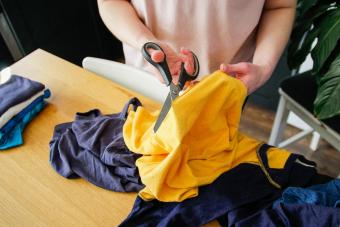 Before you toss that sweater or ripped pair of jeans, take a sec to see it as the opportunity it is. There are tons of great ways to upcycle clothing that's seen better days — from making it into something new to wear to turning it into a gift or household item. If you've got the old clothes, you've already got almost everything you need to make something totally new!
Make Some Mittens
Whether it has a stain, a hole, a bunch of pills, or you accidentally shrunk it in the wash (laundry is a pain, and we don't judge here), you can use a simple mitten sewing pattern to cut up an old sweater and turn it into cozy mittens to keep your hands warm this winter. You'll need some lining fabric, elastic, and basic sewing supplies.
Quick Tip
We like adding embellishments like adorable buttons, ribbons, or lace to give your upcycled sweater mittens a unique look.
Upcycle Clothes Into Pot Holders
If you have an old sweater or some jeans, you can use these thick materials to make pot holders. Cut two eight-inch squares out of the clothing, stack them with the right sides out, and sew around the edges with seam binding (easy to find at the craft store). These make a great housewarming gift.
Add Embellishments to Hide Stains
If you have a sweater or sweatshirt with stains or holes, pick up some patches or iron-on embellishments from the craft store and iron them over the spots. Don't hesitate to layer on lots of patches, especially on a jacket or hoodie.
Quick Tip
You can also add simple patch pockets by sewing a contrasting piece of fabric over the flaw and leaving the top open. This works best if the pocket will be in a normal spot, like one side of the chest.
Turn Old Sweaters and Sweatshirts Into Boot Cuffs
Cut the sleeves off your old sweaters and sweatshirts to make some adorable boot cuffs to pair with your fall and winter boots. You can make them as long as you want (we like scrunching them legwarmer-style). Sew along the raw edge or add a little Fray-Check (from the craft store) to keep them from unravelling.
Craft a Cozy Pillow
With a sweater or shirt, you're actually most of the way to making a pillow. The body portion of the shirt is a pillow in the making. You'll just need to cut off the top section under the arms and sew up the top and bottom. To upcycle clothes into a pillow, measure across the body and buy a pillow form that's the same size. Cut off the top under the arms and sew up the two remaining sides with the pillow form inside.
Paint or Print Your Way to a New Look
If you have a plain shirt or pair of jeans you want to upcycle into a new look, paint can be the perfect answer. Freehand a design in fabric paints or block print a shape that you've cut out of foam and pressed to the fabric. There are tons of options here, and you can get fabric paint at any craft store.
Embellish Your Jeans
Plain jeans do go with anything, but they're also a little boring sometimes. If you have some you like the fit of but need a bolder look, go crazy with patches and embroidery. We like using tons of different colors and techniques to add flair. Even just rows of simple straight stitches with embroidery floss can give you plenty of color. Just pick a floss you like and sew in a straight line using an embroidery needle.
Make Lacy Cutoffs
Cutoff shorts are one of the easiest ways of upcycling clothing, but you don't have to settle for simple. Once you've cut off the legs of your old jeans and artfully unraveled the edge, add some lace. It's easiest to sew it on, but if you don't have a sewing machine handy and don't want to grab a needle and thread, you can use fabric glue.
Quick Tip
To make these, pick up two yards of lace so you have plenty. Start sewing or gluing it at the inner seam of each leg and work all the way around. That way, you won't see where the lace overlaps itself.
Turn a Pocket Into a Crossbody Bag
A pocket is a useful thing, but it's not super handy on old clothes you don't wear anymore. Upcycle a pair of old pants or shorts by cutting around the pocket (leaving about an inch all the way around). Cut another piece the same size and sew them together. If you're handy with a sewing machine, add a zipper to the top. If you want to keep it simple, just fold over the edges and leave the top open. Add a strap (from any craft store) and you're done!
Add a Picture to a Jean Jacket
Have a boring jean jacket handy? Grab some printable fabric from the craft store and print a picture of anything you like. Cut it out and use spray adhesive to attach the picture to the back of the jacket. Then cover the edges with lace using fabric glue.
Make a Skirt From Old Ties
Stop by the thrift store and grab a bunch of old ties to turn into a skirt. You'll need to measure around your hips at the widest point. Sew the ties together until the skirt is wider than your hips. Then turn the skirt inside out, fold over the waist, and sew it down to make a casing. String a piece of elastic through the casing to make it fit you comfortably.
Quick Tip
There's no rule about the length of a tie skirt — just cut the ties as long or short as you like. Be sure to leave at least an inch of extra length to cover the elastic casing.
Turn Your Old Shirt Into a Dog Bandana
Your old shirt might be worn out, but you can actually upcycle clothing into dog accessories. Measure your dog's collar and cut a triangle of fabric out of the clothing that's slightly longer than the collar. Loosely tie it around your dog at the collar so it can be a stylish bandana.
Create a Stylish Pencil Holder
If you have an old, worn-out sweater with a pretty buttoned cuff, cut off the sleeve and stretch it over a tin can. Be sure to cut the sleeve long enough to completely cover the can. Then use hot glue to hold it in place. You can add embellishments if you want even more cozy style for your desk.
Upcycle Clothing to Keep Enjoying It
It's sad when your favorite shirt gets a stain or your go-to jeans are ripped, but that doesn't have to be the end. Upcycling clothing is a great way to keep enjoying something you love — just in a totally new way. You might even be able to make multiple projects from one of your cast-off items.