Astrology isn't an exact science. Every astrologist has their own interpretation of what your specific birth chart might mean for you. But, like watching tutorials to help you master a craft, seeing zodiac signs as people you recognize can help you better understand your own sign and how it manifests in your personality. These are some of our favorite celebrity zodiac signs.
And if you're new to all this and don't know exactly where among the stars you fall, never fear! We've got a quick breakdown to prep you for your future astrological adventures.
Aries: Pedro Pascal (April 2)
For the past several years, Pedro Pascal has been the internet's darling. And his bombastic, fun-loving presence off screen makes his on-screen performances all the more entertaining to watch. And while his Aries-born ambition has paid off in his career, he's never curtailed his passion for social causes to satisfy a studio. But like a true Aries, he does get into his fair share of fiery situations, being "quick to anger" as he revealed in the Variety's Actors on Actors series.
Taurus: Katharine Hepburn (May 12)
Kids today might remember her for popularizing that distinct mid-Atlantic accent, but we know Katharine Hepburn for her long, monumental career on stage and screen. A lover of the arts from a young age, this Taurus came from an intellectual tradition and grew to appreciate beauty in its most expressive forms. To top it all off, Tauruses are known for their innate sense of fashion, and Hepburn's determination to forgo stuffy fashion norms falls right in line.
Gemini: Stevie Nicks (May 26)
Geminis, stand up for your sister, veritable rock legend Stevie Nicks. Captivating crowds from her perch onstage, Stevie Nicks is the ever-charming and artistic Gemini. But that always present twin-half of every Gemini lurks inside her too, coming out in her time with Fleetwood Mac in impulsive studio sessions and drug-fueled flights of fancy. Yet, through it all, she could pull herself together enough to lure everyone in with her spellbinding energy.
Cancer: Busy Philipps (June 25)
Beloved actress, talk show host, and advocate Busy Philipps is an out-and-proud Cancer. In more episodes than not of her podcast Busy Philipps Is Doing Her Best, she'll let listeners in on her Cancer moment of the day. From curating the perfect interior design because every Cancer needs their shell, to the way her compassion for people pours out of her, she's a Cancer through and through.
Leo: Whitney Houston (August 9)
Was there ever a Leo that Leo'd more than Whitney Houston? It's only fitting that Houston would have the gumption to serve up looks, talent, and confidence on stage for decades. She commanded every room she walked into, and her ambition paid off. While she had her struggles, they never broke her spirit – a Leo trait if ever we saw one.
Virgo: Zendaya (September 1)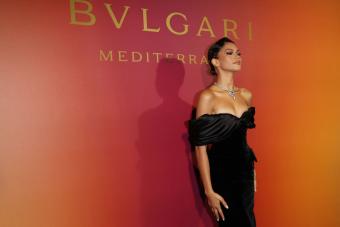 Zendaya is the epitome of a classic Virgo. She skirted the pitfalls of growing up in the public eye and matured with a level of discernment many of the senior stalwarts in her career don't have. She's incredibly methodical with her projects, but she's always hustling towards the next right move in her plan. As a Virgo, she makes multitasking an empire look effortless.
Libra: Julie Andrews (October 1)
Julie Andrews, with her legendary five-octave range and penchant for playing lovable characters, is the consummate Libra. Ever the social networker, you'll never hear of petty rivalries or secret tell-alls about Andrews's past behavior. You meet her, and you fall in love – as is the Libra way.
Scorpio: Richard Burton (November 10)
Scorpios can't help that they've got a magnetic sexual energy about them, and Richard Burton was down bad with a case of the Scorpios. Despite his personal faults, the Welshman wooed practically every co-star he worked with. Deeply passionate, Burton let all his emotions pour out in his performances but kept them close to his chest in public – a true Scorpio thing to do.
Sagittarius: Taylor Swift (December 13)
A pioneering singer-songwriter with a long relationship rap sheet and millions of fans just has to be a Sagittarius. Taylor Swift may have a flighty reputation when it comes to romance (as you know, a good Sag just can't be tied down), but her pursuit for emotional freedom as depicted in her music cuts to the heart of what being a Sagittarius is all about.
Capricorn: Denzel Washington (December 28)
With that cadence and that stare, Denzel Washington was destined to be witnessed by millions of people. A truly ambitious and hardworking Capricorn, Washington worked incessantly at his craft and has become one of the most revered actors of his generation. And, much like his zodiac sign, many of his characters have a hard exterior that protects a deep sensitivity underneath.
Aquarius: Virginia Woolf (January 25)
Virginia Woolf was a tragic, though unimaginably talented writer who defined the modernist genre. An artist who not only pushed against the cultural boundaries of her time but ignored them entirely, Woolf's creativity and complicated relationship with defining herself in a world not quite built for her mold makes her a perfect Aquarius icon.
Pisces: Hozier (March 17)
Only a Pisces could come up with deeply introspective and emotional lyrics like, "I slithered here from Eden just to sit outside your door," and "The only heaven I'll be sent to is when I'm alone with you." Hozier broke onto the scene with a rich sensitivity that Hot 100 music was severely lacking. A water sign though and through, Hozier has a high emotional literacy that bleeds through his poetic songwriting.
Your Zodiac Traits Are Written in the Stars
You can have the public in the palm of your hands, and you'll still be at the mercy of your zodiac sign. Zodiac signs are nuanced and manifest differently for every person, but your star-given destiny isn't something you can avoid. Although we (and these celebs) wouldn't want to, even if we could.