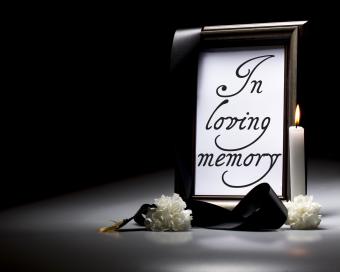 A printable funeral program can help make the task of honoring a loved one easier. The professional format is already laid out, and family members will need to add personalized information then print the document.
Printable Funeral Program
Click on the image and download the editable program template. Once downloaded, open the document using Adobe Acrobat Reader. If you have issues downloading or using the printable, take a look at these helpful tips. After editing the content by including specific information for a loved one, click the printer icon to print.
How to Personalize
Using a template can seem impersonal at first. Give the standard format a personal look by:
Replacing the title "Celebrating the Life of... " with an original such as "Honoring a Family Legend"
Adding a charismatic photo of the deceased
Personalizing the words used to describe the person being honored
Adding a specific order of events with unique elements or special songs and scriptures
Changing the closing to something more personal like, "Jerry's family thanks you for enriching his life and enduring his bad jokes."
Printing the final product on heavy weight paper, colored paper or laminating it
Funeral Program Basics
A funeral program serves two purposes. The first is to provide attendees with information about the deceased and their funeral or memorial service. The second is to serve as a keepsake loved ones can display or keep in memory of their friend or family member. Writing a funeral program can be both a healing experience and a stressful experience as most people strive to craft a perfect memorial.
Information About the Deceased
While there are many types of funeral programs to choose from, most include the same basic information about the deceased.
A flattering photo that captures her personality
Full legal name and any popular nickname in quotations
Date of birth and date of death
Location, date and time of the service
A favorite quote, song or scripture
A 'Thank You' message from the family
Elements of the Service
A funeral program should always include the order of events for the service, with appropriate details. Service elements will vary depending on the type of service. Some common elements include:
Processional music and musician's name
Prayers or readers and name of the speaker
Reading of Eulogy and name of speaker
Acknowledgements
Spur of the moment comments from the crowd
Final viewing
Information about burial
Time and location of reception
In Loving Memory
Creating a funeral program gives friends and family members one last chance to honor the life of the deceased. A template allows the grieving to focus on the important, personal elements of a funeral program rather than formatting details.