Attending a funeral can be stressful, and your outfit shouldn't be an additional stressor. Most of the time black is most appropriate, given the somber occasion of the matter, however, not all black outfits are created equal.
Women's Funeral Fashions
For a woman, an outfit consists of more than just pants and a top. Women's attire can be complex, and in different ceremony situations, it may be tricky to decide what to wear.
Formal Attire for a Funeral
When in doubt, always err on the side of simple elegance. For example, a plain black dress is the ultimate formal funeral piece. Preferably it should be long sleeve, it should have a high neckline, and it should fully cover your knees. Wear this with closed-toe black pumps and black or nude tights. Other good options for formal attire for a funeral are:
A black suit ties for first place in formal funeral attire, next to the simple black dress. Either a pant suit or skirt suit works.
At a formal funeral, you may also wear a black hat out of respect.
Outside for a Formal Funeral
If the funeral is outside, and it's very hot, your dress can be sleeveless, however, make sure you throw on a large shawl over your shoulders so that it covers your chest and even your elbows. This will help with the heat, and you will still look appropriate.
What Not to Wear to Formal Funerals
Light and bright colors, as well as navy and darker colors, are not usually worn by women to formal funerals - the appropriate color to wear for a woman attending a formal funeral is always black. You definitely want to heed this rule, and not stick out, especially if you were just a friend of the deceased. The less attention brought to you, the better.
Best Informal Attire for a Funeral Tips
Informal funerals are still a serious occasion, and your outfit should reflect that. A black skirt or black pants is the safest way to go although other subdued shades such as grey and navy are options. As for your top, a modest black blouse or button-down shirt always works, and most women already have these in their closet. If you do not have an appropriate black blouse, a black sweater works as well. During the warmer months, short sleeve is okay as long as it is not sleeveless. A navy light sweater or blouse can work in this instance, too. People often think navy and black don't go together, but this is not true. When paired right, the two look extremely chic together.
Can Women Wear Jeans to a Funeral?
Even though the occasion is informal, if you were close to the person in passing, then it is best to avoid jeans. You may wear black jeans if you are a distant relative or an acquaintance; but make sure that they are well-fitting, free of rips, and are very dark black. Faded jeans are not a good look. They should ideally not look like rugged denim, but more like a nice pair of pants. In other words, they should blend in with your outfit, and not stand out as a pair of jeans you just threw on.
Dresses for an Informal Funeral
Of course, a classic black dress is always acceptable. This dress shouldn't have any colored embellishments and it shouldn't be revealing. Alternatively, if you have a dark colored dress, this is another great option, especially for friends and acquaintances.
Informal Footwear
It's OK to skip tights if it is a warm month. However, athletic sneakers, even if black, are a definite no. If the funeral is outside, be cautious of your shoe choice. You don't want to wear pumps with a skinny heel. A small wedge or black flats work best. If it's outside and it's raining, a black rain boot is appropriate. Consider too when picking shoes that you may be doing a lot of standing during the ceremony, as well as walking outside, and you don't want to choose a shoe that will be uncomfortable.
Outerwear for a Funeral
If the funeral is outside, and it's chilly, a dark-colored raincoat or peacoat look chic if it's a gloomy day. Think forest green, navy, deep eggplant, etc.
Men's Funeral Styles
Although men usually take less time to get dressed and ready, here you will still have to think about your outfit choice. What works for men:
Formal Men's Attire
When it comes to formal funerals men have it easier than women. A black suit is necessary if you were close to or an immediate family member of the deceased. Otherwise, you can wear a dark charcoal or navy suit. Wear either a solid white, charcoal, navy or black dress shirt depending on your suit; no other colors will do here. Choose a solid black tie to complete the outfit if you were close to the deceased. Otherwise, you can wear a charcoal or navy tie.
Footwear for a Formal Funeral
Socks should be a solid color and the same goes for shoes. Your shoes should be clean, shiny, and as formal as it gets.
What Not to Wear to a Formal Funeral
Pocket squares and bow ties should not be worn. Ripped/torn jeans, while trendy, are absolutely not acceptable. Avoid light colored jeans as well.
Informal Attire for a Funeral
A black sweater or button-down shirt should accompany your black pants, and of course, your button-down should be tucked in. If you can, do wear a black or navy blazer over your denim ensemble. Pair with matching dress shoes. If you are wearing navy dress pants, wear with either a black or navy blazer, or a navy/black sweater. If you feel too informal in pants and a sweater, wear a collared shirt underneath with a dark-colored tie, so that the necktie just peeks out the top. The shirt should be white or a solid color.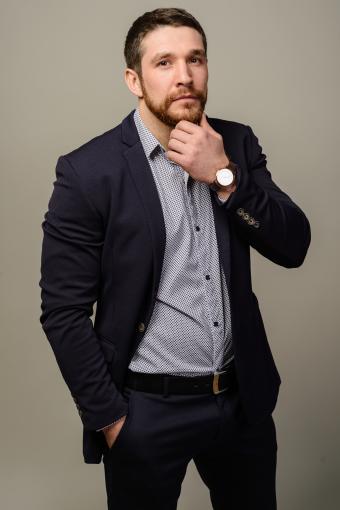 Can Men Wear Jeans to a Funeral?
For men, black jeans are acceptable if you are not close to the deceased, or if you are an acquaintance. However, make sure they look elegant enough to pass as dress pants. If you are closer to the deceased, jeans don't show too much effort, so step it up and wear a pair of black of navy dress pants.
Appropriate Shoes
Sneakers are unacceptable, black dress shoes work the best with every outfit. Are yours dirty? Most places offer cheap shoe shines on the spot. If you don't have a pair of dress shoes, invest in Cole Haan Zeroground wing Oxford shoes. Beyond comfy and stylish, you can wear these to work and on dates, making them your new "go-to" shoes.
Men's Outerwear for a Funeral
If it's warm out a suit is enough, but in colder weather a black or dark-colored trench coat is appropriate. You can wear a stylish hat as well such as a fedora, but nothing flashy or too casual like your favorite baseball cap.
Kid's Funeral Dress Codes
Kids are more likely to get a pass when it comes to funeral attire. However, there are still some key elements that remain the same.
Girls at an Informal Funeral
In this case, girls can wear jeans to a casual funeral. However, these should be dark blue denim or black denim and the jeans should be without rips or fading. Sneakers are okay as long as they are dark colored. Have your girl wear black or navy socks with these sneakers. Any type of dark-colored top, except for a tee shirt or sweatshirt, is fine. Again, think navy, eggplant, hunter green or maroon. Your girl's top can be a sweater if she's cold, or if it's outdoors and the weather is warm, a dark sleeveless shirt or dress.
Girls at a Formal Funeral
An all-black ensemble is necessary in this instance if your child was close to the deceased. If not, a dark-colored dress or matching top and bottom set is appropriate. If the funeral is in the winter, velvet is a great option for material. If it's chilly, wear either black or navy tights. For footwear, she can wear black or dark dress shoes. Sneakers are not appropriate for formal funerals.
Boys at an Informal Funeral
Boys can also wear dark colored or black jeans. Light blue, gray, or any other colors should be avoided.
Sneakers are okay as long as they are new looking and darker colored. It's still not considered polite etiquette for boys to wear bright colored athletic sneakers to any sort of funeral. All black or navy sneakers are best.
As for his top, no tees and no hoodies. Although a T-shirt is unacceptable, a collared dark-colored polo shirt is a very nice option. This polo can be either long or short-sleeved.
Tucking in his shirt and adding a nice dark colored belt is a polished finishing touch for your little one.
Boys at a Formal Funeral
Depending on how close your boy was to the deceased, he should be wearing a suit of some kind. All black if he is an immediate family member, and navy or charcoal if he was not as close with the deceased. A navy, black or charcoal tie is the most appropriate option. If your child is a friend or acquaintance, a tie is not necessary, especially if he keeps his jacket buttoned. The outfit should be accompanied by dark dress shoes with dark colored dress socks.
Seasonal Funeral Wear Tips
It's important to consider the weather when dressing for a funeral, particularly if it's outdoors. You do not want to wear any fabrics that are heavy in the summer and consider that darker colors will be hotter combined with "more" fabric if you're dressing modestly. Look for lightweight fabrics like cotton that breathe and won't retain heat. It's also a good idea to bring an umbrella if there's a chance of rain. The best type of umbrella is a black or a dark-colored one. You may wear sunglasses as well as long as they are conservative and don't stand out. In the winter, consider again that you will be standing for some time and want to wear fabrics and outerwear that will keep you warm despite cold winds and even snow, while still observing a muted, dark color palette. Dark rain boots are appropriate for men, women and children if you suspect inclement weather.
Additional Styling Tips for Funerals
There are certain things that can make or break your funeral outfit. When in doubt, always think "conservative" in dress, tone and color and think of how you would dress for a job interview if you're unsure of what to wear.
Ladies should never wear anything too short, too low, or too revealing. A funeral calls for modesty.
Keep everything simple. Your makeup should be minimal and natural and your hair and accessories should be subdued.
If your child has a ton of dresses but you don't find them formal enough, put a collared shirt underneath the dress to make it more appropriate for the occasion.
If you are going to wear tights, make sure that they do not have rips or patterns. Plain black tights are the most appropriate.
If you don't love your blouse or sweater, add a nice shawl. A black shawl with subtle embellishments is a nice touch to any funeral outfit.
Never wear leggings, shorts, baseball caps or sandals.
Make sure that your heels are not too high or flashy.
Men shouldn't wear flashy or colored cuff links. The more boring, the better.
For women, any accessories should be muted and conservative as well. No brightly colored or sparkly purses; choose instead a simple black clutch or handbag.
If there are any special requests, you should abide by them. Now is not the time to break the rules and stand out from the crowd.
Religious Attire Requirements
Depending on the type of ceremony, you may need to meet additional requirements. This can include head coverings or modest clothing that covers the arms and legs completely. If you're unsure, check with the family ahead of time to avoid uncomfortable episodes at the ceremony. Some possible scenarios you may run into include:
Different color requirements depending on the religion. For example, Quaker funerals and certain Asian cultures require that guests wear white instead of black. Some African traditions prefer that guests wear red and black.
Some families will request that you come dressed to a "celebration of life" which calls for happier, brighter colors. In this situation it's best to keep the tone and cut of your outfit conservative even while spicing up the color palette.
Another funeral difference is a military ceremony. If you're a member of the armed services, you will wear your military dress uniform while civilian attendees will dress normally for a funeral.
What to Wear to a Cremation
Appropriate clothing for a cremation can vary depending on the family's wishes. Cremation service attire is often not as strict as that of a funeral, although you still will dress conservatively. A good guide to follow for women, men and children is to dress as you would for a regular church service. Keep your clothing modest, but you do not need to stick to a black or dark palette. It's still best to avoid bright, flashy colors and patterns and noticeable jewelry or accessories. If the family opts for a celebration of life, they should inform you before the service about attire expectations, as these can be much more informal though it's still best to be conservative and respectful of the deceased when making your clothing choices.
Making the Best of a Somber Event
Even though funerals are sad, you want to feel like you participated in the greater good. It's important to show up and pay your respects, and how you arrive matters. You want to present yourself appropriately and make sure your outfit shows some effort. No matter how informal the affair, or whether you are a family member or an acquaintance, you should always look polished at a funeral. Whether you know the deceased or not, it is best to dress up out of consideration.