Funeral makeup is simple with a few quick tips to guide you. When it comes to funeral makeup, less is always more.
Funeral Makeup Basics
You want to keep your funeral makeup simple. The goal is neutral, minimal coverage. You don't want to call attention to yourself with overdone makeup.
Choose a Long-Lasting Foundation
Use a long-lasting foundation. This will prevent streaking from tears. You won't need to worry about using tissues and accidentally removing the foundation.
Add a Bronzer
Add a bronzer if you feel it's needed to give you a little more color. Go easy with it and only give your foundation a light touch of bronzer, focusing on cheeks. Be sure to blend it with a brush so it's soft.
Try a Light Blush
You can add blush over this with a thin light layer. This will soften the bronzing for a more natural look.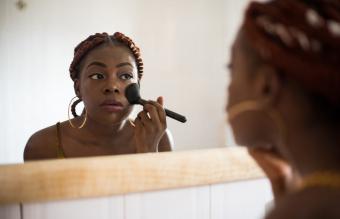 Use a Lighter Touch With a Highlighter
Complete this look with a touch of highlighter. This should go over your cheekbones for that final touch.
Leave off the Face Powder
Don't set your makeup with face powder. Tears will cause it to cake and streak. If you use a long-lasting foundation, you can easily leave off face powder.
Funeral Makeup Ideas for Your Eyes
Beyond the basic foundation, bronzing, blush, and highlighter, you probably want to use some kind of eye makeup. Some women simply don't attempt to use any eye makeup when attending a funeral. It's a personal call. Waterproof eye makeup is a good idea, so if you cry, it won't wash away.
Use Care With Eyebrow Makeup
You don't want to draw attention to yourself due to your makeup choices, so use caution when filling in your eyebrows. You can certainly fill in your eyebrow pencil or pen. Use a waterproof microblading eyebrow pencil.
Choose a Neutral Brow Bone Highlighter
You can use a matte neutral color for a brow highlighter. You can certainly use a couple of shades darker than your hair color if that is your normal look. However, you may prefer to go lighter for a more neutral/natural look.
Select Neutral Eye Makeup for a Funeral
You want to curb the colors in your eye shadow selection. Choose a neutral matte color you can blend easily, such as a light brown. Some eyeshadows also have a faint touch of color in them that can give you just the right tint. Use neutral or light brown over the eyeshadow to further lighten it.
Choose Waterproof Eyeliner and Mascara
You can apply eyeliner as you normally would. Use a thin, natural looking eyeliner. A waterproof mascara can thicken your lashes without worrying about tear reaction.
Add Concealer if Needed
A concealer is okay to use in your makeup for a funeral. This is especially helpful if you have dark circles underneath your eyes.
Perfect Lip Coloring for Funerals
Go soft on color when it comes to lip color. Use a lip liner that is either lighter or darker than your lipstick color that you can easily blend. Stay away from bright red or unusual colors. A soft, subtle color is always best when you don't want to call attention to yourself.
Tips on How to Keep Tears From Ruining Your Makeup
One of the easiest ways to stop tears before they stream down your face is to use tissue. Stem the flood by dabbing the tears filling your eyes before they overflow your eyelids. If you aren't quick enough and end up chasing tear trails, don't wipe them away. Instead, dab the tissue over the tears to keep from ruining your makeup. You can also position a tissue to dab your nostrils to prevent smearing your makeup.
Tips for Funeral Makeup
A few easy tips for funeral makeup can help you achieve an appropriate look. By keeping this goal in mind, you're sure to end up with just the right balance suitable for a funeral.