Cremation Urns
With many people choosing eco-friendly burials, the demand for urns is far greater than it once was. Long gone are the days of simple brass or marble urns in the traditional shape. Today's urns are decorative, hand-sculpted or hand-painted, and can easily be picked to reflect the personality of the individual who passed on.
For further details or buying information, click the "More Details" button above any of the following slides.
Emerald Mission Style Urn
More Details
House your loved one's remains in this gorgeous Mission-Style Stained Glass Cremation Urn. Crafted with exquisite opaque glass in shades of green and blue, held together with lead-free solder, and attached to a resin base, this urn stands nearly a foot high. It is available for less than $100 and can even be engraved for a personalized touch.
Cremation Keepsake Lamp
More Details
Hold onto an illuminating reminder of the life of your departed loved one with the Blue Floral Keepsake Lamp from One World Memorials. Crafted with a Tiffany style lamp atop a bronze-finished solid brass base, this urn has a space in the bottom for housing ashes securely. The lamp is nine inches high and is available for less than $150.
Wooden Photo Cremation Urn
More Details
Keep your relative's ashes in a shelf-sized memorial with this Black Wooden Photo Cremation Urn. Crafted from solid wood in a box-like shape, this urn has a space on the front to house a 5 x 7 picture and an area for personalization along the bottom. The urn is eight inches tall with a five-inch width and can be purchased for around $70.
Child Urn
Buy Now
The unfortunate loss of a little one means finding a child-size urn, and this Teddy Bear Cremation Urn is just the right size at only four inches tall and three inches wide. Constructed of nickel-plated bronze, this urn has a delicate hand-etched teddy bear image gracing the front and boasts hand-painted color details. The urn opens with a screw-on lid and is priced at just over $50.
Wave Cremation Urn
More Details
If your departed loved one was in awe of the ocean, the Wave Cremation Urn from In the Light Urns is a beautiful choice for keeping cremains. This gorgeous display is considered a luxury keepsake, with a price point of just over $700 and a detachable base. The piece stands about a foot tall and boasts small sculpted dolphins in the crystal clear water. For an additional charge, the piece can be outfitted with a lighted base and engraved for an added touch.
Cultured Marble Cremation Urn
Buy Now
Cultured Marble Cremation Urns by MacKenzie Vault are an elegant choice for the safe-keeping of your loved one. Crafted of solid marble, this rectangular urn is a heavy structure that is sturdy enough for ground burial if you choose. However, the urn is beautiful on display and can be engraved for added personalization. Each urn is 9.75 inches long by 6.75 inches deep and high. They come in a range of color hues and cost around $200 for adult sizes.
Grecian Blue Keepsake Heart
More Details
Keep loved ones close to your heart with Grecian Blue Keepsake Heart Urns. These urns are sold in sets of two so a pair of family members can each have their loved one with them. The Grecian blue center is surrounded by heart-shaped nickel accents and each heart has a metal stand for easy displaying. A set of two is just about $40, and each heart is small in stature with measurements of only 2.5 inches by 2 inches.
Fishbowl Adult Cremation Urn
More Details
Whether your loved one was a fan of the ocean or just enjoyed the flora and fauna of the sea, the Fishbowl cremation urn is a lovely option. Ashes can be tucked into the bottom of the piece and held protected by an airtight, screw-on base. The authentic aquarium view is hand-painted and panoramic, so it wraps completely around the aluminum structure. The Fishbowl urn is just over seven inches in diameter and is only about $70.
Masonic Book Cremation Urn
More Details
Memorialize the devotion of the Mason you knew with the Masonic Book cremation urn. Crafted to look like a real book and made from cold-form resin materials, this urn can be displayed upright on a stand or laid flat on a mantel. It is over 11 inches tall and costs about $150 and can be engraved with personalizations.
Hold My Heart Angel Cremation Urn
More Details
Display the remains of your loved one as a guardian angel on a shelf with the Hold My Heart Angel Cremation Urn. Hand crafted from resin materials, this angel urn is 16 inches high and almost a foot wide. The base is engraveable so you can add your preferred sentiments or a loved one's name, and the price is just under $200.
Stainless Steel Cube Cremation Urn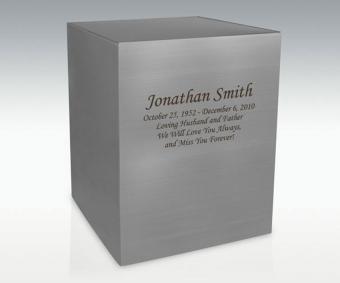 More Details
Give your departed family member a perfectly demure resting place with a Stainless Steel Cube Urn from Perfect Memorials. At a price point of just under $100, this metal urn offers a stately appearance with a satin finish and is just five inches square and seven inches tall. Engrave the front with your loved one's name and the back with your choice of sentiments or poems.
Old Time Cathedral Radio Urn
More Details
Hold your loved one's cremains in true retro style with the Crosley Old Time Cathedral Radio Urn. Structured just like an antique radio, this urn has a hidden compartment in the rear for concealing ashes and offers all the details of a real radio, such as knobs and speakers. At about $300, this urn is a highly specialized piece that can be engraved on a name plate across the front. It stands about 12 inches tall and is about 12 inches wide.
Red Wine Cellar Urn
More Details
Celebrate a loved one's life of enjoying fine wine and socializing with this Red Wine Cellar Urn from In the Light Urns. Crafted of Birchwood with a rose finish, this urn can be outfitted with an image and text of your choice across the front. At nearly a foot wide and seven inches tall, this urn displays well on a shelf or even in your wine cellar, and is priced respectively at about $250.
Mini Cremation Keepsake Urns
Buy Now
When there are multiple siblings who wish to share their loved one's remains, Trupoint Memorials Forever Remembered Classic Blue Mini Cremation Keepsake Urns are a good companion urn option. Each urn is hand-crafted from solid brass, has a unique design, and is only almost three inches tall. A velvet-lined case is included for housing the companion urns, and the full set is right around $50.
There are so many styles to choose from, choosing an urn is the least complicated part of pre-planning your funeral or making preparations for the recently departed. If you're choosing for yourself, go with something that reflects your personality and style. If you're choosing for a loved one, choose something you know you can reasonably store in a safe place.