There's no struggle to find a place to stay when you plan a camping trip to the lovely Ocean City, Maryland resort area. There are many campgrounds to choose from. No matter what type of camping you enjoy or what size group you are traveling with, you're sure to be pleasantly surprised by the types of camping facilities available to you in and around Ocean City.
Frontier Town Campground
Frontier Town Campground is a great place to stay if you're looking for a true camping resort experience. With 500 campsites and impressive amenities, this campground truly has something for everyone. You'll find every kind of campsite you could want here, ranging from primitive tenting sites to large, full-hookup sites that can accommodate even the largest and most luxurious motor homes. You can even stay in a rental cabin or trailer if you don't own a camper. The peak camping season runs from June 12th through September 6th, and prices range from $64 a night for a primitive site to $156 for a full hookup, waterfront site with a dock. Campground amenities include:
A marina with 75 boat slips and a boat ramp, and a 200-foot-long pier where campers can go fishing or crabbing, or take a walk and enjoy the view.
An on-site water park that registered campers can enjoy at no charge. The water park includes several fun water features, such as an activity pool and a large water slide.
A playground
A nature trail
Modern bathhouses
An on-site camp store
On-site laundry facilities
Rentable golf carts and shuttle service
Complimentary Wi-Fi
Campers can also enjoy discounted admission to Frontier Town Western Theme park, a popular summer Ocean City attraction.
Castaways RV Resort
Castaways RV Resort offers a recreational vehicle (RV) resort vacation experience. This campground has 370 sites equipped to house either tents or RVs, and each site comes with full hookups including power, electricity, and sewage. There are also a handful of beachfront cottages to hunker down in. Rates here range from $65 to $157 per night, and largely depend on which site you choose to rent and the time of year you book your stay. Amenities here are second to none, and no camper will ever be left bored. Some of the more popular amenities include:
Wi-Fi service and cable television
A private beach, fishing or crabbing from the pier, going for a dip in one of the swimming pools, or sunning on the deck
Rental jet skis, kayaks, boats, and golf carts, as well as a complimentary shuttle service
Planned events such as ice cream socials, pancake breakfasts, and other community-wide activities
A playground
An exercise room
Three restraunts on the grounds
Bathhouses
Coin-operated laundry facilities
A camp store and a local RV repair professional
Waterfront "Bark Beach" the "Inland Day Play Area" for your beloved pet
Assateague State Park
If you're looking for a more laid-back campground facility, you may want to consider camping at Assateague State Park. The park is a mere 9 miles from Ocean City's center, and is situated between Sinepuxent Bay and the Atlantic Ocean. It is the state's only oceanfront park.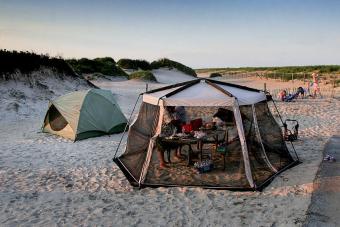 If you want to enjoy a truly natural beach camping trip, this campground is an excellent location to pick. The park has 2 miles of oceanfront beaches where you can take in the sun, relax on the beach, go fishing, and enjoy swimming in the ocean. It's also a great spot to go canoeing or kayaking, or even try your hand at surfing.
The Assateague State Park campground is quite large, with 350 camping sites, but not every site has electrical hookups. If you need electricity hookups during your trip, be sure to specify when making your reservation. Sewer hookups are not provided, but there is a dump station. Campground amenities include:
A camp store
A bike trail and nature center
Fire rings and picnic tables
On-site kayak rentals and boat launch
Hot water bathhouse facilities
Rates start around $30 per night for a primitive site during peak season and vary depending on the time of year you book and the type of site you choose.
Delaware Seashore State Park
Delaware Seashore State Park covers 6 miles of ocean and 20 miles of bay shoreline, and contains two campgrounds that are open year-round. The campgrounds can accommodate anything from a simple tent to a large RV. Most of the 346 campsites have 30- and 50-amp electric hookups as well as water and sewer hookups. Campers can enjoy swimming, fishing, kayaking, boating, bird watching, hiking, and so much more. Park amenities include:
A camp store and tackle shop
Two on-site restaurants: Hammerheads and The Big Chill Beach Club
Bathhouses and laundry facilities
A full-service marina
Rates at the year-round park differ depending on the type of site you require and the time of year you choose to camp. A campsite on a peak weekday runs about $52 a night, while a tent-only site in the wintertime might only cost $20 a night.
Trap Pond State Park
The draw to Trap Pond State Park is the incredible foliage, as the park is home to the northern-most, naturally occurring stand of Bald Cypress trees. Nature lovers can spend their days hiking through the nature trails, capturing images of plants and wildlife on camera, and exploring the nature center. The campground offers 142 tents, RV sites, yurts, and cabins and the nightly cost to stay here largely depends on the site you choose and the time of year you stay. Amenities at the park include:
Kayak, canoe, boat, and paddleboard rentals
A camp store
Horseshoe pits
A volleyball court
Bathhouse and flushable toilets
A boat launch
A coin-operated laundry
a picnic pavilion with picnic tables and designated picnic area
Peak season here runs from June 11th to September 6th. During this period, campers can expect to pay $27 to $77 a night, depending on the spot they choose.
Fort Whaley Campground and RV Resort
Whatever your camping needs, Fort Whaley Campground and RV Resort has you covered. The grounds have everything from primitive campsites to full pull-through sites for large RVs. Families camping here can count on one thing: they will never hear the words, "I'm bored" from their children. There is too much here to do, and a stay of one or two nights certainly won't be enough. From laser tag to an arcade, this campground is all about fun and games. Amenities at Fort Whaley include:
Bathhouses
Laundry facilities
A complimentary shuttle service
A swimming pool and fishing lake
A pump track
Playgrounds and sports courts
A dog park
Mini Golf
Special events held throughout the year
Peak season rates range from $40 per night for a water-only site to $75 a night for a premium site.
Pocomoke River State Park
Be one with nature at Pocomoke River State Park. Hike, fish, boat, wander the trails, and take in the scenery of Maryland's lower eastern shore. Shad's Landing is a prime space to pitch a tent or park an RV. There are 175 campsites, all of which include a fire ring and a picnic table. Amenities at this Maryland campground include:
A boat launch
A playground
A picnic area
A swimming pool
A dump station
Bathhouses
A campsite sans an electric hook-up costs around $21 per night. A family group campsite that can accommodate parties up to 40 people can cost around $100 a night.
Ready for an Ocean City, MD Camping Trip?
Ocean City, Maryland and surrounding areas serve as popular camping and tourist destinations, especially during the summer months, so be sure to make a reservation ahead of time. If you'd like to check out additional campgrounds in Ocean City, Maryland, as well as other lodging options in the area, see OceanCity.org, the official website of the Ocean City Chamber of Commerce.