No matter what type of camping you're planning, a master camping supply list can ensure you've got all the essentials to enjoy your trip. Use the free printable checklists in this article to help you shop and pack before your big adventure, from basics like clothing and food to more specialized camping necessities.
Printable Ultimate Camping Supply Checklist
This printable camping supply list is a great starting point to prepare for your next camping trip. Here are some of the most necessary things for camping you'll want to pack.
Camping Essentials List:
Bedding

Clothes

Cooler

Beach/bath towels

Pocket knife

Firewood

Waterproof matches/lighter

Camping stove/grill

Light fluid/charcoal

Flashlights/lanterns

Pots and pans (and pot holders)

Cooking utensils and silverware

Cups

Napkins/hand towels

Water

Dish soap

Personal hygiene items

Toilet paper

First aid kit

Games

Emergency contact list

Bug spray and sunscreen

Battery-operated phone charger
For the full list of supplies for camping, download this free printable. Click the image of the generic camping list to access the PDF file.
How to Use a Master Camping Supply List
The ultimate camping supply checklist above includes more than 30 camping essentials, plus room to add your own items. The checklist can be helpful in organizing camping equipment, planning trips, and packing to head home.
Use your list as a guide to mark what items you already own and which you'll need to buy.
Take the checklist shopping with you and mark off each item you buy.
Use the list to pack your bags, your cooler, and your car, marking off items in a different color for each step in the packing process.
After you set up your campsite, look at the list again to see if there was anything you missed that might have gotten lost in your vehicle on the drive.
When leaving your campsite, use your camping supply list as you pack up to make sure you don't leave anything behind.
Store all your camping gear in one place and use a checklist to mark the items you have stored there.
Printable Checklists for Specific Camping Needs
If you're a mental planner or are looking for things to add to your own custom camping supply list, here are some more supply lists for you to use. Make sure you know what you need for your camping experience by using specialized camping checklists.
Tent Camping Checklist
This tent camping master supply checklist features what you'll need for sleeping, wearing, cooking, and even activities to keep you occupied.
Shelter:
Tent

Tarp

Sleeping bags and blankets

Inflatable mattress/cot

Pillows

Rope, stakes, and a tool for driving stakes into the ground

Mats to protect your bed from any mud
Clothing:
Pants and shirts, both light and heavy options

Extra socks

Extra underwear

Regular shoes, water/shower shoes, and hiking boots

Sleeping clothes

Sunglasses and a hat

Jacket

Swimsuit

Poncho
Discover more tent camping essentials with this printable list:
First Aid Kit Supply Checklist for Camping
Bringing basic medical supplies on a camping trip can mean the difference between life and death. This essential first aid kit camping checklist includes medications, tools, and wound supplies you might need for common wilderness injuries or illnesses.
First Aid Kit Basics:
Antibiotic ointment

Sanitizers such as rubbing alcohol or peroxide

Adhesive bandages

Heavy-duty bandages and gauze

Eyedrops

Cold medicine

Stomach medicine like Pepto-Bismol

Hydrocortisone cream

Pain medication

Tweezers

Water purification supplies like tablets or a LifeStraw
Find more first aid kit supplies on this complete list:
Camping Survival Gear Checklist
In case of a natural disaster or emergency, it's wise to have a few survival supplies on hand at your campsite. The survival supplies checklist features all the items you might need to stay alive while camping, from communications equipment to lighting options and hygiene supplies.
Must-have Survival Gear:
Self-powered weather radio

Battery-operated phone charger

Emergency contact list

Leatherman utility tool

Personal protection options (knife, bat, pepper spray, bear spray)

Maps

Solar-powered flashlight

Portable generator

Extra fuel
View this survival supplies checklist for more ideas:
Camping Food Checklist
This camping food shopping list gives you a good idea of what to bring for breakfast, lunch, dinner, and snacks. Of course, you can add anything you'd personally like to eat on your trip!
Basic Food Staples:
Sandwich fillings and condiments

Canned foods (and a can opener)

Lots of bottled water
Hotdogs and buns
Snacks like chips, granola bars and trail mix
Graham crackers, chocolate and marshmallows
Coffee, if you plan to make any
Download this printable for a detailed food shopping list:
Kids Packing List for Camping
If you'll be camping as a family or sending your kids off to summer camp, use this printable summer camp packing list for kids. Kids can pack everything they need to make camping comfortable for them, taking one job off of Mom and Dad's to-do list.
Kids Camping Items:
Clothing and shoes

Bedding and linens

Personal hygiene items (soap, deodorant, toothbrush and paste, hairbrush, etc.)

Sunblock

Prescriptions

Backpack/tote bag

Bag for laundry

Water bottle

Flashlight

Camera
Print this itemized list for your child to use as they pack:
Road Trip Checklist
If you're planning a road trip, make sure your vehicle is ready to get you to your destination and back. Here's a checklist for a road trip to plan your route to the campsite and prepare your vehicle for a long trip.
Preparing for Your Road Trip:
Get an oil change if necessary

Check all fluid levels

Check tire pressure and treads

Take care of any necessary maintenance
Emergency Supplies:
Jumper cables

Car battery charger

Tire inflator

Spare tire and tire-changing tools

Extra car key (accessible from outside the car)

Ice scraper

Hazard markers/flares
Route Planning:
Print out of basic route/directions

Maps

A working GPS
Other Car Supplies:
Food, snacks, and plenty of water

Car phone chargers

Blankets

Clay-based cat litter (for traction in snowy settings)
View and download the complete road trip checklist here:
Miscellaneous Camping Items
Besides the absolute necessities, here are some additional items you may want to bring on your camping trip, depending on what type of adventure you're planning:
Tools, including a Swiss Army knife
Radio/books/magazines
Camera/camcorder and replacement batteries
Car outlet adapter
Cash, credit/debit cards/ID
Compass/map
Binoculars
Whistles
Bikes/helmets
Life jackets/swimming equipment
Extra rope
Duct tape
Fishing equipment
More Camping Supply Lists
Your camping supplies will be different if you're RV camping with the family vs. backpacking alone. Check out these additional supply lists that will help you prepare for your specific camping trip.
RV Camping Supplies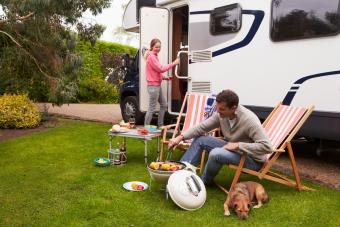 An RV camping supplies list and RV camping checklist can help you gather all the unique supplies needed for your rig. You can often keep most of these items stocked in your RV all during your camping season.
Backpacking Supplies
Going backpacking is a grand adventure, but requires a lot of planning to make sure you have everything you need while also packing lightly for your journey on foot. Use the backpacking equipment checklist and the
backpacking essentials list
to make sure you pack the right items.
Winter Camping Supplies
Heading out to camp in cold weather requires special gear featured on the winter camping checklist. You'll need special gear to survive comfortably in winter weather, so be mindful of the actual temperatures you'll encounter.
Motorcycle Camping Supplies
If you're headed out on a motorcycle adventure, use the motorcycle camping equipment list to pack accordingly. Since you'll likely have less space than campers using large vehicles, you only want to bring what's truly necessary.
Campfire Cooking Supplies
After planning your meals, check out a campfire cooking equipment list to help you determine which tools are necessary and which are optional. If you tend to eat the same meals every time you go camping, keep separate pieces of cooking equipment in a plastic storage container and use them only for camping.
Supplies for Camping With Pets
When you're bringing your pup along for the trip, download this list to know what to pack when camping with dogs. You want to make sure your best friend is just as comfortable and safe at the campsite as you are.
Make Your Own Camping Supply Checklist
If none of the pre-made camping checklists work for your specific needs, you can use free printable checklist templates to make your own camping supply list. Make copies of the list you create and use it year after year.
Be Prepared for the Best Camping Experience
Trying to remember all the things to bring camping can be daunting. Using these camping lists will help ensure that you have everything you need. You'll be able to relax and enjoy your outdoor adventure and not have to go without a necessary item or leave the campground to go shopping.